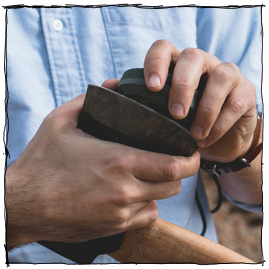 How to Sharpen Your Axe
Does the tool make the man, or does the man make the tool?  Like most things in life, the answer is somewhere in the middle.  You need to know how to properly operate and care for your tools, but the right tool/jig can make or break your project. 
Of course, I'm just an active hobbyist, and my tools reflect that, BUT every single one has a time and place to be used, and we've formed a deep bond over the years. Some are used a lot more frequently than others, and so here is a list of most used tools that I have in my shop...which my wife lovingly refers to as "just the garage."
Actor Michael B. Jordan grew up in a household in a military household. His father was a Marine, and valued a well-made bed with tight corners, and all fabrics needed to crisp and tight. Under his guidance, young Michael learned to iron his own clothing to spectacular results.   
He recently shared his technique with Vanity Fair, as part of the press tour for his film, Black Panther. (I hear it's pretty amazing. Has anyone seen it yet?)
The burger is usually thought of as summer fare — the progeny of some spatula-wielding self-appointed grill master. But true burger fans know that the very best are not cooked over grill grates, but on screaming hot solid surfaces, where the rendering fat and juices stay near the patty, creating not only a crispy exterior, but the deep, caramelized, confit-like richness that defines the flavor of a great burger.
Which means, of course, that burgers are actually year-round food, and armed with a heavy cast iron skillet or griddle, a great way to spend an dark, cold evening stuck inside. If we're gonna have January, than let us always have burgers. 
In the normal research/note-taking/formatting process of working on a upcoming gear roundup post this morning, I went to check the price and availability of one of my favorite tools: the cast iron skillet. I've always known cast iron is a pretty amazing value, performing nearly perfectly for generations if you follow a few simple rules. At $30, an American-made Lodge skillet is a great buy-it-for-life piece of cookware that works for nearly everything.    
I have this one tall ceramic thermos with no handles that tends to heats up so much when I pour coffee in that it's barely functional. My girlfriend knit an adorable cozi sleeve for it but unfortunately it stretches out too much and just slides right off. Which brought us to our next solution: leather.   
I'm a life-long fan of Alton Brown. Recently, I've loved his post-cable TV Youtube videos in which he revisits topics and techniques that he was not allowed to demonstrate on network television. These have included things like "dirty steaks" where you cook a hanger steak directly on natural wood coals, the most efficient way to light a grill (spoiler: it's by using what is basically a flame thrower), and, my favorite,
If you've ever walked down the greeting card isle during February, you know it can be a sensory overload of 100's of pink and red frou-frou Valentine cards. Somewhere between the cheesy one-liners and floral designs maybe a descent card awaits for $5, but by the time you settle for it, loved ones have already filed a missing persons report and you've contemplated arson because they're out of the correct envelope size. Avoid the hastle, skip the corporate-generated professions of love and print one of these simple Valentine's Day cards at home...
Two years ago, on February 9th I came home from a long day of work at about 7:30 and my wife gave me incredible news.  She was pregnant! This was going to be our first child, so naturally I was overcome with so many different emotions. I paused for what felt like an eternity and when I finally gathered my wits, I very distinctly remember the first words out of mouth were, "It's okay, we're in a good spot financially for this right now."  If you're a woman reading this, I know what you're thinking - "how romantic".  Well, my wife didn't think it was a very good response either. In my defense, I'm a CPA and that's just how my brain works
I love all the "comes with" food from restaurant meals. You know what I'm talking about—the side dishes and classic pairings that are served with what you actually ordered: fries, steakhouse rolls, steamed rice...and, because I live in the South, biscuits. Oh, the biscuits. If you're like me, though, half of that glorious freebie food gets launched at the end of the meal because you're too full from the main entree.
In his continued bid to take over much of the world's media channels, Anthony Bourdain has partnered with the producers of Balvenie Scotch Whisky on an online program that is truly exceptional. In the process of producing the first batch of episodes, he met with some of the most extraordinary craftspeople in the United States (and ended up walking away with some Bob Kramer knives that certainly left our mouths agape.)
If you want to watch between 7 and 16 minutes of well-produced, craft-heavy, and inspirational material, this series is for you. And lucky us, a new batch of videos just dropped in the last month or so. So if you've already caught up with the initial episodes, there's more to watch.