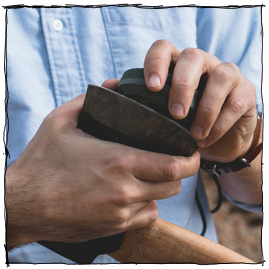 How to Sharpen Your Axe
What clothing item has something in common with freelance warriors, the Rat Pack, and a famous scientist from a beloved 1990's kid's show? Yep, you're staring at it: the bow tie.
Let's take a few minutes to dive into the fascinating world of this one-of-a-kind accessory.
If you're committed to greatness in your craft, there's no better way to improve than to mimic the masters. But if you need general inspiration to help you keep going in your pursuit of excellence, it's helpful to watch any kind of expert at work.
In 2014, the newsreel archive British Pathé released 85,000 high resolution historic films to YouTube. Among these are a fantastic collection of newsreel footage from postwar factories all around Great Britain. It's mesmerizing and, if you're a maker, a bit humbling to watch these skilled men and women exercise their trade with such aplomb. (Not to mention, the peppy English narrators, using that classic clipped 1950's news reporting style, are really funny.)
Thanks to the wizardry that is the Internet, there are hundreds of them available at your fingertips today.
Move over pegboard. When you've assembled a proper collection of hand tools, the best way to keep them safe, organized, and available within reach is a custom tool wall. Each item gets a designed holder that keeps like pieces together and accessible, allowing you to maximize your storage space.
Plus, let's admit it: they also look super cool.    
 A woodworking bench is more than just a table to lay your tools and project parts on. Used well, your bench is an all-in-one, three-dimensional clamping solution that will allow you to hold your work on any of its edges or faces. The traditional way to increase the work-holding capability is to place "dog holes" in your bench top, and allowing them to work in tandem with a face or end vise to secure parts of any size. 
A few weeks back we talked about some of the basic, essential tools for getting started in leatherworking. Once you're set up, its time to put them into practice. Here are a few projects to hone those skills, and end up with some great practical pieces you can use everyday   
Does the tool make the man, or does the man make the tool?  Like most things in life, the answer is somewhere in the middle.  You need to know how to properly operate and care for your tools, but the right tool/jig can make or break your project. 
Of course, I'm just an active hobbyist, and my tools reflect that, BUT every single one has a time and place to be used, and we've formed a deep bond over the years. Some are used a lot more frequently than others, and so here is a list of most used tools that I have in my shop...which my wife lovingly refers to as "just the garage."
Actor Michael B. Jordan grew up in a household in a military household. His father was a Marine, and valued a well-made bed with tight corners, and all fabrics needed to crisp and tight. Under his guidance, young Michael learned to iron his own clothing to spectacular results.   
He recently shared his technique with Vanity Fair, as part of the press tour for his film, Black Panther. (I hear it's pretty amazing. Has anyone seen it yet?)
The burger is usually thought of as summer fare — the progeny of some spatula-wielding self-appointed grill master. But true burger fans know that the very best are not cooked over grill grates, but on screaming hot solid surfaces, where the rendering fat and juices stay near the patty, creating not only a crispy exterior, but the deep, caramelized, confit-like richness that defines the flavor of a great burger.
Which means, of course, that burgers are actually year-round food, and armed with a heavy cast iron skillet or griddle, a great way to spend an dark, cold evening stuck inside. If we're gonna have January, than let us always have burgers. 
In the normal research/note-taking/formatting process of working on a upcoming gear roundup post this morning, I went to check the price and availability of one of my favorite tools: the cast iron skillet. I've always known cast iron is a pretty amazing value, performing nearly perfectly for generations if you follow a few simple rules. At $30, an American-made Lodge skillet is a great buy-it-for-life piece of cookware that works for nearly everything.    
I have this one tall ceramic thermos with no handles that tends to heats up so much when I pour coffee in that it's barely functional. My girlfriend knit an adorable cozi sleeve for it but unfortunately it stretches out too much and just slides right off. Which brought us to our next solution: leather.