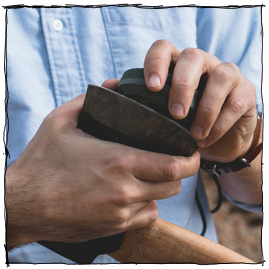 How to Sharpen Your Axe
Ideally, a laundry room would belong in one of the more private sections of your house – a space to do the behind-the-scenes work of running a home, fold unmentionables, and stash things that simply have no where else to go. 
In our house, it's in the dead center of activity. Because of plumbing and venting access, it's the first thing you see when you walk down the stairs into our basement, and in addition to our kitchen and dining room, our basement has become the heart of our home. There, both my wife and I have our own offices where we welcome business collaborators, take meetings, and do video

"As is a tale, so is life: not how long it is, but how good it is, is what matters." – Seneca
The Project
Suppose you are getting ready to start a really big project––a project that will require an immense amount of time and effort, a project that has so many parts and components that you are certain that you will lose your way and make mistakes. It is just that big. And yet the one thing you can be certain about is that the materials for this project are precious and you will not be able to re-start the project once you begin––you'll have to keep forging ahead even if you make mistakes. It will be the summative production
You're at the liquor store standing in front of 5-tier shelf that stretches the entire wall and your just here to pick up a bottle of spirits. There are a lot of different brands and an array of price points for each bottle. What goes through your mind?
I think for those of us who enjoy an adult beverage, buying alcohol, spirits specifically, can fall into two categories:
I'm looking for an affordable bottle of spirits that doesn't taste terrible, and,
I know what brand and style I want. I've had it before and I'll enjoy it again
And possibly a third, oft youth oriented thought: I'll take the cheapest swill there is please.
But do you ever choose a bottle because you know where it comes from? Who made it? The story of how this spirit came to be?
I'd argue the answer to these questions are just as important as cost or a familiar label. There's something special about knowing what goes into a craft. Even more than that, there's a tangible connection when you not only know the story of a product, but experience the story first-hand....

Some days, I wish I just had to wear a suit to work. I probably don't actually mean that, and I'm sure you true 9-5ers would laugh at the possibility of giving up working in sweatpants for wingtips. A hardhat and steel-toed boots would work just as well. See, I'm interested in the ease of it. "Oh, I'm at work. Here's my work uniform." Instead, on any given day, I could be several different diverse work environments, both indoors and out, wet and dry spaces, with temperature fluctuations of upwards to thirty-five or forty degrees. 30° F when I leave in the morning, and 65° by 3pm.
If you are anything like me, there have been numerous times in your life when you have been in a Target/Costco/Sur La Table/Container Store when box full of intricate, multi-shaped and variously sized plastic containers has come into view, and you have thought, "it's time I get organized!" The lure of organization is powerful because it feels like if you have a place for not only everything, but every KIND of thing, you'll never fall into disorder again.
I have learned something from a lifetime of tangling with stackable, burp-able, intricately sized storage containers: freedom does not come in a system that has options for every possibility, it comes in a simple system based on interchangeable parts. And in the world of food storage, we should look not to the glossy, marketed boxes in the housewares aisle, but to the humble set up of your neighborhood takeout place
I spent some time last week making a few DIY journals, and it made me think a bit about why I always have a stack of them filling my shelf. After looking through a few in the pile, I decided yes, they're definitely worth the effort. Here are a few reasons why.  
Pegboards have always had a place in my shop. They are simple to install, and easy to reconfigure as the needs evolve. I have a section by my stationary tools and few large boards for everything else. Mostly, I keep small tools like screwdrivers, scrapers and saws hanging. But there's so much more than hooks and pins. For example, here's a simple pegboard holder to organize my growing collection of blowtorch tools.  
For those of you who have mastered denying the temptation to pick at procrastination's bountiful buffet, this article will be a waste of your time. I'd suggest moving on to something else—this handy jazz album primer, how to turn an old shirt into a pocket square, or this awesome list of 14 burger recipes. 
But for those of you who find it difficult to resist the siren song of putting stuff off until the last minute, or who (worse yet) willingly delay working until the 11th hour, let's take a moment to examine the evidence that procrastination is a horrible idea.
It's (almost) that time of year again when the weather starts to turn a little warmer and winter finally fades into the budding trees of springtime.  In addition to the blooming flowers, the beginning of March also indicates that spring break is right around the corner for college students, teachers and many families with school aged children.  If you're ready to bust your cabin fever, consider joining them on your own version of a road trip and keep these items in mind before hitting the open road (if you're flying, reconsider – a long road trip is something you have to do at least once you in your life):   
All hail the mighty pencil: a powerful and beloved tool with a fanbase as sophisticated as the legions of jazz enthusiasts, yet so ubiquitous and humble that it all but escapes notice. The pencil is an incredibly simple device—essentially, a rock-and-dirt mix smashed together between some cut-up tree pieces—but the iteration that know today is a collaboration between hundreds of pencil makers over the course of 500 years. With their pen cousins, the elegant fountain and the pragmatic ballpoint, pencils are a founding member in the groundswell of interest for tangible, analog tools in an increasingly virtual, digital world.
If all you know of pencils are the Dixon Ticonderogas and plastic Bic mechanical pencils you carted around in your schoolbox, read on for a basic primer and some great resources for further exploration.