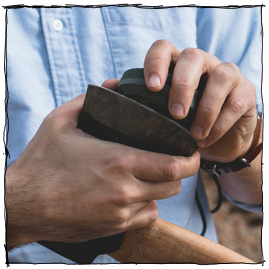 How to Sharpen Your Axe
It seems like a cliche now, but for what feels like a generation we've been living with the idea that libraries are dead. The idea of a library, for many of us, is of a kind of museum full of things that might be curiosities. But like many brick-and-mortar institutions of old, we don't need what's inside. This point of view is understandable, but it is a huge mistake. Because libraries are not falling behind our digital way of thinking––they were way ahead of all of us in realizing how we would wish information to be available and how we wanted to engage it. Think about it: Libraries collect all kinds of information, all kinds of media
We're no sports scientists, but every one of us here at ManMade are athletes - runners, climbers, cyclists, lifters, and hikers. And what those hours on the road, gym, or trail have taught us is: you need energy to keep going, perform high-intensity intervals or bursts, and do the work to get yourself to your destination. And then get yourself home again.
That means that if you're exercising for more than 30-60 minutes, you need to consume more than just water.  
This is my kind of woodworking project. It solves a practical problem (it's a monitor stand and desk storage unit), and it's built with solid technique and classic materials, treated minimally to show off their natural beauty.   
This is the tool wall in the workshop of Rhode Island furniture maker Hank Gilpin. It places every hand tool used in the shop  - including saws, clamps, scrapers, drill bits, chisels, planes, and measuring tools - within an arm's reach of the shops two main benches.   
First, apologies to the young man who stood in front of me at the post office yesterday. He was trying, but not trying too hard. He was going for a slightly updated classic New England collegiate look: blue button down oxford, dark green chinos, killer brown leather boots, 60's-inspired glasses. His hair was parted pretty traditionally, the kind of clipper/scissor combo cut you can get at any modern barbershop. He didn't ask to inspire an article about hair product.    
"Brassica" has become my new favorite word. It is the Latin word for "cabbage" (or also, "cauliflower"), as well as the scientific name for the genus of plants that includes green, slightly bitter, slightly salty, members of the mustard family. The brassicas are the dominant representatives in the dark green vegetable world: cabbage, broccoli, cauliflower, kale, collards, mustard greens, kohlrab , Brussels sprouts, turnips, rutabega, rapini, and that amazing and unsung hero of the Asian grocery, gai lan or Chinese broccoli. They are durable and variable plants, defined by their green leaves and bright yellow flowers. They are, without
We're living in a golden age of food media. Between exceptional print magazines like the gone-too-soon Lucky Peach and Bon Appetite, to Netflix shows like Chef's Table and PBS's Mind of a Chef, to David Chang's recent discussion of a developing food media empire, there is just so much professional-level food edu-tainment that an interested viewer need never go hungry. 
And yet, even though the space is saturated with quality content, amateur programs are still finding their niche in online forums.
Hi, guitar players. I've been trying to figure something out this week, so I thought I'd turn to some of the smartest, most awesome people I know - the ManMade readers. 
So here's the deal...      
I have tried almost every solution to keep track of my hand screws. I've hung them on pegboard hooks. I've stashed them in wall-hung cubbies. I've stacked them on shelves. I've put them in designated plastic totes. All of which have resulted in: I hardly ever use my hand screws. 
Which is a shame, because they're extremely versatile. They have a deep reach, and their wooden jaws are handy when you don't want to nick a blade or bit on something metal. So, last weekend, in my ever-continuing attempts to get my shop truly organized, I decided to build a wall-mounted hand screw organizer that would allow me to keep things in place and bring the clamps to the project when I need them.    
I was sitting with a few friends the other day and they started talking about how they needed to start drinking smoothies again. The conversation quickly turned to how expensive smoothie places can be, and how most blenders at home just don't make smoothies with the right texture. They turned to me, and I sheepishly owned up to it–I have a $500 blender. It's the Vitamix 7500––one of the immensely fancy ones that seem so ludicrously expensive.
To make matters worse, I think in my entire life I've only consumed 3-4 smoothies, hence my embarrassment. Spending $500 on an appliance only seems reasonable if it is part of a life plan––some