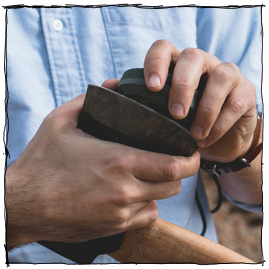 How to Sharpen Your Axe
I recently came across a great quote originating on Twitter by Stephen Fry concerning the debate on the analog-digital dethronement sequence: "Books are no more threatened by Kindle than stairs by elevators."
I'm a man neck-deep in digital technology (one prime example: I mostly draw digitally in Photoshop on a Cintiq tablet, which uses "brushes" coded to act like anything from watercolor to oil paints to graphite) and I wholeheartedly agree with Mr. Fry. The more my surroundings convert to lines of code, sandwiched between a backlit screen and a power source, the more I want to balance it all out with things I can touch, taste, and smell.  
Correspondence is one of those areas: I email and text a lot, but recently I've started to turn to my old friends at the U.S. Postal Service to send my most important messages, for the simple fact that nothing says "I care" more than a handwritten note. (Check out our post on the still-existing power of the handwritten letter for more on the subject.) 
The only thing is, if I'm going to take the time to write someone a letter, I'm going to go the extra mile and forego the cheap printer paper.  So, along with a good pencil or fountain pen, the number one item I need for this task is some good, high-quality stationery that looks like it came from...well, me. Read on for some of my favorite suppliers!    
When I sat down to write about typography this morning, there was so much I wanted to say that the letters on my keyboard actually sat silent for a good few minutes.
We're in a golden age for typography. Gutenberg totally exploded Europe in the 1500's when he dropped the printing-press-with-moveable-type bomb, but even then, for the next 500 years, the spread of ideas and publishing were in the hands of a collection of specialist craftsmen and the people who hired them. (After all, producing physical objects is expensive.) Then, in rolled desktop publishing in the 80's and—combining computer hardware, software that included digital type, and the ability to effectively "print" on-screen and distribute to other screens instantly via the Internet—you've effectively got a second Printing Revolution happening right now, with type squarely in the middle of it.
Typography was once a niche element, but now we're up to our ears in it. As it is with any craft that takes a lifetime to master, thoughtfulness will set you and your message apart. The craft will give back what you put into it. Using typography in design is a lot like using salt in cooking: when it's used well, it contributes to a greater whole but goes largely unnoticed; when typography calls attention to itself, it's typically been used poorly. 
If you've ever been putting together a quick flyer or PowerPoint presentation and wanted to put a little more thought into your font choices, but you feel like you're shooting blindly in the dark because you're not a trained designer, we've put together a quick guide for you.
In the Grand List of Essential Grownup Skills, somewhere between changing a flat tire and tying a half-Windsor, you'll find an entry for serving your loved one their first meal of the day before leaving the room where they woke up. It's a simple act, but with some care and a little finesse, it can be an incredibly thoughtful gesture that will reverberate throughout the rest of the week.
Let's take a look at some of the considerations for a perfect breakfast in bed!
I side with my colleague Bruno as he stated in his Curbly post on painting his garage floor—some home improvement projects you can DIY, and some you should definitely consult a professional. When I tore out the ailing metal railing on the brick entry steps to my fixer-upper 1970's ranch house, it became clear that it was time to replace some of the crumbled and broken bricks. It seemed like way too small a project to hire a bricklayer, and what can I say? I really like bricks.
Read on for the process to do your own simple brick patch and masonry repair!
Gordy the Goat was going for the ride of his life. It was 1:00 a.m., and Gordy was in the back of a white Yukon Denali blowing through a stop sign at Earl Street and Mounds Boulevard in St. Paul, MN. Just minutes earlier, the brown-and-white splotched ruminant had been quietly at work in a nearby park, doing what he does best: grounds maintenance. 
See, Gordy, and a herd of thirty others, are charged with removing invasive species, unwanted grass and vegetation in the city parks... by eating it. But on this night, Gordy fell victim to goat theft, though whether he viewed it as
There is a new phenomenon where lonely people have finally found a voice to express their loneliness. And wouldn't you know it - they found it on the internet. Of course, the internet is not the reason we are lonely and it is not the source of loneliness, but it certainly is the vehicle that allows people to talk about how lonely they are. But it is the internet that has turned it into something universal, something memetic. (Though I spare you examples here, the internet abounds with them. You've seen them.)
Author Seth Godin, in his book We Are All Weird, argues that the Internet era has busted open the starting gate and let the tribes out: information has truly become democratized, so now it's much easier for niche interests to connect and collect. One great example of this is the MoOM, or Museum of Online Museums. Coudal Partners, a Chicago design firm who created the famous Field Notes brand of notebooks with design guru Aaron Draplin, have run the site for about 10 years, which is basically just a big list of links, and in it you'll find the full gamut of niche stuff: from major institutions' virtual presence, like Amsterdam's famous art collection at the Rijksmuseum, to the most overlooked stuff like Manhole Covers of the World, it feels like it's all here. 
If you're a designer looking for visual inspiration, a novelist on the hunt for a random detail to spark a story, or a just fan of vintage eggnog labels, look no further than this treasure trove. I first discovered it way back in college and, though I did waste a lot of time combing through it, I was also able use it to do a lot of research on package design.
Read on for some of my favorites in the collection!
Long time ManMade readers may recall my love of these earbuds, which I have claimed (over and over again), are the best value in in-ear audio supply out there. I had three or four sets going at any given time, and use them everywhere from the workshop and exercising to travel and housecleaning marathons. They work great, sound good enough, and are both durable and affordable that you don't mind taking a few risks with them. (Nearly every pair I have are also covered in paint and wood glue.)   
I've always loved the feeling of contrasting materials, especially metal and hardwood.  Metal is the yin to wood's yang: cold, crisp, and unforgiving, while wood offers smooth, supple, and organic patterns. When I really want to make a piece stand out, I'll put a bit of effort in mating these unlikely partners to play off each other for visual interest and a little bit of "how did they do that?" My youngest turns 5 this month, and I have been building a keepsake box that I hope she'll have for the rest of her life — an heirloom piece that I want to stand out as timeless, personal, and familiar. I decided a metal inlay of her initial would be a great way to make it her own. 
As anyone who has worked in a high volume coffee establishment will tell you––and I am one of those people––keeping coffee equipment clean is a huge job. And while a professional shop has to maintain its equipment with a daily regimen of daily cleaning, descaling, urnexing and polishing, what I realized when I came home from my coffee shop was that my personal coffee equipment was some of the LEAST attended to items I had in my kitchen. I think for many people, coffee is such a utilitarian part of life, it is easy to lose track of how many brews your machine/grinder/kettle/aeropress may have gone through. And of course, coffee is not