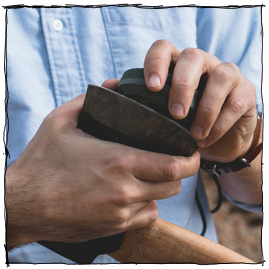 How to Sharpen Your Axe
There are times I feel trapped by men's clothing. It feels sometimes like my options are, 1.) an imitation of the Brawny paper towel man 2.) a skater pining for the good-ole-days of 2004, or 3.) a retiree who wears primarily golf shorts and pleated khakis. Of course, there are other options than these, but if you are on a budget and don't want to commit a ton of time to meticulously curating your wardrobe, its easy to feel like you are working against your clothes choices rather than embracing them. 
Nothing is as scary as men's clothing in the summertime. In the summer, everything is more brash, more colorful, more dramatically what it is. Skater shorts now come with embroidered dragons, and the golf shirts are somehow incandescently shiny and metallic.
And shoes. Ooph. Shoes are the worst. Because when it is hot and humid, having feet that are sweaty and uncomfortable is particular kind of awful. And if you are looking to be comfortable without completely foregoing a sense of style and taste, shoes can be a minefield. So, with that in mind, here's my take on how to navigate summertime footwear.             
For me, completing a wood project brings a sense of great accomplishment. I've taken a raw piece of lumber and turned it into something beautiful and functional. However, that pat-on-the-back stops short when I remember that I still need to apply a finish to protect the wood! Applying finish is easily my least favorite part of any project, and an area where I am not as skilled as I'd like to be (everything's a learning process). Still, applying a finish is that important last step that protects the project for years to come. Applying finish is easy enough - it's knowing what type of finish to use that's the bigger battle. There's a wide variety of protective finishes out there, and all those options can easily become overwhelming. Let's start with the basics. Here's a quick guide to the differences between polyurethane, varnish, shellac and lacquer.        
At home, I am the cook of our family. I love to make meals, and… let's be honest, I really just love food in general. I also do all the grocery shopping. Typically, I'll take one big shopping day at the grocery store during the week and maybe a couple short trips if I need specific items. But, whenever I announce I'm taking a trip to the Asian market, my entire family eagerly jumps in the car with me.
If you're not in the habit of shopping at your Asian grocery store, 1) you're missing out on an entire hemisphere of goods, 2) it'll open a new world of food and sundries that'll keep you coming back, and 3) food, kitchen supplies – everything – is extremely affordable. 
In short, tons of flavor. Great value. Win. Win.   
I'm a lucky guy. My family has allowed me to dedicate half our basement into a dedicated shop space, complete with a custom woodworking bench and a growing collection of tools. It's bright, clean (at least right now), and I'm slowly turning it into a functional workspace that will allow me to be as productive as possible. 
But it took me a long time to get here. For nearly fifteen years, I worked out of dining rooms and back porches and portions of the garage, lugging my tools around in plastic totes and home center toolboxes, setting up shop on the washing machine, folding tables, and 1/2" plywood scraps screwed to 2x4s.
And, in the early days, it was that lack of a proper workbench that prevented me from thinking I could could use hand tools. Without a vise and hold downs, how could I safely secure my work for handplaning, chiseling, or sawing?The answer: a batten, which will take you 5 minutes to make and turns any flat surface into a work bench. Let's make one!   
Even if you don't know it by name, you likely already know paracord. Chances are very good that you've seen it, either in the aisles at your local craft store or knotted into a survival bracelet.
It's a classic example of how a military-specific product found new life as a civilian utility item. Originally designed with airborne units (the name is portmanteau of "parachute" + "cord"), its strength, durability, and versatility lend well to all sorts of other functions. It's especially useful for survival and adventure situations, which means that enterprising outdoor gear companies have begun including other materials in the core of the cord besides the standard separate nylon yarns: in the case of ParaTinder, a waxed thread meant to be used as a firestarter.
I got a package of this as a stocking stuffer last Christmas and wanted to give it a whirl—it's important to test out your survival gear when the stakes are low rather than trying it out for the first time in an emergency. 
I've stated it before:  I'm a total workshop rat. There's something about spaces where skilled work gets done that invigorates my spirit. At various points throughout my life, I've wandered into blacksmith shops—on my great uncle's farm in southern Ohio, at a permanent exhibit on the North Carolina State Fairgrounds, at the dead end of a street on the outskirts of my college town in West Virginia—and each time I've quieted with reverence, among the tongs and hammers and slack tubs, as if walking in the glow of stained glass windows.
Short of actually hanging around the shop, smelling the hot metal and hearing the clank of a hammer on an anvil, I get my forge fix by following metalsmiths on Instagram. Here are thirty of ManMade's favorite accounts that we totally recommend. 
Hey, ManMakers — Chris here. I'm the founder/editor of the site. Normally, we try to do our research and test things out so that we can help our readers be the best kind of creative and productive people they can be. But every once and a while, we like to ask for your thoughts, and tap into all the brilliance and experience of our audience.
So, here's the situation:     
In the sheer scope and magnitude of Youtube, I going to assume that we will one day see every conceivable thing that exists in the world. Because, we all know, that if it is weird enough for someone to try, there is someone around with a camera ready to film it. So, we can file this under, "what the hell is going on here?" But there's this guy with a Youtube channel whose entire purposes seems to be to constantly and painstakingly recreate a knife out of very different, very bizarre materials.
My wife is out of town this week.
When I'm home alone, I find myself more willing to work late into the evening with projects and activities, because I know I'm not missing out on important family time. When solo, I'd much rather stay out on a long bike ride or keep progressing on a woodworking project until bedtime than just sit by myself on the sofa.
So, such was the case when I found myself with a free evening. I didn't get started until 6:00pm or so, but knowing I had nowhere else to be and plenty of leftovers in the fridge, I set out to complete some shop storage projects for the wall just to the right of my bench. I'd been saving those blank spaces for nearly a year (you can find the clamp rack tutorials here, here, and here), reserving them for a special set of Woodpeckers straight edges and squares. These things are machined to extremely low tolerances, making them crazy straight and square, so making a secure place to store them helps them to stay precise. Plus, the red color matches the handles and jaws of my Bessey clamps, so combining the two was a total no brainer.    
Bryan Stevenson is a very quiet revolutionary. His career until recently was very much "on the ground." He worked as a lawyer and advocate among those people whose race, class and the circumstances of their lives had disadvantaged them in the world. It was good work to do and he did it well. He won a MacArthur in 1995 and he gave a groundbreaking TED talk. But what is remarkable is that at the absolute summit of his career he made a move that was truly revolutionary: he looked to the past and made something. 
The something he made is in Montgomery, Alabama––a city that might not be on many peoples' travel itinerary. What Stevenson