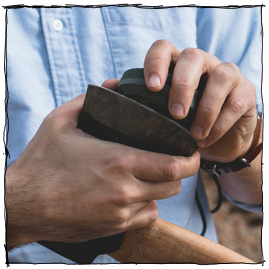 How to Sharpen Your Axe
In the sheer scope and magnitude of Youtube, I going to assume that we will one day see every conceivable thing that exists in the world. Because, we all know, that if it is weird enough for someone to try, there is someone around with a camera ready to film it. So, we can file this under, "what the hell is going on here?" But there's this guy with a Youtube channel whose entire purposes seems to be to constantly and painstakingly recreate a knife out of very different, very bizarre materials.
My wife is out of town this week.
When I'm home alone, I find myself more willing to work late into the evening with projects and activities, because I know I'm not missing out on important family time. When solo, I'd much rather stay out on a long bike ride or keep progressing on a woodworking project until bedtime than just sit by myself on the sofa.
So, such was the case when I found myself with a free evening. I didn't get started until 6:00pm or so, but knowing I had nowhere else to be and plenty of leftovers in the fridge, I set out to complete some shop storage projects for the wall just to the right of my bench. I'd been saving those blank spaces for nearly a year (you can find the clamp rack tutorials here, here, and here), reserving them for a special set of Woodpeckers straight edges and squares. These things are machined to extremely low tolerances, making them crazy straight and square, so making a secure place to store them helps them to stay precise. Plus, the red color matches the handles and jaws of my Bessey clamps, so combining the two was a total no brainer.    
Bryan Stevenson is a very quiet revolutionary. His career until recently was very much "on the ground." He worked as a lawyer and advocate among those people whose race, class and the circumstances of their lives had disadvantaged them in the world. It was good work to do and he did it well. He won a MacArthur in 1995 and he gave a groundbreaking TED talk. But what is remarkable is that at the absolute summit of his career he made a move that was truly revolutionary: he looked to the past and made something. 
The something he made is in Montgomery, Alabama––a city that might not be on many peoples' travel itinerary. What Stevenson
"Hey does this go with this?" I probably say this 4 times a week to my long-suffering spouse. I've never been an especially snappy dresser, but I have always tried to be put together. I've also never had to work in an office setting with a strictly professional dress code––I taught college for years. Guys in my field routinely dress in polo shirts or something short-sleeved that matches a pair of khaki pants. I'm the kind of guy who tried to make it work with a dark jean/button down/casual blazer––a sloppy and corpulent imitation of Josh Radnor or other random "nice" guy on TV...
Then I started working a venue where I was surrounded by
It's the time of year when grills grace backyards with fragrant charcoal smoke, chins drip with fresh watermelon juice, and the gentle drone of neighborhood lawnmowers beat back that evergrowing green tide. Every day pushes sunset a little later into the edge of night, and in the morning you can smell the dew steaming off from the tips of grass. Summer is here... and it's brought baseball along. 
One of the things I look forward to in the middle of the year is setting aside the latter half of a day, soaking in the ambience of a ballpark while trying to avoid mustard stains on my pants, and adding a new scorecard to my collection. I first started keeping score on a whim several years ago at a Durham Bulls game on the 4th of July, the first baseball game I had been to in about a decade. I'm a pretty obsessive notetaker, so when I gave it a shot...
I was totally hooked. As my poor pregnant wife completely roasted in her outfield seat next to mine (and eventually took solace in the shade near the concessions... sorry Ashley!), I watched the game—no, took part in the game—with an awareness so keen it almost felt like I had picked up several new senses.
I am unpacking my library. Yes, I am. The books are not yet on the shelves, not yet touched by the mild boredom of order. I cannot march up and down their ranks to pass them in review before a friendly audience. You need not fear any of that. Instead, I must ask you to join me in the disorder of crates that have been wrenched open, the air saturated with the dust of wood, the floor covered with torn paper, to join me among piles of volumes that are seeing daylight again after two years of darkness, so that you may be ready to share with me a bit of the mood - it is certainly not an elegiac mood but, rather, one of anticipation - which
The internet didn't intentionally invent the idea of tickling your brain by seeing things get perfectly peeled, scooped, pulled or stripped. Yet, there are whole Youtube channels dedicated to things that fit perfectly, people breaking the pristine surface of a jar of peanut butter, people peeling the thin plastic sheet that covers most electronics. Comments on these videos are part of a shared sense of deep satisfaction, and you can find some of the most mutually joyful, least acrimonious interactions on the internet among people who are just eveling in that feeling of deep gratification. 
So, in the

This year we teamed up with Lowe's to throw an early Father's Day lawn party for our friends and family. Today I'll share the nitty gritty details, all the pretty pictures, and (hopefully) inspire you to pull together a few last minute DIYs for this weekend's Father's Day celebrations. Read on to find out what we did, and download everything you'll need to throw a party of your own.
This summer, ManMade is organizing a Alaskan adventure for our community, where we'll gather for DIY workshops and day trips to some of the most beautiful places in North America. In homage of the trip, each of our team members will be reflecting on their own impressions of Alaska.  
The sauna, correctly pronounced "sow – nah," is a Finnish word that means "bath" or "bathhouse." They are believed to have been around for over 2000 years. (!) The process is quite simple, you build a fire to heat the Sauna room to 165-190° F and then sit in the room for approximately 20 minutes.  Then you cool down by taking a cold plunge in a lake.  Then repeat, at least two-four times.  Of course, that is over simplifying the process, but there are hundreds of articles and videos out there how to properly prepare and enjoy the Sauna.  So this article is geared more towards the Alaskan experience of the Sauna.
Somewhere in that no-man's land between technophile and -phobe, I've pitched my tent and pass freely between the borders. I juggle my professional work on Google's G Suite (especially Gmail, Keep, Calendar, Docs, and Sheets), but one of my most effective planning tools is a wood pencil and minimalist bullet journal in a blank notebook. I'm thrilled every time I thumb through magazines like WIRED, but I totally think A.I. is a crapshoot. In short, I keep a dynamic dialogue between new and old tech, because elegant solutions to the world's challenges lie at just about every point in its history.
A perfect illustration of this is the fact that though I regularly rely on Google Maps for real-time driving directions, I still keep paper maps of my home state, some neighboring states, and even an atlas in my car. What's the point? Read on for four good reasons.