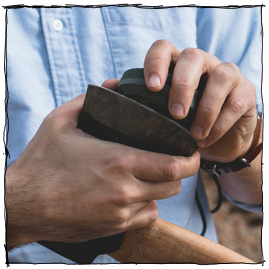 How to Sharpen Your Axe
I remember when the cheese lovers started telling me what was "real" cheese and what was "fake." I remember taking them seriously because they were talking about cheese cultures (ha. pun!) I knew to be important: Italian, French, Swiss, Spanish, etc. "Cheese is alive!" these experts insisted. And anything that was not the product of natural fermentation and cave-aging was unacceptable. Eating the rind was important. The worship of bacteria in the process was expected. The presence of insect larvae was not necessarily a negative. Out of a world that had room for Cheeze Whiz, handi-snacks, and this bit by Mitch Hedberg, the celebration of authentic, non-adulterated cheeses was completely legitimate. 
The solar calendar has finally acknowledged what we've all know for a few weeks: it's summer. And with that most blessed of seasons comes the opportunity to get out of town and see the world in all its sun-soaked splendor.
The trick for making all this happen as easily and frequently as possible. Pack lightly, my brothers and sisters.    
One of the books in my current stack is Let My People Go Surfing, written by Patagonia founder Yvon Chouinard. The book is structured into two parts: the first half is a brief history of the company from its origins as a beachside blacksmith shop producing climbing equipment. The other is a company handbook on the founding principles and values on which the billion-dollar company makes its decisions.    
Stargazing is a hobby that comes with a bit of a learning curve. It requires real intellectual engagement, specialized (and expensive) equipment, and a lot of free time when the sky is dark. So its understandable that only the truly dedicated might get into it in a meaningful way.
Or...is it? Because looking at the stars at night is one of the cheapest, oldest, and most egalitarian hobbies that's out there. Because the sky belongs to everyone, and people have been marveling at it for a very long time.    
Some three years ago, an Australian man named John Plant started filming his hobby of spending time in nature and learning to subsist without any tools. He posted his videos on Youtube as a kind of documentation of his progress and they served as a venue for a kind of education, though only in the most minimalist sense. Taken without context, its a strange, new genre of media that has found an audience––something pretty standard for the internet. (There are now countless channels on the internet where people have ripped off Plant's original premise.)
Friends are important. And long-standing friends are so rare and so precious that they can hardly be overvalued. But if humanity, as a species, were to name one friend that had been there since the very beginning, it would be certainly be...well, dogs. They were our evolutionary companions from early on. They are a part of our mythologies, our legends, and our tall tales. 
But while we can imagine that people have always loved their dogs, there's actual evidence to back it up as well. As Indiana Jones would tell you, archeology is the path to many abilities some would consider to be unnatural. (Wait, I think I messed up that quote
For whatever reason, summertime often gets left out of the seasons of love. Fall is a time of cuddly hand-holding, and winter has been dubbed the season of cuffing. Summer, however, often ends up being the season of: "oh my god it's so hot stop touching me!" It's also the season of tacky patriotic decor, sunburns, and sand in unmentionable places - to bring up only a few of the key highlights. When there is a romantic dimension to summer, it's usually under the guise of "Summer Love," which is defined not so much as a healthy romance, but more so as a remorseful memory to haunt your barcalounger years. Basically, it's a total bummer for anyone over the age of 19.
And yet, summer is the most fun season! It's a time for blooming trees, ripening foods and flowers of all kinds, beaches and water and sunburns – plenty of things that are suitable for romance. So, before you prepare for a fall and winter full of pumpkin spice everything, and crackling fires, and hot cocoa under blankets, consider some of these awesome summer dates to make the most of a season so often lost to romance.               
My tears. Since I was in my late 20s at least, they've come more easily than ever before. Sad things can bring them on, sure. But mostly, it's the beautiful things. The profound things. And things that are just poignant and stirring. But whatever the cause, they come with frankness and in real earnest. 
Sometimes I wonder if I should listen to Sufjan in public anymore. Always an emotional songwriter, his last few efforts, Carrie and Lowell and Planetarium, have been especially frank, incisively autobiographical and completely leveling (especially when you get clued into his autobiography.) It is inevitable that my eyes will become wells in a coffeeshop. But I guess I believe that it's not reasonable to blubber in public or have a crying fit while I'm at work, there is a deeper sense of shame that, if I'm honest, rests down in the nether regions of my psyche, and it is activated when my tears come. I am brought to tears in public by openness, but then shame comes and closes me up again. 
There are times I feel trapped by men's clothing. It feels sometimes like my options are, 1.) an imitation of the Brawny paper towel man 2.) a skater pining for the good-ole-days of 2004, or 3.) a retiree who wears primarily golf shorts and pleated khakis. Of course, there are other options than these, but if you are on a budget and don't want to commit a ton of time to meticulously curating your wardrobe, its easy to feel like you are working against your clothes choices rather than embracing them. 
Nothing is as scary as men's clothing in the summertime. In the summer, everything is more brash, more colorful, more dramatically what it is. Skater shorts now come with embroidered dragons, and the golf shirts are somehow incandescently shiny and metallic.
And shoes. Ooph. Shoes are the worst. Because when it is hot and humid, having feet that are sweaty and uncomfortable is particular kind of awful. And if you are looking to be comfortable without completely foregoing a sense of style and taste, shoes can be a minefield. So, with that in mind, here's my take on how to navigate summertime footwear.             
For me, completing a wood project brings a sense of great accomplishment. I've taken a raw piece of lumber and turned it into something beautiful and functional. However, that pat-on-the-back stops short when I remember that I still need to apply a finish to protect the wood! Applying finish is easily my least favorite part of any project, and an area where I am not as skilled as I'd like to be (everything's a learning process). Still, applying a finish is that important last step that protects the project for years to come. Applying finish is easy enough - it's knowing what type of finish to use that's the bigger battle. There's a wide variety of protective finishes out there, and all those options can easily become overwhelming. Let's start with the basics. Here's a quick guide to the differences between polyurethane, varnish, shellac and lacquer.