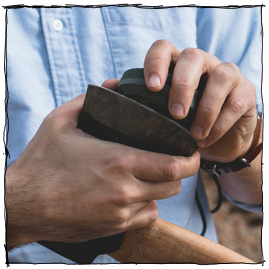 How to Sharpen Your Axe
There are a few adages with which I can start this post. "You get what you pay for." "Some things are too good to be true." Yes, it would be awesome if there were a store in every town that sold solid, dependable tools at bargain prices. When you're just getting started, a place to fully outfit your shop on the cheap would be an amazing gift. I get it. I've been there.
But anyone who knows about Harbor Freight also knows about the reputation of the products it stocks: namely, that the quality is rather unreliable. Today, as I was discussing this post with my friend and colleague, M.E., her immediate response was, "There was one in the same plaza as my old job, so whenever we needed anything, we got it there. And ultimately whatever we bought, broke five days later. That place is the Dollar Store of the home improvement world."
And that's the trick: Harbor Freight stocks items that are designed to be sold, not to be used. I'm not saying their business model is dishonest or nefarious. Nor am I a tool snob with an unlimited budget. I'm only interested in spending as much money as necessary to get the job done. I know what its like to have your aspirations be bigger than your budget. But buying things that don't work, no matter how much they cost, is not saving money. The majority of products there simply will not stand up to repeated use, nor give the you the results you're after. When it comes to their sell-line of "Quality Tools, Lowest Prices"... well, one of them is true. 
Except... 
So you've snagged your new go-to blazer, upgrading your the 13-year-old-at-his-first-school-dance look of solo white shirt and black dress pants. Congratulations! You're now hovering at the upper style echelon that the big boys call classiness. Now, this may be a perfectly acceptable sartorial level to rest, one where you can command all the professional respect you'd ever need. But you're not satisfied with simply acceptable, right? Of course not! You want to pursue panache, you want to exude aplomb, you want to chase other fancy-pants dictionary words.
My friend, you're in need of a pocket square.
You know, the dandy cousin of the handkerchief that's there to just look cool and wouldn't dare catch a snot drop. Clothing is a nonverbal speech bubble, and conscious choices display confidence; the pocket square elevates the wearer another notch into the realm of "I know what I'm doing," provides variety for a frequently-worn outfit, and radiates the warmth of self-expression.
Read on for the ManMade primer on choosing your pocket square, then learn how to fold a pocket square and starting off with three basic pocket square folds!
Turns out, getting fully outfitted is only half the battle. Once you've selected all your gear, it's important to pack it up right for both balance and ease when carrying and access when you need it.    
When I think back to my first office job, I learned two key takeaways: 1) always share your process and thinking with your supervisor, and don't hold out til the end to show them the completed project and 2) drink a bunch of liquids all day long so you'll have to get up to go the bathroom. 
Seriously. Moving about the office gets you up and out of your seat, your eyes off the computer screen, and the ability to mingle a bit with your coworkers. And while we recommend switching to water after 11:00am, it's nice to enjoy a few small personal mugs of coffee vs. a huge thermos. It always stays hot, and remains fun to sip the whole morning
For my money, this is the best time of year to spend a few nights outdoors. The bugs have died down, but the weather is still sunny and dry. The days are  warm, but the nights are cool enough that you can snuggle down into your sleeping bag and not sweat it out in a roasting hot tent.
Perhaps you'd like to try a few nights backpacking or minimalist base camping, but you don't want to invest a ton of cash on the gear to make it happen. #Understood, friend. 
First came the radio. Turn it on, tune in the dial, and hope you'd have something listenable during the quiet moments. Then came the shop stereo, usually an old bookshelf system we didn't mind getting covered in sawdust. But for the last ten years or so, it's been all about the personal audio player...and for most of us, that means our smartphone. Why blast the tunes throughout a space,  keeping up with loud machines and bugging those around us when you can have literally anything you want playing through your own set of earbuds?
Whether you opt for music, podcasts, audiobooks, or digital radio, most DIYers and woodworkers have a set of earbuds plugged in during most parts of a project. The problem? If you use power tools, you still need to wear hearing protection to 1) take care of your ears and reduce loud exposure to noise and 2) hear your audio over the roar of the motors. 
For the last couple of years, we had two ugly rocking chairs on our patio that I never really liked.  They were a little awkward to get into, the fabric was hideous, and they took up way too much space when they were reclined.  So, when my wife asked me to build an outdoor sofa for our patio, I didn't have any hesitation to say "yes"!  
To figure out what style of seating we wanted, I searched "outdoor sofa" on Pinterest to get some inspiration and figure out a basic design.  Once that was decided, I tasked my wife with finding the outdoor sofa cushions. I wanted to find the cushions first and then build the couch based on the
I remember when the cheese lovers started telling me what was "real" cheese and what was "fake." I remember taking them seriously because they were talking about cheese cultures (ha. pun!) I knew to be important: Italian, French, Swiss, Spanish, etc. "Cheese is alive!" these experts insisted. And anything that was not the product of natural fermentation and cave-aging was unacceptable. Eating the rind was important. The worship of bacteria in the process was expected. The presence of insect larvae was not necessarily a negative. Out of a world that had room for Cheeze Whiz, handi-snacks, and this bit by Mitch Hedberg, the celebration of authentic, non-adulterated cheeses was completely legitimate. 
The solar calendar has finally acknowledged what we've all know for a few weeks: it's summer. And with that most blessed of seasons comes the opportunity to get out of town and see the world in all its sun-soaked splendor.
The trick for making all this happen as easily and frequently as possible. Pack lightly, my brothers and sisters.    
One of the books in my current stack is Let My People Go Surfing, written by Patagonia founder Yvon Chouinard. The book is structured into two parts: the first half is a brief history of the company from its origins as a beachside blacksmith shop producing climbing equipment. The other is a company handbook on the founding principles and values on which the billion-dollar company makes its decisions.