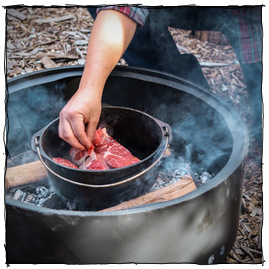 Perfect Your Campfire Cooking Technique
A sour is one of the original families of cocktails, and, done properly, is pretty straight forward: base spirit, an acid to create complexity and brightness, and a little sweetener to tame the sourness and round things out. Which means: a whiskey sour is a perfect cocktail to make at home, without any need to buy an overly sweet commercial sour mix.
I've admitted it on ManMade before: I'm a total sucker for liquids sloshing around in slow motion, especially thick, colorful ones like paint. And, I'm never not amazed by 
Over the last few winters, I've tried to become a scarf guy. I've bought a few versatile ones, and store them on the coat rack so I remember to wear them...but honestly, I'm a little lost. I haven't worn a scarf since the snow days of elementary school, and I can't seem to find
The designers at PopChartLab have completed The Magnificent Multitude of Beer, a quite sizable 
Halloween decor and projects are a pretty mixed bag, but one thing is certainly true: during the month of October, you can find some pretty unique novelty goods at discount store, craft shops, and those short-term Halloween stores that pop-up in old Border's and Pier One storefronts. You know, stuff like
Look, there's nothing new to say about how amazing a warm, filling bowl of soup tastes during these crisp fall days. Autumn is awesome, soup is awesome, and there's no time like this weekend to whip some up. 
First things first: can you guess how many bikes were used in this installation?
Some of the most frequent kinds of questions ManMade receives are inquiries like, "I just graduated college and finally have a real income and I'd like to start investing in some long-lasting goods..." or "my fiancée's birthday is coming up, and I'd like to buy him something every guy should have..." In 2013, I've been giving my take on those essential items, offering a new collection of ten each season: winter,spring, summer, and fall.  Some of these you might already own, some of these you might need to upgrade to a quality version, and most of these apply to women and households too. Please let me know what you think, and what you'd add or take away in the comments below.    
As falls continues to fall and winter approaches, bring some life and greenery inside your space with this easy handmade planter project. 
This ManMade post was written by Al Daniel
My wife Meghan and I moved into our first home about 2 months back. A nice little 1940's cottage on a sleepy street. While stowing away extra boxes after a long weekend of moving, I noticed the insulation seemed a bit thin. It was there, just not much of it. I made a mental note to do something before winter hits. Meghan likes a warm house and I like saving money.