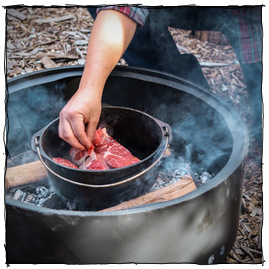 Perfect Your Campfire Cooking Technique
Artist, maker, and friend of ManMade Mr. Lentz details his process for making a sturdy and efficient workbench designed for all kinds of crafts and projects. The more projects I finish, the more I realize how essential a strong flat work surface is to every kind of endeavor, and that it should be among the first projects any creator takes on.
When Mad Men actor Vincent Kartheiser found success and bought his own Hollywood home, he ignored the sprawling mansions and purchased this, instead: a 580 square foot cabin. The space is full of clever space saving details and designed with a masculine yet sleek aesthetic the Kartheiser calls "Japanese industrial." 
The Shenyang Gallery is currently showing a series of interactive 3D paintings where the audience is encourage to be part of the art work. Kicking it with Bruce Lee? Dione!
This is an awesome way to introduce people to art and culture; it's like a science museum, for grown ups. I And let's face it, it kinda sucks that we can't touch most of the art (and for a good reason), so being this up close to original paintings is quite the privilege.
And hey why not taking this as inspiration for a photo booth? Perhaps looks for an image and print it on a huge poster, use it as a background, add a few props and bam! Your guests will definitely
Jason Loper - founder of Captain Dapper and friend of ManMade - figured out this excellent technique for turning old worn out neck ties (hit the thrift store!) into stylish DIY bow ties. 
Polish artist Michal Krasnopolski has taken the minimalist pop culture trend to its most, um, minimalist. Using only straight lines and a single circle, Michal summarizes dominant imagery of the film, or creates a reduced version on its (existing) iconic poster. 
FlyKly is one of the coolest things we've seen on Kickstarter, and its no wonder why they are well over their goal already. This new product could potentially revolutionize the way we commute, while still allowing you to use you bike with traditional power.
Sometimes,  we just need photos like this to remind us to get out of our familiar cribs and explore whatever we can get under our feet. This morning, these are totally doing it for me. 
Hey there! If you're new to ManMade, check out some of our original how-to projects, free downloads and templates, or other guy-friendly holiday content!



Designer Anthony Herrera has released a brand new set of Star Wars snowflake templates, free for downloading and making en masse as you settle into the holiday season. 
Growing up, we (well, at least I) learned that creativity was a facet of one's artistic talent: if you can sing or draw or make up good stories, you were creative, and encouraged to develop it. But, thankfully, we've learned that creativity is more than just a "one size fits all" kinda thing, and more than just your ability to use a pencil to make realistic looking objects or even solve problems.
Striking simplicity! This ModelWorks Lamp is perfect for your desk, as a gift, and even as a DIY challenge.