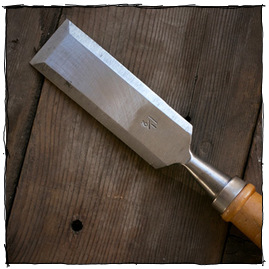 How to Restore a Vintage Chisel
Murray Carter is the 17th generation Yoshimoto bladesmith. He was born and raised in Halifax, Nova Scotia, but and traveled to Japan when he was eighteen, inspired by a karate competition. There, he encountered the Japanese bladesmith tradition, and he stayed in Japan for half his life and apprenticed under a Japanese bladesmith for six years.
Murray now works at his own shop just outside Portland, Oregon, and the Tristan Stoch and the Cineastas film crew visited his workspace to create this fascinating portrait of what actually goes into forging and shaping this precision tools by hand.    
Russian photographer Alexey Kljatov created a surprisingly simple homemade macro photography rig, with which he was able to shoot these incredible images of intricate snowflakes. The setup involves a basic point and shoot camera, a piece of scrap wood, some black tape,
Each Wednesday, I post some of my favorite can't-miss links, images, and otherwise mindblowing goodies from across the web.
A fascinating looks at what it took to create the A7L number 056, the space suit worn by Neil Armstrong during the moon landing. It was made, turns out and in of all places, by a bra manufacturer, specifically the division "that manufactured Playtex bras and girdles, ILC had engineers who understood a thing or two about rubber garments. They invented a bellowslike joint called a convolute out of neoprene reinforced with nylon tricot that allowed an astronaut to bend at the shoulders, elbows, knees, hips and ankles
GQ shares this fascinating chart excerpted from the new book The Kings County Distillery Guide to Urban Moonshining: How to Drink and Make Whiskey by Colin Spoelman and David Haskell. 
My friend Jaime recently shared this super cool decor installation piece from Cush Design Studio on her always excellent site, Design Milk. 
A utensil that can be eaten = less cleaning and more food. Sign us up!
Whether you're actually looking to buy some clothing and gear for a man, or just fulfilling your mom's wish to "send her a list," here are my (Gabriel's) ten picks for style-oriented holiday gifts.

Seventy-five years ago, in 1938, Harvard University began a study following the lives of 250+ young men to see how the various ups and downs of adulthood would affect their experience. As Feelguide summarizes, "The study's goal was to determine as best as possible what factors contribute most strongly to human flourishing.  The astonishing range of psychological, anthropological,
Austin-based photographer Emily Blincoe has been experience with shapes and texture inside of different color families. In this series, she takes on candy, gum, and other sweets. 
To celebrate their one year anniversary, design and branding firm Fieldwork created "A Guide to Making Things."