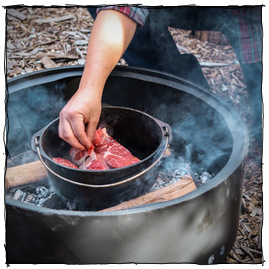 Perfect Your Campfire Cooking Technique
Since you're probably going to be popping some bottles for the holidays, why not making this geo wine stopper to keep all your spirits fresh and boozy, yes? You can use 'em yourselves, or give as party gifts.
My Dad was in a Band is a (relatively) new project dedicated to sharing the stories of the children whom, you know, had a dad in a band. Most of the bands experienced only regional success, but a few - Dee Snider
The DIY blogosphere is full of inexpensive table projects made from affordable dimensional lumber and galvanized plumbing fixtures....so, we consider that topic still clever, but substantially covered. Now? Now is the time to build on the basic technique, a put some actual design into it.    
We're always big fans of Pop Chart Lab's work, but we get especially jazzed when they start talking about a most ManMade of subjects: hand tools. 
No space (or patience) for an actual Christmas tree? This DIY idea looks plenty festive, plus it leaves no mess at all. Bu-bye pine needles!
We've all got our personal goals. That collection of things where we won't feel like we've tried to give our best selves adequate space. Career goals, family goals, fitness goals, travel goals...all those things that go into feeling like we've accomplished what we were made to do. 
This year, I'm forgoing all my traditional holiday cookie recipes, and making nothing but these: Triple Layer Peanut Butter Chocolate Chip Cookie Dough Cups. Try saying that three times fast.    
For many years, it was no longer about finding Waldo, but about turning the pages and pointing out where I knew he was, and trying to make it to the end of the book as fast as possible. Cause - between the ages of eight and ten - I had those suckers memorized.
But, that was decades ago, and my visual cues are all gone.
I love the festivity of string lights and paper lanterns for the holidays, and they're so easy to come by cheaply at the discount store. Except that, well, they look like cheap paper lanterns from the discount store. So, I came up with a way to put an arty spin on this classic - the perfect way to add a touch of modern to your holiday decor.