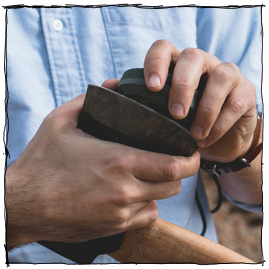 How to Sharpen Your Axe
Fact: the physical space that we inhabit on a daily basis, especially our homes, is an extension of our minds and attitudes. Your thoughts influence your actions, your actions influence your environment, your thoughts respond accordingly, and so on.
I don't need to offer a strong argument that the passive life—that is, the life where other people and random events have determined your course—is no life at all. Bearing that fact in mind, your surroundings shouldn't be an afterthought, but a map of the deliberate decisions you've made to make the best use of your time, energy, and resources.
I recently wrote about how you can hack your habits by deliberately organize your home; this is one specific application of that precept. The goal here is to reduce clutter, and the tool is a simple, easy-to-memorize maxim:
To the non-DIYer, dedicating an entire blog post to this process may seem like overkill. But anyone who wields their cordless drill on the regular can attest: the issue of making an existing hole larger comes up all. the. time. Whether repairing something around the house, replacing a part or piece of hardware, or just because you didn't quite get it right the first time, any maker, woodworker, or generally handy person knows how frequently one needs to enlarge a hole, and how surprisingly difficult it can be to pull off. 
The bowline knot is not just for sailors. Nor anglers, mountaineers, first responders, or anyone else who need to know a huge diversity of knots, their strengths and weaknesses, and what situation calls for each.
This is for the rest of us. Those of us who go through normal life and its adventures, and encounter rope, twine, string, line, paracord, and the like, and when we need to secure it, say "Should I tie this like my shoes, or in a square know that I know will be nearly impossible to get off when I'm done."
The truth is, at this point in our lives, we're probably not going to learn how to tie a complex cavalcade of knots, and even if we did, would probably not have enough opportunity to practice them in real world situations in order to commit them to long term memory.
But, still, we should all know how to tie at least one pro-level option, and so we say to you — if you're only going to know how to tie one kind of knot, let it be the Bowline Knot  
We love our pickles here at ManMade. Whether we're fridge pickling veg or tossing a dill cuke in our beer, we're fans of the vinegary tang of natural food preservation.
Now, tomatoes are no stranger to canning; homemade pasta sauce is one of the handmade life's greatest joys, and pickled green tomatoes are delicious in that check-out-the-awesome-secret-restaurant-in-the-hidden-alley kind of way. But I've barely seen pickled cherry tomatoes register on the pickle scene, and it's a rotten shame.
I got this idea soon after some friends visited and forgot their charger cords for their phones. Since I had my own to use overnight, we had to fish around for other solutions. One day, in my shop I was reflecting on this dilemma when I remembered there were these new USB wall sockets that would be perfect to turn into a portable DIY charging station whenever I need it. 

"One does not inhabit a country; one inhabits a language. That is our country, our fatherland –– and no other."    –– Emile Cioran
We're living at a weird time when it comes to the question of learning a new language. On the one hand the world is becoming so globalized, so intercultural, and so communicative, that there has never been a more relevant time to learn Korean or Farsi or Finnish. On the other hand, digital tools for translation––both in written and spoken forms––are becoming so capable and intuitive that language is no longer the high water mark for understanding a culture. 
For centuries of especially European history, learning languages was a crucial part of being an educated and informed person. After all, in a world full of different languages, it was a necessity to be able to communicate. But in a bizarre way, global society has actually made us LESS dependent on learning a foreign language. English has become the internet's lingua franca, and tools like Google translate and other translation software has made navigating multi-lingual spaces easier. And tools like Duolingo give us exactly the amount of language access we need, which seems to be enough Spanish or French or Mandarin for our vacations. Language courses and requirements are disappearing from schools and unless you are born into a family that speaks a language different from the culture around you, its harder and harder to learn.  
Hopefully, you're already a committed safety glass wearer. Grabbing a pair for even the simplest drilling/driving task is good practice, and a part of your DIY routine. Even better, if you use power tools, you're also protecting your hearing from those roaring 85-90 dB motors.
Last in that great triumvirate, and perhaps the most often overlooked, is protection for your respiratory system. Too many of us don't wear a dust mask, respirator, or sealed face shield when working on projects for one simple reason: they are extremely uncomfortable, a total hassle, and more irritating than your second cousin's toddler at the Thanksgiving table
I guess you could put something else other whiskey in a pocket flask. Maybe some nice sipping tequila in summertime, or perhaps a bit of brandy around the holidays. Whatever you fancy.
But whatever goes inside, our vote is: you should own certainly own one. Not because you should be sneaking spirits in places you shouldn't have them (although...) But because its summertime, and you should be headed out on adventures. And once you've achieved whatever goal you set, it's good to celebrate a little.      
Salt of the earth. Worth his salt. Take it with a grain of salt...
It doesn't take much digging into English idioms to recognize a pattern here: salt is valuable. As an essential mineral? Sure. As a time-honored method of food preservation? Yep. But most importantly? It makes your food tasty. I quote Michael Ruhlman in The Elements of Cooking, distilling a conversation with award-winning chef Thomas Keller: "It is true not just for cooks in professional kitchens, but for all cooks in all kitchens, everywhere: learning to salt food properly is the most important skill you can possess." It doesn't get any more definitive than that. 
The pursuit of properly seasoned food calls for action beyond just salting at the table. See, in my home, salt shakers are mostly for 1) decoration and 2) the occasional ear of corn in July. The reason is that my wife and I salt our food while cooking it. We caution guests to taste their food before they reach for the shaker because if they try to season it at the table, it'll taste oversalted.
In fact, when we're cooking, we actually dispense with a shaker entirely... and by the way, forget about the 1/4 teaspoon measure. We use an even simpler set of fundamental tools:
I love reading. It's a passion and a pastime, a comfort when I'm stressed out, and a total compulsion—ask my wife and she'll confirm that if there's written material anywhere in my vicinity, I'll scan it. I read books from the bookstore and the library, I read articles on my phone, I print out PDFs of friends' screenplays for annotated reviews.
I also really enjoy buying vintage books, especially while traveling. My trade of choice is artisan printing, particularly in letterpress, so I love examining the craft that goes into these old books.
Most books come to me in decent condition, but every once in a while I'll come across one in a Charlie Brown Christmas tree state. Today I finally sat down to work on this 70-year-old German paperback, and I'd like to share my DIY book binding process with you.