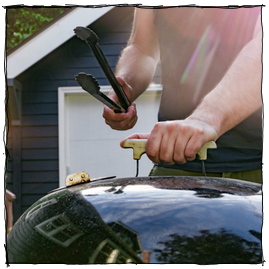 How to Improve Your Charcoal Grill
Zion National Park, in Southern Utah, is one of the most incredible places in the U.S., and likely the world. Its awesomeness is also not a secret, so its super crowded in the summer. It's relative proximity to the Las Vegas airport and the Grand Canyon means its packed with tourists, so much that you can't even drive in the park - you must take the park's shuttle. (Which, by the way, is actually kinda cool.)   
Two summers ago, for my birthday, we took a trip to Bourbon country in Kentucky.
One of the highlights - among the distillery tours and great Louisville restaurants and sites - was a cooperage tour: viewing the factory that makes the barrels in which the bourbon is aged. 
This post could be titled: "who doesn't want a giant dinosaur print in a frame you made yourself on your wall?" Cause, that's what's a-happening here, friends.   
I know "summer reads" are the cultural icon: books to be read on the beach, on long car trips, during a much needed week off work. But, I'm always more of a fall reader... Summers are for magazines and research for all the outdoor activities and bike trips and all-day grilling sessions and staying out during the long days and evenings. 
You know those internet things where everything you love gets summed up in one place? This is one of those for me...
Alright, pop culture people. Challenge time: Name the film characters in the image above. Or perhaps this one:   
My pal Shauna from FairGoods came up with this clever DIY coaster project: some bold type on the front for visual interest, and your favorite cocktail recipes on the back for reference. 
You may have been told that the less desirable effects of alcohol - the disturbed sleep, the morning-after headaches, the drama in your gut - come from dehydration, or impurities from barrel aging, or mixing spirits, wine, and beer in a single session. I've always thought (or, um, learned) that it's the sugar in sweeter drinks that does the deed, coupled with the dehydrating effects...but, even if you DO drink water, or don't have multiple spirits, the effects can still be intense.
Turns out - we've got it all wrong. 
Each Wednesday, I post some of my favorite can't-miss links, images, and otherwise mindblowing goodies from across the web. 

Apparently, there's a highly beneficial time to enjoy your morning coffee... and it's not as soon as you wake up. Fast Company
Johnny Davis takes a look at the wild, wonderful world of the thirty-four billion dollar disposable razor market. The subtitle, I thinks, says it all: