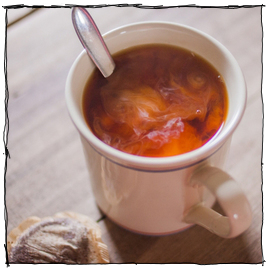 The Greatest Cold Remedy Known to Man
You know those days when you have stuff, and you need to move it? Like, the errand-running days: exchange movies at the library, go to the post office, stop by the hardware store, go snatch a six-pack to take to your buddy's house tomorrow...those kinda things. 
Every year, on my birthday, my wife takes me to the record store and we pick out a new album as my official birthday present. It's something we did by coincidence the first two years we were together, and it's become our little tradition to make the day special and add to our LP library...the only physical media we keep in the house anymore, save for books.    
For Werner, it all began with a trip to the lake. He recalls, "We were lured by a friend who had a sailboat with the promise of a nice lake with sandy beaches, crystal clear water, and a nice camping site. Everything was true but the wind, the frogs, the huge biting flies, and a massive category-five thunderstorm that soaked us inside the tent. My wife said that she had had it with the tent and unless I found something else to camp in, she was out."
So, Werner hit the internet to see if he could devise a solution to protect from the creatures and the natural elements while still enjoying the experience of outdoor recreation.   
Adding a bit of light to your outdoor environment makes it feel like a whole new space. Here's a quick how-to on making a rustic garden bollard light to your outdoor space using some pallet wood and an old Mason Jar.
Chivalry isn't dead in 2014. It's just, you know, different. In the era of smart phones at dinner and social networking breakups and Google glass and streaming media and cigarettes that aren't really cigarettes but still kinda are, the be-a-good-guy rules still apply, they just need to be updated a bit.    
Hardcore fan of your state? Or perhaps it just has a pleasing, graphic shape? Or perhaps you're simply looking for new awesome art to hang on your wall? Either way, check out this idea. 
Each Wednesday, I post some of my favorite can't-miss links, images, and otherwise mindblowing goodies from across the web.
Photography team Floto+Warner created a new series "Clourant," which captures colorful liquid splashes at a speed of 1/3,500th of a second.
Winter is gone, friends. Time to put that fireplace to sleep for a while, without losing the vibe! And this clever wood facade is just the trick.
Over the past few weeks, I've really been enjoying "Journeys," a photo essay series from Experiment with Nature, the blog of Shwood Eyeware.    
I love the interesting texture and rustic approach to this natural side table. In fact, I could put one in every room, except for the price of buying four or five could get pretty steep.