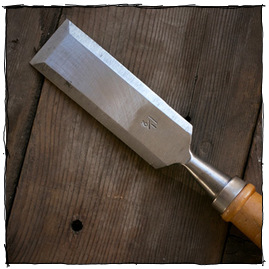 How to Restore a Vintage Chisel
We've all seen them. We're walking around some urban gathering of boutiques, restaurants, and the like, and we stumble across some new bar with an aesthetic that inspires us to say..."Man, that's going to look so 2012 in a couple of years." You know the place: the bartenders arm garters, everything's served in mason jars, and there's probably a meat cleaver in the logo.   
This weekend project is full of all the good stuff: it's practical, it's customizable, and it's a great way to practice and further your woodworking skills...with the tools that'll your store in it. The circle closed.    
Spring isn't the time for making complicated drinks...infusing spirits and boiling special syrups. It's the season for getting outside as much as possible, enjoying the ever-later evenings, and embracing simplicity.    
There are plenty of tutorials to make reclaimed wood or stump coffee tables. Most of them just require for you to get a piece of wood, sand the ends, and call it a day...somewhat negating the need for a tutorial at all. But! This one takes
I've had this article open in a browser tab for over a week, and I just took the time to read it. (I'm horrible about following through on long-form stuff online...one of the casualties of blogging, perhaps. I wanna get better at it.)    
Pop Chart Lab released their latest project, a categorization of all the styles, types, regions, and labels of whiskey from around the world.    
Oh, the multi-tool. I keep one stashed in several key places: my everyday bag, my glove compartment, at my desk, and an extra one that floats from my camping gear to my toolbox to a backpack for day trips. They're not all high quality - most were stocking stuffers or holiday presents from well-meaning family who snagged that 3-sizes-in-one-box from the "gifts" section of the department store that pops up in the aisle every December.    
Madrid-based design and art firm Tata&Friends take a stab at icon design by creating these minimalist interpretations of some of their favorite rock and roll bands.    
Even though there was unseasonal fresh layer of snow on the ground this morning, we're still smack in the middle of the spring outdoor season, and for me, that means finding plenty of tasty, energy-giving meal ideas.
We all know the stereotype of the grumpy old man. We've met him, we're related to him, he lives next door, some of us even have to work for him.