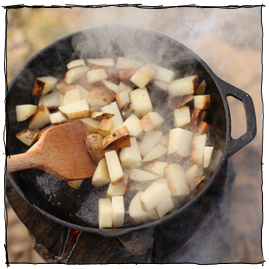 The Best Way to Maintain Your Cast Iron Cookware
Sparrows Uncuff Links – $59
You know how it goes: you're at the opera, meet a fancy lady, say something witty, one thing leads to another and before you know it you've both been abducted by the Ukrainian mafia and handcuffed in the basement of a Viennese cigar shop.   
As a kid, I had my own tiny bow and arrow set I would use to shoot elusive paper deer on a foam block. There was something satisfying about the manual skill it took to shoot an object one-hundred feet across the yard. Now that I'm older I can further that fascination by making my own bow to hunt down real dear.   
There are plenty of door stoppers out there, but most are made of rubber or cheap plastic. While the stoppers serve a purpose, they just don't belong in a manmade home. These burly cement stoppers are are much better way to go.

Football is back in season. For some of us, it's the all-consuming, stark-raving crazy best time of the year. For others, it's time to make some random fantasy league picks and hope we don't get embarrassed too badly.
But whether you're a rabid fan or rueful bystander, I think everyone can agree on the merits of tailgating. Eating good food, getting outdoors, and hanging out with friends should be on every guy's list of things to do this weekend. 
Recently, AT&T got in touch with us to let us know about their #Techgating tour. They're stopping at select games around the country with the AT&T Fan Zone Tour Truck, which is decked out with
What do you do when you're a hunting enthusiast craving the comforts of your warm log cabin but all you have is a dingy storage room in your basement? Gather up some spare wood and a heap of imagination and prepare to build a mind-blowing, compact-sized outdoor lodge.  
With fall blowing her cool breath along our neck, it's time to fend off the frost with some warm layers. Grabbing that frosty door handle can be both shocking and unpleasant without a toasty set of gloves. With so many types of gloves available, it's hard to figure out what fits well into the daily grind of autumn life; and we're here to solve that dilemma - go wool. Always go wool. 
You know that folk rumor where you can supposedly only stand an egg on its end during the vernal equinox, and how its totally false and nothing to do with the day of the year?
Turns out, there's another interesting viral-like tale that its impossible to crack an upright egg using only your hand.  
"A decent man must have a decent watch." So said Albert Falco to his watch-less companion just before legendary ocean explorer Jacques Cousteau gifted him his personal dive watch (a DOXA Sub) in preparation for their deep-sea dive.   
Whether it's by accident or misuse, chances are you're going to need to repair a power cord on something you own. I can't count how many times I've almost cut my circular saw cord while ripping a board or yanked a lamp line and ripped it clean off. The good news is you don't have to toss out your expensive tools to a severed cord. Instead you can repair it yourself!    
Fall is officially upon us, with its cool evenings, warm and windy days, and the exceptional flavors of my favorite season. As the weather cools down, we heat the kitchen up with long-cooked roasts, simmered soups, and plenty of spiced deserts. But the changing of seasons also rouses a plethora of fall-flavored beers to compliment the heavy meals the cooler weather inspires.