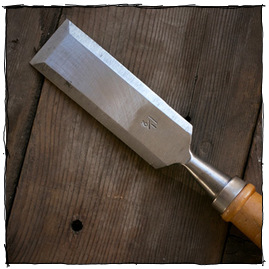 How to Restore a Vintage Chisel

This year we teamed up with Lowe's to throw an early Father's Day lawn party for our friends and family. Today I'll share the nitty gritty details, all the pretty pictures, and (hopefully) inspire you to pull together a few last minute DIYs for this weekend's Father's Day celebrations. Read on to find out what we did, and download everything you'll need to throw a party of your own.
DIY meets IKEA meets affordable-is-my-last-name. This table is perfect to hold your summer drinks and snacks and requires little work. Make one this weekend!
With grilling season in full swing, it's time to head to the butcher shop, see what looks awesome, and build those fires. And while the flavor and luxury of beef is relatively straightforward, buying the right cut for grilling, and cooking it to perfection actually isn't. Steak is expensive, and anyone who's tried to cook a too-thin cut or one with too much connective tissue only to cut into a dry, chewy mess can tell you: you gotta know what you're doing, which means knowing what you're buying. 
This video from NYC butcher extraordinaire Pat LaFrieda "explains every "steak" you'll likely see, where they come from, what they look like, and
I've admitted it before on ManMade: I'm a hair product guy. I have a very short forehead, and rather thick and heavy hair, and if I don't put a little hold in it to get it off my brow, I just look sad and like I don't know how to comb my hair. 
Here's a helpful tip for some serious upcoming summer getaways. Cause the more efficiently you pack, the easier you travel; and the easier you travel, the more places you can go.    
Now there's something else to look at instead of all those flatscreens....
Magnetic strips and drawers and knife blocks begone! This custom solution allows you to add some serious texture to your kitchen or workspace while protecting the edges of your tools - with a leather knife and tool rack.    
Summer weekends are the perfect time to test out a new cocktail. Stop by the store on the way home from work, grab a new bottle and some citrus, and spend the rest of the weekend gathering with friends and nailing it down, just right. 
This weekend, I'll be trying out an update on my number one, very favorite, easy-to-order-cause-its-hard-to-mess-up-unless-they-shake-it cocktail, the Negroni, by cocktail blogger Emily Arden Wells. 
ManMade reader Donal McKernan is an expert in graphic design and dimensional sign-making at Danthonia Designs, a hand-crafted sign shop in Inverell, Australia.
 Danthonia recently released a series of how-to videos, detailing the process to making a one-of-a-kind hand-carved wooden sign.    


Yesterday I shared our plan for an awesome backyard father's day bash, and today I'm really excited to let you in on a huge giveaway. We've teamed up with Lowes and are giving away a $2,000 gift card. People, do you know how many ratcheting screwdrivers I would buy with $2,000? Power tools! USB-enabled power outlets! Those little rolly things you use to put painters tape down! Caulk guns! Shrubbery! I could go on and on, but I don't think you'd enjoy that as much as I would. So read on to find out how to enter the giveaway (I promise no more shopping-spree daydreaming from me)...