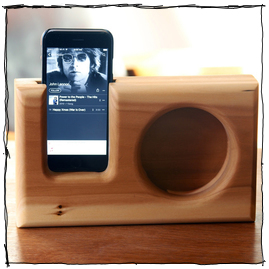 How to: DIY Wooden Smartphone Speaker
Summer weekends are the perfect time to test out a new cocktail. Stop by the store on the way home from work, grab a new bottle and some citrus, and spend the rest of the weekend gathering with friends and nailing it down, just right. 
This weekend, I'll be trying out an update on my number one, very favorite, easy-to-order-cause-its-hard-to-mess-up-unless-they-shake-it cocktail, the Negroni, by cocktail blogger Emily Arden Wells. 
ManMade reader Donal McKernan is an expert in graphic design and dimensional sign-making at Danthonia Designs, a hand-crafted sign shop in Inverell, Australia.
 Danthonia recently released a series of how-to videos, detailing the process to making a one-of-a-kind hand-carved wooden sign.    


Yesterday I shared our plan for an awesome backyard father's day bash, and today I'm really excited to let you in on a huge giveaway. We've teamed up with Lowes and are giving away a $2,000 gift card. People, do you know how many ratcheting screwdrivers I would buy with $2,000? Power tools! USB-enabled power outlets! Those little rolly things you use to put painters tape down! Caulk guns! Shrubbery! I could go on and on, but I don't think you'd enjoy that as much as I would. So read on to find out how to enter the giveaway (I promise no more shopping-spree daydreaming from me)...
For many, the great treat of summer is a quality gin and tonic. For others, the warmer months mean ice cream season. And now, those two groups can hold hands as they sit outside in the long days and smell freshly cut grass after they barbecue amidst other summer tropes with some of this: gin and tonic sorbet.   

Father's Day is just a week away, and this year, we're throwing a big, manly bash to honor all the dads in our lives. Today we'll share all our ideas for the party, tomorrow we've got a HUGE giveaway for you, and next week, we'll share the pictures from our big celebration. Click through to see what we're cooking up!
Each Wednesday, I post some of my favorite can't-miss links, images, and otherwise mindblowing goodies from across the web.
Is this the "most meta thing on the entire internet?" It's a "GIF of a Vine of a video of a flipbook of a GIF of a video of a roller coaster."
Give your favourite books and magazines the royal treatment with a "bookrest" that provides storage for your current reads while showing off their cover art. 
Oh...Father's Day. Even if you don't remember it's coming, the barrage of ads will always remind you. The ads, the ads. The ads that seem to think the only thing you should ever buy your dad is either a lawn mower or a grill or power tools. Which, on one hand, isn't totally awful, because grills and tools (and lawnmowers?) are cool, but here's the rub: tools are a personal thing. They're bought for a specific project, or a skill set, or a desire to learn a new technique.



(Yup, we're also giving away FIVE $100 gift cards to Duluth Trading Co. Read on to find out how to enter!) 
An easy and super affordable way to add some extra seating...