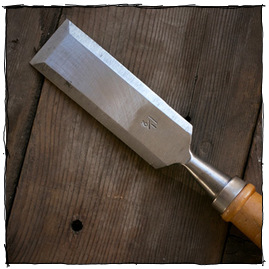 How to Restore a Vintage Chisel
Looking for a way to add a bit of the outdoors or a rustic vibe to a room? This fun build brings plenty, with a bonus spot to stash some stuff. 
"Wetter is better." Never has a marketing campaign worked so well on yours truly. The original Super Soaker 50 was the true great gift lust (well, that and a by-then unpurchaseable Fireball Island game) my version of Ralphie's Red Ryder. And nothing was sweeter than that moment on my [9th? 10th?] mid-June birthday...which is a pretty great time to get a giant pressurized neon water gun.    
"You Earned It" is a new bottle opener from Owen & Fred, makers of those awesome leather luggage tags.    
Henry Hargreaves is a professional food photographer, and gets plenty of opportunities to travel to countries across the globe. At each new place, Henry takes the chance to document an interesting cross-cultural phenomenon: to-go coffee cups.    
Sometimes, a project is born from a flash of inspiration. Sometimes, from a desire to work with a specific material or amazing length of wood or side of leather. But most times, a project is born from the fact that you don't have one, and you'd like to.   




HGTV's® new series Flipping the Blockputs teams to the test in a renovation competition. With a cash prize of $50,000 on the line, contestants must remodel and transformrun-down condos in a race to add the most value to their space. Judges and HGTV stars Nicole Curtis (Rehab Addict) and Scott McGillivray (Income Property) will select teams to win weekly prizes, while host and licensed contractor Josh Temple will guide the teams throughout the design and renovation process.

HGTV's®Flipping the Block premieres July 20th at 9/8c. To meet the teams and watch behind-the-scenes interviews, be sure to go to hgtv.com/flippingtheblock. Join the
I'll never turn down an opportunity to share a clean-yet-rustic furniture project made entirely from easy-to-find materials from your local home improvement center. This
Each Wednesday, I post some of my favorite can't-miss links, images, and otherwise mindblowing goodies from across the web.

Some thoughts on getting the most out of your barber and summer haircuts...which are, mostly, centered on not trying to do much here. Sometimes straightforward conveys more personality than you think. 
Hi there, ManMakers. I'm excited to share some cool news: we're having a great 2014, and in order to build on that success, we want to bring on some new voices. So, ManMade is putting out a special call for new contributors. 
Before the era of everything-is-made-of-plastic sewing machines, these helpful tools were created from long-lasting materials designed to stand up to any project and the test of time, namely: metal. And the cases, while usually covered in some once-stylish but now worn vinyl are often made from wood.