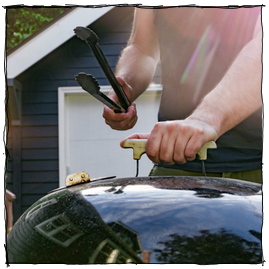 How to Improve Your Charcoal Grill
Sure, it's a bit of a novelty, but doesn't anything served in a shot glass fall into that category, too?   
Every man needs a cutting board and a good, solid one always ups the ante of the kitchen's quality. Inspired by the impressive designs of 1337motif, this step-by-step guide from Instructable's community member 1up Living shows you how to create your own cutting board with some vintage video game inspiration.    
This post is sponsored by The Home Depot.
I use a lot of sharp things in my projects ... and I have the scars on my hands to prove it. See, most of my creative work involves taking some raw material, cutting it, shaping it, and then putting it in relation to other cut and shaped materials. A piece of hardwood through the table saw, paper cut by scissors, a carrot chopped by a chef's knife, a linoleum carving block sliced away for printmaking. Each uses different techniques, but are all, at their core, intentional material manipulation.   
Hey, don't forget to scroll all the way to the bottom to learn how you can win your very own Dremel Idea Builder 3D Printer!
Here's a clever use for leather: Josh used some nice thick 12-14 oz leather to create a thermal sleeve for a mason jar to prevent warm drinks from burning your hand, and then he added a swell leather handle for functionality and some serious style. 
Hand-Eye Supply, purveyors of fine work inspired goods, tools, and gear, recently released their new collection of awesome workplace photos, and the people that create there.    
We've still got a couple weeks yet, but why not check out these recipes now and prepare yourself for the manliest Thanksgiving yet? The dinner menu features "a turkey smoked over sweet applewood and corncobs, ember-cooked potato packets..., a grilled fig and dried fruit chutney; and grilled green beans with shallots and hazelnuts."   
My grandparents used to have a mudroom at their farmhouse. It was where everything from the field was shed and washed, but it was also where the food was kept. Along one wall was a long zinc countertop dented and riddled with history, a piece of that old house that really made an impression on me.  
Have you ever pulled out your cutting board just before dinner to find a rather large crack running up the middle of it? When you pay a fortune for a good board, problems like this can make you hesitant to want to throw them out for another one. Frank Howarth recently posted an inspirational process video for a repair job he did on some rather large sushi cutting boards for a local restaurant.    
Alright men: the votes have been cast, and the safety razor is the way to go. I got my first one as a gift from a buddy and have used it ever since. They're significantly cheaper, easier on the environment, better for travel, and generally make you feel like a badass...   
My family loves honey. The natural sweetener is either on or in just about everything we eat, so it was just a matter of time before we started looking into "making" it ourselves. This basic bee hive is the perfect start to getting natural honey right from the source.