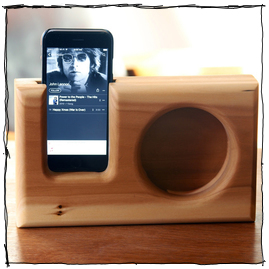 How to: DIY Wooden Smartphone Speaker
Each Wednesday, I post some of my favorite can't-miss links, images, and otherwise mindblowing goodies from across the web.
Sometimes, you're out and about, and you realize: you're not really looking your sharpest. An unexpected spill, a weird hair thing happening, or perhaps you're not smelling so fresh. In those cases, and plenty others, consult
The DIY blogosphere is rife with dresser makeovers. Like, completely full of them. And most involve some rescued thrift store piece, dinged up and the wooden finish too 70s to bear, which gets sanded, painted, and perhaps something graphic or colorful applied to the drawers. It's a great trick, practical, useful, and affordable, and you can find a million tutorials on how to go about it.   
I'm digging this rustic, cabin-look wall hanger DIY project, which adds some vibe, visual interest, and plenty of storage. The how-to comes from The Effortless Chic
In the first half of the 20th century, the average U.S. citizen spent about 12-14% on clothing. Today, we spend only 3%, and yet we own about 5x the amount of clothes. In the vein of fast food, economists are calling this "fast fashion," and like that extra value meal, it's not very good for us.   
It's the season of campfires: whether in your own backyard fire bowl, a rock ring at a weekend getaway to the lake, or a (designated) spot in a backcountry trail. And the best way to get them started? One match, and a guaranteed source of fuel. 
Industrial designer and maker Mike Cheung took a handmade approach to creating a custom beer tap handle. His design is made from hardwood - maple and walnut - with plenty of graphic details and type to convey the branding aspects of the client, P'unk Ave, a design agency in Philadelphia.
This time of year, I try to do as much outside as possible. Everything from cooking to writing blog posts (like this very one...hooray for working from home) to paying bills is that much better from fresh air. Even with all the flies and spiders. 
Whoa. Optical illusion? Nope! This is all made by hand using nylon threads and charcoal pieces. Fascinating? Definitely! Check out the rest of the images of this awesome installation:

This year we teamed up with Lowe's to throw an early Father's Day lawn party for our friends and family. Today I'll share the nitty gritty details, all the pretty pictures, and (hopefully) inspire you to pull together a few last minute DIYs for this weekend's Father's Day celebrations. Read on to find out what we did, and download everything you'll need to throw a party of your own.
DIY meets IKEA meets affordable-is-my-last-name. This table is perfect to hold your summer drinks and snacks and requires little work. Make one this weekend!