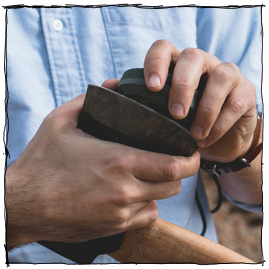 How to Sharpen Your Axe
For most men, cufflinks are one of those accessories that are seldomly used, but when you need 'em, you need 'em.  You can buy custom cufflinks from anywhere between  $20 to hundreds of dollars…or, you can make your own masculine, custom cufflinks for $5.  This is an incredibly simple project that took about 25 minutes to make and, if I may say so myself, they look pretty great.
When fall falls, it falls hard. It fills our eyes, our noses, and, if we're doing things right, our cocktail glasses. 
Apple cider is a seasonal classic, and its can't-beat-it flavor is a perfect match for all sorts of spirits and simple cocktail ingredients. You can make these seven apple cider cocktails with things you probably already have, turning a simple jug of cider into something that will make the whole month of October much more festive.    
If you ask me, the single best place to get breakfast in NYC is Bubby's. They have incredibly delicious and addictive pancakes. And yet, Bubby's is not a secret, and as it is with the "best" places in any city, getting in often requires a long wait. It's popular with tourists who want a chance to get their forks into this magical creations, and I can't blame them. They're that good.
I, on the other hand, hate waiting, and I so I figured out how to modify the recipe a bit and, instead, I'm making brunch in my own kitchen this weekend.
Here's how to make better pancakes at home. 
Its the season of nippy evenings and crisp mornings and the smell of leaves gathering over mossy ground. For most of the nation at this point in the calendar, the temperature has finally started tipping toward a chill. It is also the season when the entire world of marketed goods becomes pumpkin spiced, cinnamon sprinkled and otherwise given a taste that makes it seem like you're sucking on a mouth full of allspice berries. And you know what? I love it. I really do. We don't have a lot of big, broad ways in which we all, as a people experience the passage of time. So we might as well let our common appetite for sugar and spice become something that binds us together.
One way to let this explosion of cliché fall flavors come into your world, responsibly, is in your coffee cup. Because why not? Coffee is a daily part of many of our lives. And unless you are the Scroogiest grouch when it comes to the amusements of the months of October through December, why not let the occasional cup get gussied up with the joy of the season and its holidays? So, if you are the kind of person who likes to drink a little whimsy now and then, here's how to bring all of the warmth and cheer of the fall into your morning cup.    
Fall means many things. Most important among them: firewood season. Whether building a campfire in a stone ring for cooking, heating your space via a woodstove, or just setting your indoor fireplace ablaze for some warmth, these next six months are all about the cheer that can only come from the presence of an open flame. 
So, as we settle into the new half of the year, let's take a moment to address humankind's most primitive tool: the axe. Whether your splitting whole tree rounds, dividing logs into kindling, or getting creative with woodcarving, the process is simple, and only needs to happen once a year for the average non-lumberjack. Here's how to sharpen an axe.    
Whether you're flying for business or pleasure, airline travel should never be a drag. Sure, there are luggage fees and long lines and you somehow always end up in the last zone to board. But once you're settled in your seat, you are flying 20,000 ft in the air. And while the in-flight meal seems to have gone the way of airline peanuts and flight attendants who wear those little hats, that doesn't mean you should have to drink poorly while you cruise at altitude. 
So, what should you get? Overpriced mini-bottles of mediocre California red blend? An $11 macrolager? Of course not. If you're wise, you can turn out a perfectly respectable cocktail for the price of a single miniature. With a few complementary items from the drinks cart, you can make a fine Old Fashioned that honestly doesn't cost more than a comparable cocktail from your neighborhood bar. 
So sit back, relax, and actually enjoy your flight. 
You can barely imagine what the world was like in the proto-suburbs of the Pacific Northwest for a child who had traveled there––entirely on his own, with his mother at home and his father awaiting him––from a small Tuscan village. This was before "a small Tuscan village" was even a thing on the radar of America at large. And it was before America had its culturally and politically dominating century. It was before anyone knew what the Pacific Northwest would become, foodwise.
And yet, that is where Angelo Pellegrini settled. His childhood of 12 or so years in Tuscany gave him an uncanny experience to bring to pre-depression America, including an adult life that coincided with the Cold War in which his heritage could not have been less relevant. He was born at just the right time to enjoy America in a way that few others had. But he was also born just a bit too early to have been the celebrity he would have been if he had emerged in the age of Alice Waters and the Food Network.    
You've built the bookshelf, covered it with great books, but it needs a little something more. Some classic records perhaps? Why not treat yourself to this essential guide to the best jazz albums in the history of recorded time – bar none?
If your water resistant rain shell doesn't seem as water resistant as it use to be, it's time to give the coating a little revitalization to keep those beads forming, and your body dry.   
One of my all-time favorite aphorisms is that Victorian era gem that shines from its facets of order, efficiency, and thrift:
A place for everything, and everything in its place.
I consistently use this idea to recalibrate the way I see my home and studio. My wife and I are work-from-home freelancers; we're in our house 90% of the week and share it with our very active toddler and three cats, working and playing and cooking three meals a day, so we make a lot of mess. Without direct intervention, entropy reigns supreme, with total anarchy its final goal. Thus I constantly ask myself when I put something down: Is that where it lives? If the answer is no, put it away for real.
Well, let's piggyback off the idea of "a place for everything" to deliberately use our physical space to make good habits.