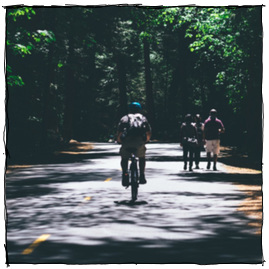 Common Sayings & Idioms that Actually Work
I spend a lot of time at a desk. Many of us do. It's a space where we learn, create, work, and play. I'm not saying all that sitting is a good thing, but if it has to happen then make the space as clean and relaxing as you can. Here is a quick project to add a bit of green, texture, and peace to you space.  
If you getting a ton of use out of the cord taco you made with the last blog post, my guess is that your probably going to get even more use out of this DIY leatherworking project.
As always, if you don't feel skilled enough to pull off any of the steps below, you can check out this beginners guide to get you going. 
Story Time: 
I — admittedly — was in the habit of just grabbing my computer and carrying it around. Its home was wherever I left it...unprotected. Stupid, I know. I'm pretty careful with my stuff, especially when it costs as much as a laptop, but even if you can control you're behavior, you can't always predict what
Vintage pieces are always fun to work with. Aside from looking great, they tell a story through dents, scratches, and a style that once was. Here's a quick tutorial on how to turn a vintage license plate into a great snack box for the mancave.  
Right now, you can find more tutorials on how to use vinegar to clean your toilet than you can find to use vinegar with a delicious dinner. This is a travesty for such an amazing and delicious liquid! Unlike most condiments, vinegar is one that you can make yourself and will taste better than anything you can buy in a store. I guarantee it! Here is a simple tutorial on turning leftover wine into homemade vinegar.   
At its core, a chair is simply a seat with a back. And while they often have legs and arms and complex joinery for strength, sometimes, a little physics can accomplish the same thing.    
I know it's a small thing, but your choice in writing implements can say a lot about you. Do you carry a simple plastic tube with cheap ink, or do you hold a solid, well-made piece that makes an impression? Or do you not carry anything at all? A pen holds stories and signatures, words and dreams, and you can make one that leaves an impression every time you put some words to that page.
That's why you should carry something impressive, and why you definitely should make your own.
Says Ernest Hemingway, "it is by riding a bicycle that you learn the contours of a country best, since you have to sweat up the hills and coast down them." 
We couldn't agree more. Nowhere looks more like itself than the way it looks on two wheels. And no matter your pursuit, there's a bike for it. Whether you're looking to spin for miles through country lanes on a road bike, run errands on a stout commuter bike built for comfort on city streets, or zip down tree-lined single track on a mountain bike, at the end of all the fun and adventure, you're going to have to get back to where you started. Safely, efficiently, and, hopefully, comfortably.
Spring seems to have arrived overnight, and with it comes the explosion of green as everything wakes up from its winter nap. First up? Time to fend off the weeds. . . and please don't reach for that toxic stuff. It's nasty for you, your yard, and everything around it. Instead, try this safer and super effective recipe.   
I got a lathe last year, and soon, the addiction hit hard. There's something incredible about the hands-on approach to shaping wood that makes you lose track of time fast. Like all skills, you need practice. But turning is immensely satisfying work; you can go from a straight block of wood to a finished project in just an hour or two. And crafting heirloom writing instruments is a great way to get started.