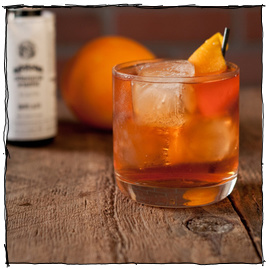 Memorize These Cocktail Recipes!
Hey ManMakers! We're spending this week in the workshop creating some new projects, and so, in addition to new content and cool inspiration, we'll be sharing some classics from ManMade's all-time greatest hits. 
There are two basic principles to the ManMade approach to style and dress: fit is everything, and buy high-quality, universal items that will last. In order to help you hold on to those investment items, and make sure they suit you as best they can, ManMade is happy to present our latest series: The DIY Tailor. This fall, professional tailor and alteration specialist Danni Trester will teach us some basic sewing principles and easy DIY repairs that every guy should know. First up: how to sew a button.   
It's time for some quality design inspiration ideas. Whether you're looking for interior design, furniture ideas, or architectural inspiration here are three uniquely incredible spaces to get your creative juices flowing…    
First of all, I LOVE good libraries. Los Angeles has a fantastic and relatively unknown one that I keep on the DL and use as my part-time workspace. But I've always dreamt of the joy I'd have building a tiny one like this tiny library built in upstate New York by Jason Koxvold and titled the "Hemmelig Rom" or "secret room" in Norwegian. A building like this goes
Food for thought: there's an actual small business behind everything you see here on ManMadeDIY (yeah, crazy, I know). And we're pretty little; just three of us: Chris (Portland), Alicia and me (Minneapolis), plus some great regular contributors, David (Redding, CA), and Justin (Los Angeles). And this summer, we passed a really big milestone: we moved into an honest-to-goodness, grown-up office space here in Minneapolis. It's not the Googleplex, by any stretch of the imagination, but to us, it's pretty amazing. 
So, we wanted to we throw a big party to inaugurate our new studio. Our purpose was twofold; we wanted to share the new space
What's a Swedish flame? Something you can buy at IKEA? No sir.
If you haven't seen one of these Swedish Flame logs lately, they definitely need to be the star of your next outdoor fire. Its genius design allows the fire to burn from the inside out which means little to no tending from you! 
Need another drink to warm you up like you're sitting by a campfire, but you're actually stuck inside cause it's freaking freezing out? Check out ManMade's very own rosemary and smoke infused cocktail!
Last summer, in the midst of the August showers, a neighboring building lost a beautiful maple tree in a major thunderstorm. It was quickly disassembled by the electric company, presumably so it wouldn't fall onto the power lines. And there it sat. For weeks.
Then, a month or so later, I heard a loud grind out of my open windows (horray for open window weather!), and spied a big truck with a wood chipper in their yard.
"Surely," I thought, "they're just gonna grind up the small stuff and use the trunk for something." But, they just kept throwing in big, beautiful chunks of pure hardwood, turning it into mulch. I immediately rushed out and asked if I could have what hadn't been chopped.
The guy was very hesitant (apparently no one had ever proposed such a crazy thing), but allowed me to escape with an armful straight limbs and branches (sadly, no trunk segments) as long as I promised not to tell anyone. So, don't repeat that.
My branches have been seasoning and drying all fall and winter, and are now ready to be turned into all kinds of fun "bring the outdoors in" projects. First up, these playful tree branch magnets which cost a mere $1.00 and some glue to make, and can be whipped up in less than 30 minutes.  
Fall means many things: the return of wearing layers, trees a-changin', and that tenuous day when you have to make the decision to finally turn the furnace back on. But for me, it's not fall unless I'm getting away to spend weekends in the woods.
Not the ultra-light, no-other-human-around treks of summer, but some honest to goodness, old fashioned camping trip. I'm talking cast iron skillets, flannel shirts and wool blankets, ice-filled Coleman coolers, and all-night campfires.
And while I love the day hikes and card games and guitar-strumming, my no doubt favorite part of car camping is:
I spend quite a bit of time setting up for projects on the tools. It's amazing how much time it takes to make a few simple yet complex cuts. For the type of cuts that happen often, it makes sense to make a few go-to jigs to help with those annoying set-ups.  
I've gone on record countless times about my love of the standing desk, the research I've seen on the perils of sitting all day, and my own personal solution for long days on the laptop: the 5-second standing desk (on which I'm currently working.)    
Finally, an online calculator that allows you to enter all of your conditional factors into one super-calculation to help you decide the most efficient way to travel to wherever you want to go. It's called TravelMath, and it includes factors like current gas prices, car rental prices, airfare, the price it'll take to get you to the airport, and one more vital component…