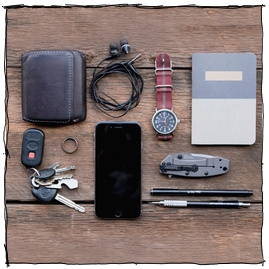 What's In Your Pockets Right Now?
Autumn is the perfect time of year for camping, pumpkins, crunchy leaves and hurricane lamps. Ok, maybe it's just me, but I love these lamps. They bring a certain sense of camp-like nostalgia to my heart and I have a couple around the house.    
If you read this site and also make New Year's Resolutions, I'd bet some variation of "getting out in nature more" made it onto the list. Well, this Martin Luther King Jr. Day (Monday) all National Park Service sites that usually require entrance fees will be FREE. That, and nine more days this year...   
Often, when I try to explain the idea behind ManMade or what I do for a living, someone who doesn't quite get it will inevitably say to me, "You mean like MacGyver?" Um...I guess?
For the record, I don't think making stuff out of ordinary materials – what we do on ManMade – is anything like MacGyver. But I do like the approach of understanding how things work, and then applying standard techniques to whatever materials sit in front of you. Especially when those materials are bottles of spirits, and the techniques result in something like delicious cocktails.
'Cause here's the thing: when you become known amongst your peers as a guy who knows something about tasty cocktails, you become the guy who everyone turns to to make a tasty cocktail, whatever the occasion. And that's a good thing. It's a solid skill to have, and it's even more impressive if you don't have to look a recipe up on your phone before you start shaking and stirring.
So, with that in mind, here are seven standard recipes, ratios, and approaches to cocktail making that you can tuck in the back of your mind to whip up a tasty option, whatever you find in front of you.  (Oh, and if you need bottle recommendations, here are our picks for stocking your home bar without spending a ton of money.)
This week they're predicting record-breaking winter storms in my area which means, aside from braving my drive to and from work, I'll be stuck inside. So, instead of heading to the grocery store for bread and milk I'm headed to the hardware store to get some supplies to keep myself busy under the snowpack.
Before I headed out on a short road trip this weekend, I did a quick checkup on my car. I had been having some issues with my engine rattling when my air conditioning was on. I'm really not much of an auto-DIYer, but YouTube has certainly helped me become a better mechanic than I once was!
There are plenty of times when a small wooden board is all you need to set out or serve something when entertaining. And it's even better when they look awesome and make whatever you're sharing look that much tastier. If you have a few scraps of wood lying around after a project, this is exactly what you should do with them.  
In the era of advanced smart phone filters, it's not difficult to make your images look like something more than a snapshot. But, more often than not, these images don't look textural or vintage or interesting, they just look... filtered. It's not a je ne se quoi, it's an I know exactly se quoi — it's also my favorite Instagram filter. 
In the summer, it's easy to get those deep, blackened and charred flavors in your weeknight meals. During grill season, you simply head outside, and cook your meal over an open flame.
And then comes January, where the produce is poor, and everything lacks that certain zing that the warm sun and fire-seared foods provide.   
It's a new year, and for the next twelve months, I'm committed to trying to make every object in my life something of true value. Call it a Kondo-inspired "sparking joy" if you like , but this year, I want to cut out the garbage and keep only what's quality. I want everything I touch and use in my life to be beautiful, lasting, and made with integrity. This starts with my morning routine, from the my coffee routine and the mug I drink it in, and goes all day through the book I read during the last few minutes before bed.
There's something to be said for the all-in project. The weekend filling, head-scratching, multiple-trips-to-the-store, major build project that ends up so satisfying, and useful, once it's complete. But there's also something to be said for the straightforward, quick and simple project that can be started and finished after you get home from work. For those times when you don't always have the capability, or bandwidth, to take on something huge, but that creative spirit just keeps telling you to make stuff... make stuff...