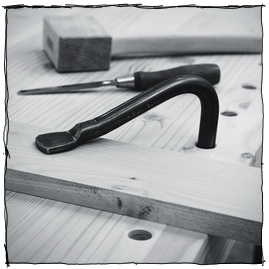 How to Drill Bench Dog Holes
The best part of investing in quality leather goods is how well they age. But how your leather ages really depends on how well you treat it. Treat them poorly and they'll fall apart, but if you're sure to take care of them and give them a quick clean up about every 6 months, not only will they age beautifully, they'll also last you a life time.
But before we jump in and talk about the right way to care for your leather goods, it's important to know a few basic things about leather.
Ever thought about how a decade changes everything? A lot has changed, and I'm looking back at how that has made a huge difference in how I define success.  
---
I turned 34 yesterday. Like many 30-something birthdays it came and went with a bit of well-wishing and then was quietly another day. Not to say I didn't enjoy it but it was a different enjoyment, a mature moment where I did what I wanted with the time and then settled back into the thrum of daily life. Of course, I use this yearly event to take a breath and look at how far I've come, and how a bit of life under my belt has changed everything.
I recently read an exceptional book by John Muir, father of our modern wanderlust and grand adventurer in a time where the great outdoors was truly an untamed place. His descriptions of a first look at the Sierras, of the sprawling views of Yosemite, and the way the woods filled his soul like nothing else could. While the wild is a bit more domesticated now with established trails, cell coverage, and guidebooks, it still holds in an important key to the overall sanity of humankind.
This post was sponsored by KILZ, a brand that believes in makers and dream-shop builders everywhere. Thanks for supporting the brands that support ManMade.
A few years ago, if you'd asked me which tool I thought was the most important, I'd probably have punted, wavered a bit, and never decided on a single item. There are too many cool tools, and too many essential ones I use on every project. But if you'd asked me the same question last month, my answer would have been decidedly clear, and much more informed by a different kind of personal experience:  
This holiday season, I wanted to give my friends and family a customized gift with some personality. So, using nothing but our own photos and a few crafty tools, I came up with this coaster project which is super fun, super inexpensive, plenty easy, and you can dial it in perfectly for each person on your list - just raid their Instagram or social media accounts!
Let's get to it!
Instructables.com user IDEAforWOOD really earns his title with this unique stainless steel plum wood knife. Plum heartwood is known for its cornucopia of beautiful internal colors and IDEAforWOOD found a way to highlight them all just right by extending the wood grain to cover the majority of the blade in a truly elegant way. Take a look.   
Hi ManMakers - I shared this pic of the scrap pile from my current project on Instagram last night, accompanied by this little meditation.
I've always been a big fan of the leather roll for personal tools, so it wasn't a big leap to for me to fall in love with this DIY Leather Roll Wallet from Shauna Wightman. It's got room for all your cards and cash, plus it's meant to be able to hold your phone as well.   
Not every guy is in a relationship with a woman, but between sweethearts, siblings, parents, and friends and family, almost all of us will be buying something for the women in our lives this holiday. They're special, in a million different ways; here's a solid set of gift ideas that will let them know you care.      
Looking for a warm drink that will give you energy without the jitters? You need to try this brewed South American tea.  
For years, coffee has been my go-to AM brew, and I've been dedicated to grabbing a cuppa joe to get me through the morning. Sure, I mix it up with an espresso drink every now and then, but for the most part it's a few milligrams of caffeine that powers me through the mid-morning slump.