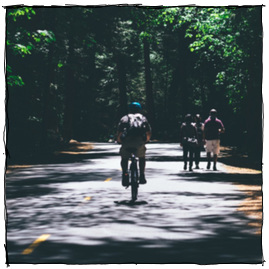 Common Sayings & Idioms that Actually Work
Here's the problem many intermediate-level woodworkers face: you want to take on a big project, a truly ambitious one. Say, a dining table that will be the centerpiece of your home and can fit eight to ten people. And you do the research, figure out some techniques, and they're a little bit of a stretch and you'll be trying them for the first time in the middle of a big project. And then you start shopping for the wood, realize how much it's going to cost, and all of a sudden, that next-level project doesn't seem like the best place to test out some new joinery.    
Need to spice things up in the bedroom? (not like that). Adding a statement headboard to your space can help you revamp the look in your bedroom by making it look "full" without having to invest tons in other furniture pieces. Take a look!    
A few days ago, I listened to a eulogy for someone I didn't know. He was a friend of a friend, and passed away much too young. But it was clear from the message at his service that in his short life, he made an amazing impact on those around him. He was dealt a truly short hand in life, with serious obstacles, but through the words of others, his story made me, someone he never met, experience amazement and ultimate respect. His short, hard life was thoughtful, impactful, and a direct challenge to me to spend my time well. Here are my thoughts on how I plan to be remembered.  
Now that the days are warming up the thought of a hot latte with milk and cinnamon sure adds a drop of sweat to my brow. It's usually this time of year, I swap my typical addiction to hot coffee to sweet, syrupy iced coffee. I just can't get enough of the stuff!
Oh my, the art of writing. Handwritten notes are always the classiest way to correspond, but here are a few people that take it up a notch with some of the most amazing hand drawn type you'll ever see.   
There's corner of my yard that is a bit of an eyesore. It used to hide my pool pump, but the cheap stapled grid surrounding it fell apart in the sun. I wanted to replace it with something that would hold up well, and also contain a bit of the pump sound. Of course, it had to look great, too. Take a look at what I came up with.   
A few weeks ago, I was looking through my spray paint arsenal, and I took stock of my collection. It occurred to me how much I really use those little rattle-cans in the shop. I picked up a few this weekend, and gave a few things around the house a quick upgrade. Take a look.   
Unlike some other spirits, tequila is inextricably linked to one particular cocktail: the margarita. And, to be fair, with good reason. The margarita is a great drink, especially when it's made right, with quality ingredients. But sometimes you want to enjoy your amazing agave flavor in a variety of contexts. So we teamed up Olmeca Altos to share five delicious tequila cocktails you can make for Cinco de Mayo (or any celebration!) that aren't margaritas. I think you're going to love these. Just don't drink all five at once.    
Everyone knows the dreaded crankless yank of a neglected lawn-mower cord. You reach down for the handle, brace your legs, and pull the cord with all your might, only to be rewarded with a coughing, sputtering engine, or worse, one that won't crank at all. Add in a thrown-out lower back, and you could be forgiven for never wanting to go near a lawn mower again. 
But it doesn't have to be that way! You could join ranks of men and women whose mowers start on the first pull! People whose backs remain un-thrown-out, and whose lawns are oft-trimmed, instead of weeks-overdue. Here are some simple steps you should take every spring to maintain
A few weekends ago, my wife and I went out for a special dinner to celebrate our fifth wedding anniversary. (Hi sweetheart!) We opted to enjoy a few beers with our meal, but the table next to us had ordered cocktails. They each showed up with the glass half full of color - slanted, and with the liquid on the top. Initially, I thought it was simply a triangular shaped glass, where the bottom angle was simply solid, but as I looked closer, I realized, in fact, it was a frozen wedge of solid ice, attached to the glass so it maintained the effect. 
I asked the server how it was done, and she told me the bartender had a bunch of little rubber molds that fit the glass, and the whole thing goes into the freezer. She said they were cool, but only fit the certain glass they came with; so only a certain number of cocktail recipes are served in them, and they run out each night.
A few days later, I looked it up to see if I could pick up one or two. I found the product - it's a glass with a custom silicone insert that freezes the ice at a perfect 45° angle, cutting right down the center. They cost about $20 each, and are kinda cool.
But - they're also unnecessary. Because you can achieve the same effect without spending a dime, using any rocks glass you already have. Here's how to do it.