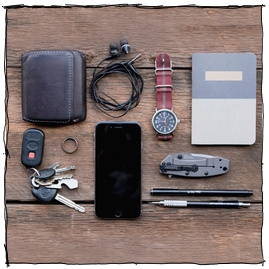 What's In Your Pockets Right Now?
I'm not saying you need an exceptional journal to become the next Hemmingway, but I'm pretty sure you'll be more inspired writing in something you love.  
We love a full-on major woodworking project. It's ambitious, challenging, and, once you've figured everything out, you're left with a piece of furniture that will get used everyday.
But, building furniture is also time consuming, takes up lots of space, and if you're using all hardwood construction, can be expensive to source the right materials. So, while it's lovely to learn joinery and finishing techniques, sometimes, you need a woodworking project that can be completed in a single day. Better yet, in a single sitting.  
For those of you who have already made the switch to wireless earbuds (thanks Apple), tangled cords aren't really an issue you have to deal with any more.
But, if your like me and carry around "old school" wired earbuds in your pocket, you understand the wad of knots you pull out every time you go digging. And, though some may appreciate the eternal struggle (and contemporary art sculpture?) it really doesn't have to be that way.
This simple DIY earbud/headphone/cord organizer keeps your cables knot free and still fits sleekly in your pocket. Using it is easy: all you have to do is wrap your earbuds around the organizer and snap it
Many will make resolutions on New Years, vowing to drop the additional pounds leftover from the holidays, and generally making more healthful choices starting January 1st. And while new beginnings can be a helpful motivation, we think the best time to actually get started on new goals is actually now:  late winter and early spring. So, while we hope you made some good progress in the first few weeks of January, the real question is: how's it going come February 1st?   
It's that time of year! And by "that time," we mean: time to start thinking about getting a head start on a quality Valentine's Day gift. Skip the flowers and chocolate nonsense and get your hands to work on this elegant, modern necklace that is sure to stun your special someone.    
If you're the type of person who reads ManMade, you're no doubt familiar with the modern genre of the artsy, dreamy behind-the-scenes video that captures the processes of creative types who make cool stuff. They're fun to watch: a bit poetic, a bit inspiring...and hopefully, they include lots of droolworthy shots of cool benches and workshops and tool walls.
But, there are a lot of them, and all that shallow depth-of-field and voiceover is nice, and... sometimes it can be hard to tell the difference between them. 
A mortise and tenon is an extremely sturdy and strong way to join wooden furniture. A recess is created in one member (mortise) that allows a protruding tongue from the other (tenon) to fit tightly inside. There's no better way to assemble table bases, chairs, benches, and even frames. 
Except, mortises can take a serious amount of work to cut. Unless you have a dedicated mortising machine, you're in for lots of time with a chisel and mallet, especially on large mortises like the one shown above.   
I am in love with coffee. I'm not ashamed. I think, probably, coffee has been secretly dictating the course of human affairs for many centuries now. Think of any great woman or man, and I suspect coffee was right there, in the thick of it, driving them to get up in the morning, or work late in the evening. 
Teddy Roosevelt got by on only about a gallon per day, and Voltaire downed 40-50 cups daily, which sounds great to me, if I didn't have to do anything else that day, or interact with people, or operate a moving vehicle. 
Me, I enjoy just one good cup in the morning. And that's the important part: it has to be good. Like, really
You know the basics. The onions and carrots.  The potatoes, rice and noodles. The salt and pepper. The goods that can help accompany fresh proteins and vegetables into a proper meal. But today, we're talking those "secret ingredients" — those back-of-the-lazy susan bottles and powders that improve anything they come in contact with, and take food from being simply filling to truly satisfying. Keep them on hand, understand and respect their powers, and you can use them to blow any dish out of the water.    
Valentine's Day isn't exactly around the corner, but it's close enough that if you want to make a handmade gift (and if you can, you should) then now is the time to get cracking. And I don't know about you, but to me nothing seems to say "true love" quite like a hand-carved, anatomically-correct human heart. Well except maybe for this.