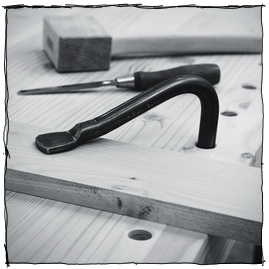 How to Drill Bench Dog Holes
As the adage about trash and treasure goes, this dude literally found this rust-covered meat cleaver in the trash and decided to restore it to what I'm sure is more than its former glory. If you look in these up-close "before" photos you'll see that the rust is so thick it looks almost like soft moss. Not so by the end...   
At this point in the season, the big gifts have already been decided. And if you're on your game, they're boxed, wrapped, and under the tree. But this week is all about the little bits: the practical things, the accessories, and the stocking stuffers. If you or someone on your list is a maker, DIYer, woodworker, tinkerer, or just a general creative type who likes to build and fix things, here's our list of quality stocking stuffers that are just as good as whatever's in that huge box with the bow on it.     
I have gone on record, in this publication and elsewhere, about why the hot toddy is the perfect cocktail to be sipping in December. It's warm. It's spiced. And at least according to folk wisdom, it's good for your health, and can help to heal a nasty wintertime sore throat. But, to be honest, until last Tuesday evening, I didn't actually like a hot toddy. 

They were fine, but not delicious, and not really an improvement over a simple glass of neat whiskey. (You could make a hot toddy with rum, brandy, or tequila, but why would you?)  
Hot toddys (toddies?) always disappointed: never quite hot enough to truly enjoy, and somewhat ... harsh. There was something I never liked about adding acidic lemon juice to a healthy glug of bourbon, then heating the whole thing up. It seemed to bring out all the rough, grain-y flavors, and hide the tastier warm and spicy barrel-aged notes that make whiskey, well, whiskey.  
Giving gifts? It's the best, right? Not cheap plastic things, and certainly not gift cards. But thoughtful custom - and most of the time handmade gifts - that I know someone will enjoy for years to come. Take a look at our list of 50 gifts for men here, and gifts for women here.
Of course, the gift has to be wrapped in something special as well. So, why would I want to use lame paper gift tags from the discount store after all that work? Here is a simple project to make some name tags that are as thoughtful as the gift.   
Ahh... egg nog, you creamy holiday treat. Sure the ugly sweaters and mistletoe are hallmark traditions during this festive season, but no holiday get-together is truly complete without a glass of something spiced in hand. This year, ditch the store-bought syrupy stuff, and make your own with just a few ingredients you already have in your kitchen.   
I am such a sucker for antique stores, obscure markets, and garage sales. I love pouring old and odd things -- the weirder, the better. I've bought pocket-sized trinkets all over America, many of which neither I nor the store clerk was able to figure out what they were. But this one really beats them all...   
If you're on the hunt for last-minute DIY gift ideas - it's definitely not too late to take a whack at these gorgeous wooden rings. They look great and the good news is you can make them without the need for a lathe, drill press or bandsaw!   
I love s'mores. I hate getting sticky.* Which I mention only to point out how much I truly love s'mores since they nearly always get your hands/face/everything sticky. It's the perfect smoky and sweet desert to finish off any night's worth of camping and hiking or simply sitting around the campfire with friends. But here's a suggestion that takes the s'mores game to a whole new level...   
There are lots of ways to give gifts for the holidays. You can give in a way that simply checks a person off the list; acknowledges that it's expected and therefore here's your Amazon giftcard... (Not recommended.) You can can give gifts that are elaborate, expensive, and make everything that also helped create that pile or wrapping paper look negligible. (Also not recommended.) Or you can source something that person didn't know existed, and legitimately surprise them. (Solid.) You could give them something you know they want, but wouldn't spend the money on for themselves. (Nice one.) Or, for many a practical-minded recipient, you can
This post is sponsored by DIYZ 
The story goes like this: I'll wake up early...usually on a Saturday, or perhaps the Monday of a three day weekend. I'll pull on my work jeans — not the trashed, paint-splattered ones; just the wornout pair with the ever growing hole in the right knee I need to patch. I'll tie my workboots, and grab a few quick measurements before I head out the door. I always remember to put the tape measure in my pocket to take it with me. Today is project day. 
And I'll get to the home improvement store, and I'll wander the aisles, and I'll realize: I have no idea what I'm doing. I need more information, more measurements, more details. So, I'll desperately look up something on my phone, but the reception in the back of this huge concrete box isn't good enough. Plus, all those content farms have tricked the search engines so that the quality of information that comes up is poor, and so generic that I struggle to trust it. 
Plus, maybe I have the basic materials figured out, but what tools do I need? Do I have the right screws, or are all mine too short or have the wrong head type? And - for goodness sakes - do I need another pack of #2 Phillips driver bits? (Thankfully, that one is easy. Yes. The answer is always yes. )