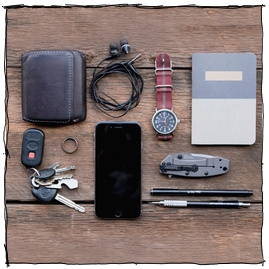 What's In Your Pockets Right Now?
Is baking making? What category of craftsmanship does it really fall into, after all? I think the answers to these questions are, yes, and I don't care. Since I spend way too much of my everyday life sitting in front of a computer, moving invisible bytes around, baking is one of the easiest, fastest ways for me to get my hands dirty when I get home from work. 
It's magical; actually. You take this stuff (usually wheat flour) that, by itself is bland and horrible and inedible, and you mix it with a little water, a little salt, and some heat, and suddenly you can achieve a ridiculous variety of breads. By tweaking the ratios just a bit, you
The Five Love Languages has been on the New York Times Bestsellers List since it debuted in 1995. It's spawned a series of follow up books, online personality tests, and spin-off community forums. And here's how you can use that knowledge to learn more about yourself while scoring some quality points with your significant other this Valentine's Day…   
Spending some time outside is, so to say, a big deal. Disconnecting from everyday life is what allows you to return to it focused, refreshed, and ready for new challenges. While a weekend in the wilderness might leave you feeling physically exhausted (and hopefully leave you a bit dirty, too), it's guaranteed to positively impact your mental clarity and ups your level of good feelings in the weeks that follow. 
Sure, you can head into the woods with some sneakers and your book bag from high school. If that's what it takes to get you out, we're all for it. However, when you decide to upgrade the experience a bit, there are a few things you should be sure to bring with you. Quality gear is comfortable, more durable, and supportive on rough terrain. So go ahead and grab a few pieces at a time to make all you future adventures more enjoyable ones.   
Gives a whole new meaning to the concept of "finish coat," right?
Woodworker Rob Brown invites us to look at our hand tool collection in whole new light... not simply using the tool only for tasks it was intended for, but as opportunities to see these common items beyond their typical use.
My highschool workshop teacher had a saying that's always stuck with me: Keep you edges sharp and your powder dry. While I don't pay much attention to the dryness of my powder these days, I take a lot of interest in my tools. Sharp edges are safer, more precise, less frustrating, and just a lot more fun to work with. Here is one of my secrets to keeping them cutting at their best.  
Anyone who loves hiking or outdoor exploration is familiar with the cairn, that characteristic stacks of rocks used as a trailmarker, warning a steep overhang, or just a general, leave-just-a-little trace that someone was here. At first, each cairn is a little discovery, a naturalist's work of art that puts design and intentional experience into the landscape. And then you see them multiple times on every. single. trek. you take, and your eyes just gloss over them after awhile. (Unless you're lost. They're always welcome when you're lost.)   
 A woodworking bench is more than just a table to lay your tools and project parts on. Used well, your bench is an all-in-one, three-dimensional clamping solution that will allow you to hold your work on any of its edges or faces. The traditional way to increase the work-holding capability is to place "dog holes" in your bench top, and allowing them to work in tandem with a face or end vise to secure parts of any size. 
A few weeks back we talked about some of the basic, essential tools for getting started in leatherworking. Once you're set up, its time to put them into practice. Here are a few projects to hone those skills, and end up with some great practical pieces you can use everyday   
The burger is usually thought of as summer fare — the progeny of some spatula-wielding self-appointed grill master. But true burger fans know that the very best are not cooked over grill grates, but on screaming hot solid surfaces, where the rendering fat and juices stay near the patty, creating not only a crispy exterior, but the deep, caramelized, confit-like richness that defines the flavor of a great burger.
Which means, of course, that burgers are actually year-round food, and armed with a heavy cast iron skillet or griddle, a great way to spend an dark, cold evening stuck inside. If we're gonna have January, than let us always have burgers. 
It's nearing Valentine's Day, and though my sweetheart and I don't usually do gifts, I wanted to make her something special. We're not big on the whole Hobby Lobby, scrapbook-y, shrine to ourselves approach to artwork, but I did want to incorporate a personal element. I recalled the custom DNA portraits I'd seen, and when searching, found the fingerprint prints offered by the same company. While I wouldn't even begin to understand how to go about visualizing DNA, I figured the custom fingerprint approach was probably pretty achievable.
And...it was.
I even figured out a way to make it seem a bit more handmade than the cold, tech-ier versions offered by the online companies. And, it only ended up costing me $6.00 USD. (I'm so thankful I've got someone who would be proud of me for creating an inexpensive DIY route, rather than impressed by how much I spent.)