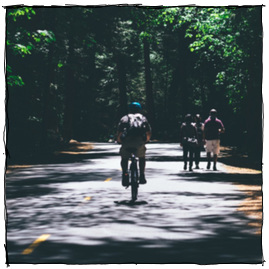 Common Sayings & Idioms that Actually Work
Have you noticed? It's summer! It's the time of year when we dust off the backyard with friends and linger late into the night. There are so many great conversations I remember around a flickering fire, and I'm looking forward to more this year. But good conversations don't always come easy, so here are a few tips to get into the kind of convos you'll remember for years. 
I have a few shirts I just can't seem to part with. They don't really fit me (they're much too big and baggy) and I never wear them. Ever. Some are at least five years old, and barely holding together. 
Remember when you were a kid, and you never went inside during the summer, except to ask permission from your parents to run around the neighborhood with that new kid you just met, or to get another PB&J, which you promptly marched right back outside?
Let's all do that again. Let's embrace bare feet, and staying up too late, and smell like chlorine and sunscreen. Let's have a summer.    
The team over at Gear Patrol captured a great inside look at the Legendary L.L. Bean factory in Brunswick, Maine and their process for making their iconic Bean Boots.
If you don't already own a pair of Bean Boots, I cannot recommend them enough. Their simple design and rugged craftsmanship have lasted me many years and many more into the future. 
I've been looking at making a small forge for a while now. The main goal is to dip my toe into metal working just a little bit, so something that can heat up about 6" stock is all I want. This weekend, I gathered up some basic materials and made myself a small forge.   
This post is in partnership with Murphy-Goode Winery.
I don't think any gift you can purchase can ever really capture the way you feel about your dad. It's just too complex a relationship; the feelings run too deep. But you can buy something that shows you know him, know what his interests are, and took the time to get him a gift you thought would matter to him. That's what we're here to help with. This guide contains all the stuff we'd want to get (or give) for Father's Day, with items for every budget and price range. Whether you're buying for your own parent, your spouse or partner, or making a wish list for yourself, we think it'll make your job a little easier this year, and hope everyone ends up with something they treasure.    
Four years ago, I shared an introduction to making smoked cocktails on ManMade, exploring the techniques and ingredients that would allow you to create woodsy, rich drinks at home. I offered several ways to create and capture smoke, but admitted that I preferred a specialized, $100 tool designed for doing just that.  Ever since then, at least once or twice a month, I've received an email asking me how to pull this off without buying any specialty gear.
To which I say: challenge accepted! I totally get not wanting to spend a large sum of money to make something you're not sure you're even going to like. I wouldn't either. So, let's break down the process and see what we can do to make some seriously tasty smoked cocktails using things you already have.   
It's the classic finish to every story. The hero overcomes the odds, beats the villain, and rises victorious from the ashes of his enemy. But is that how life really works? The real world doesn't seem to support such a clear-cut approach to how we "win". My experience so far tells me a very different story, and we'd all be better off if we marched to a much different rhythm.  
I work in a tiny, leaky, antique shed. Workspace is a precious commodity that keeps getting taken up by scraps and in-progress pieces and just plain junk.    
First, apologies to the young man who stood in front of me at the post office yesterday. He was trying, but not trying too hard. He was going for a slightly updated classic New England collegiate look: blue button down oxford, dark green chinos, killer brown leather boots, 60's-inspired glasses. His hair was parted pretty traditionally, the kind of clipper/scissor combo cut you can get at any modern barbershop. He didn't ask to inspire an article about hair product.