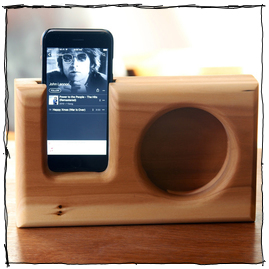 How to: DIY Wooden Smartphone Speaker
When it comes to sanding, the rules are simple. When you're dealing with curves and soft edges, you can use the contours of your hand to back up the sandpaper and naturally mimic the shape. But when it comes to flat surface: never sand without a sanding block. This keeps the paper flat, which means your final project will also stay flat. 
I was in the bad habit of cutting a new one every time I went to finish a project, which sometimes meant I went against my best judgment and ignored the sanding block rule when working on flat panels and tabletops. (I know, I know.) So, I decided to spend an hour and whip up a block I'd be excited to
I'm a lucky guy. My family has allowed me to dedicate half our basement into a dedicated shop space, complete with a custom woodworking bench and a growing collection of tools. It's bright, clean (at least right now), and I'm slowly turning it into a functional workspace that will allow me to be as productive as possible. 
But it took me a long time to get here. For nearly fifteen years, I worked out of dining rooms and back porches and portions of the garage, lugging my tools around in plastic totes and home center toolboxes, setting up shop on the washing machine, folding tables, and 1/2" plywood scraps screwed to 2x4s.
And, in the early days, it was that lack of a proper workbench that prevented me from thinking I could could use hand tools. Without a vise and hold downs, how could I safely secure my work for handplaning, chiseling, or sawing?The answer: a batten, which will take you 5 minutes to make and turns any flat surface into a work bench. Let's make one!   
Earlier this week, for the Fourth of July holiday, some friends and I decided to try our hands at roasting a whole pig. We were cooking for 60-80 people, and wanted to do something more special than hamburgers and hot dogs, and figured: well, if we're going to try it, now is as good of a time as any. 
We wanted to go with a Southern United States-style "pig picking," meaning lots of wood smoke, and cooking over low and slow temperatures. In order to get the whole animal ready to eat with such a gentle heat, we needed to start the night before. And that's where this story begins.   
I'm a huge fan of having a few rows of dog holes in my workbench top. And, more than anything else, I use them to secure a holdfast - an ancient and genius piece of design that secures your work to the work surface with a simple tap from a hammer or mallet. When your ready to release it, just hit the back and it's free. Seriously - it's ten times fast than clamping, and you can fasten your work anywhere across the bench top. Brilliant.
To speed up the process even more, I wanted to come up with a permanent way to protect the wood from the force of the steel being banged into it. You can use a hardwood scrap between the holdfast and the workpiece, but I figured there's reason to spend twenty minutes once and protect my work forever. No digging around for scraps required. 
I've heard it said that minimalism isn't really about "getting rid of stuff", it's about refining it down to the "right stuff". I'm halfway through a 30-day shop purge and I have a few lessons learned, a few personal reflections, and a lot more space. 
In order to be your best, you need to make the most out of your mornings. More than anything else, how you begin your day sets the template for how the rest of it will go. Here are nine things you can, and should, do every single day to be your most productive self. 
1. Make Your Bed (2:oo)
When this becomes first thing you do after you wake up, you accomplish so much more than flat blankets and straighten pillows. First, you immediately achieve a goal; the very first thing that happens during your whole day is a success. Secondly, though it might sound dramatic, you've ordered chaos. What was a mess is now straight and clear
Okay, friends. This is one of my all-time favorite DIY hacks. I learned it more than fifteen years ago from a book I got from the library, and committed it to memory. I only need it about once or twice a year, but it works every. single. time. I'm always super grateful to have it on hand, and so today, I'm sharing so you too can stop busting your hand and banging your knuckles every time you need to install a hook somewhere.   
When I came across this awesome vintage-inspired trestle desk this week, it struck all my favorite things: warm wood tones, a modern industrial vibe, and nothing extraneous, just a nice big surface and some shelves. It was "inspired by an antique French architect's table," and it's just all kinds of industrial cool. 
Except there's one problem...   
Editor's Note: This project is an excerpt from the new book The Art and Craft of Wood: A Practical Guide to Harvesting, Choosing, Reclaiming, Preparing, Crafting, and Building with Raw Wood by Silas J Kyler and David Hildren. The book is available now at your favorite local bookstore, Powell's, or Amazon. Thanks to Quarry Books for sharing this project with us. 
Building furniture is what first drew me to woodworking. The first coffee table I ever made was for my mom. It was a surprise gift, and I worked tirelessly, hour upon hour, to create something I was proud of. I remember the unveiling well, and the joy it gave her was well worth all the hard work.
The projects to this point have been small and technically much easier than building a piece of fine furniture. Going from making a serving tray or lamp to a coffee table may feel like a big step, and in many ways it is, but practicing with small projects gives you all the skills you need to approach a simple piece of furniture. Remember: with a good dose of patience, you will be well on your way to creating beautiful furniture.
I had a particular set of mesquite slabs in mind when envisioning this coffee table. The tree came from my neighbor's front yard. When it was removed, they simply asked the crew to leave the trunk behind for me to gather. As I was giving this tree a new life, I could step outside my shop, look across the alley, and see where it lived and died. I could also see where the logs sat and seasoned for two years, driving my wife crazy.    
Indoor plants in your home are a no-brainer: they bring the outside in, improve air quality, provide lots of natural color and texture, and encourage you to take an investment in the spaces you spend your time. They literally (and figuratively) add life to your home. Learn how to rock the green look with these six guy-friendly decor ideas. No floral wallpaper need apply.1: Mix and match. (pictured above) Go freestyle! Hit your nearest nursery and select a few different varieties. A few ideas include: palms, ferns, Massangeana, and rubber tree. Make sure to ask them about any special care requirements for each one of them (prior to