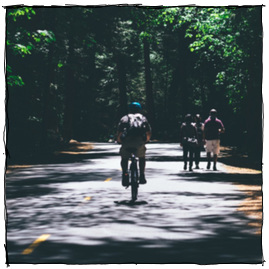 Common Sayings & Idioms that Actually Work
Small-parts storage is one of the biggest steps you can take in creating the perfect workshop zen. When all those little fasteners, nails, washers, odds and ends all have a home you can work in peace, not pieces.
During summer, it's my goal to bust out the charcoal and chimney starter as much as possible. Call it a masculine stereotype if you must, but I never miss an opportunity to take advantage of extended daylight to cook dinner outside. It avoids heating up the house with the oven, and, of course, makes everything taste amazing.
And, if you want you grilled food to taste even better, here's my tip. It takes all of five seconds to set up, and takes your meal up to the next level:     
Maintaining your shop tools starts with keeping those blades sharp and well lubricated. Here's a quick overview on how to tune up your cutting edges.  
Let's face it: modern hardware leaves a lot to be desired. Sure, it's inexpensive and abundant, but visually, it looks...well, cheap. No character. You spend weeks on a project, choosing wood grain carefully, sanding and planing to a glass smooth finish, and then you're forced to add some blindingly shiny yellow brass or bright blue metal to finish your project. 
Of course, there are high-end hardware makers out there producing specialty hinges and components for period furniture, but I wanted a less expensive way to transform general home center hardware into something I actually want to use on my projects.
So, I called my dad.   
There's something about a winding road. It's still a bit wild and rebellious, like nature hasn't completely given in to the straight line of civilization just yet. That's the kind of highway that I think of when I want to take a road trip, and no road trip is complete without a day or two of car camping. For me, car camping is a great mix between roughing it and going posh in a rented bed. I just seem to find a lot more enjoyment when I can bring just a few more pieces of gear along, but still sleep outside. Here are a few of my favorite pieces I take with me on every car camping adventure these days.   
Pocket hole joinery has a lot going for it. An affordable jig makes the process fool-proof, it comes together in less than a few minutes, and the joint itself is super strong.
The Kreg jig itself does most of the work, but a little knowhow makes the pocket hole clean and precise. This is especially important if the pocket hole will be visible, plugged, or filled.
Ready to make nice, sharp pocket holes? Let's go!    
When it comes to sanding, the rules are simple. When you're dealing with curves and soft edges, you can use the contours of your hand to back up the sandpaper and naturally mimic the shape. But when it comes to flat surface: never sand without a sanding block. This keeps the paper flat, which means your final project will also stay flat. 
I was in the bad habit of cutting a new one every time I went to finish a project, which sometimes meant I went against my best judgment and ignored the sanding block rule when working on flat panels and tabletops. (I know, I know.) So, I decided to spend an hour and whip up a block I'd be excited to
I'm a lucky guy. My family has allowed me to dedicate half our basement into a dedicated shop space, complete with a custom woodworking bench and a growing collection of tools. It's bright, clean (at least right now), and I'm slowly turning it into a functional workspace that will allow me to be as productive as possible. 
But it took me a long time to get here. For nearly fifteen years, I worked out of dining rooms and back porches and portions of the garage, lugging my tools around in plastic totes and home center toolboxes, setting up shop on the washing machine, folding tables, and 1/2" plywood scraps screwed to 2x4s.
And, in the early days, it was that lack of a proper workbench that prevented me from thinking I could could use hand tools. Without a vise and hold downs, how could I safely secure my work for handplaning, chiseling, or sawing?The answer: a batten, which will take you 5 minutes to make and turns any flat surface into a work bench. Let's make one!   
Earlier this week, for the Fourth of July holiday, some friends and I decided to try our hands at roasting a whole pig. We were cooking for 60-80 people, and wanted to do something more special than hamburgers and hot dogs, and figured: well, if we're going to try it, now is as good of a time as any. 
We wanted to go with a Southern United States-style "pig picking," meaning lots of wood smoke, and cooking over low and slow temperatures. In order to get the whole animal ready to eat with such a gentle heat, we needed to start the night before. And that's where this story begins.   
I'm a huge fan of having a few rows of dog holes in my workbench top. And, more than anything else, I use them to secure a holdfast - an ancient and genius piece of design that secures your work to the work surface with a simple tap from a hammer or mallet. When your ready to release it, just hit the back and it's free. Seriously - it's ten times fast than clamping, and you can fasten your work anywhere across the bench top. Brilliant.
To speed up the process even more, I wanted to come up with a permanent way to protect the wood from the force of the steel being banged into it. You can use a hardwood scrap between the holdfast and the workpiece, but I figured there's reason to spend twenty minutes once and protect my work forever. No digging around for scraps required.