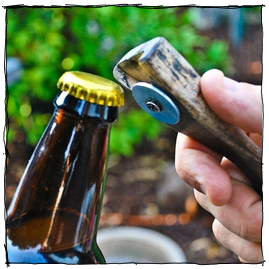 How to: DIY Wooden Bottle Opener
I guess the real problem with this project is that it actually worked.
I mean — I succeeded in what I set out to do. I created two DIY variations on an easy-lighting, long-burning fire and grill starter using coconut oil. Coconut oil, which is solid at room temperature. Coconut oil, which is about the same price as beeswax and much easier to find. Coconut oil, which can easily be melted in the microwave, so you avoid having to use a double boiler and scraping wax out of your mixing bowl. Coconut oil, which smells awesome and burns forever.    
A functioning clamp rack. Every shop's gotta have one. "But, wait!" You say. "Isn't the easiest way to hold clamps just some 2x4s bolted to the walls, and maybe some holes and plumbing pipe inserted to hang the clamps on?" Yeah, perhaps. But, while that works if you have a ton of space, it's not the most efficient way to store clamps in a small shop. And I think of that as more of a "clamp hanging spot" than a proper organization system. Plus, if you already know about that trick, you certainly don't need me to give you a how-to. 
Instead, I present this design: infinitely adaptable to any scale, and able to hold almost any type of clamp. You can build the whole thing with some scrap plywood, a jigsaw, and drill, and make one - no matter the size - in well under an hour.    
You know how an olive in your martini tastes awesome? Or the necessity of a pepperoncini in a Bloody Mary? Those salty, vinegary flavors seriously enhance the flavor of a beverage, somehow becoming more of themselves in the presence of ethanol. So, ready for the next step and inevitable conclusion this summer? Put a pickle in your beer. 
Yeah, seriously. Trust us on this one.    
I hit my head hard a few days ago. It hurt. A lot. It was one of those moments when the pain made everything else just fade away for a moment; then it came flooding back. I was leaning over a pile of things I've moved too many times to count, and I slipped a bit and made solid contact with the equally solid cast iron top of my table saw. In that moment I uttered a familiar phrase "I need to get rid of this stuff" in a much more, uh, guttural vocabulary. I needed a change. I needed space.
And so, my 30 day minimalist shop challenge begins.   
Color us impressed. This fits almost as many small hand tools as a half sheet of pegboard, but in an organized, compact footprint.    
A food dehydrator is on my list of kitchen appliances I should probably never buy myself. Like its brother, the deep fat fryer, I know I'd just get carried away, dehydratin' and frying stuff left and right.
But, that doesn't mean I don't wanna create my own tasty and
Let's be clear: none of us are here to discuss the basics of what a screwdriver is, or what it can do. Its purpose is clear. It's right there in the name.
Nor is it important to name all the different varieties of tasks it can perform. Because it can't do much.  If you use them properly, they're not a paint can opener. They're not a punch, or a chisel, or a pry bar. They do two things: tighten hardware, and loosen hardware. 
I've had a small piece of scrap black walnut in the shop for a while. It was perfect to make a few simple bottle openers. Take a look.  
Men wearing aprons seem to be more of a novelty than a practical household item. In popular culture the apron on men seems to only show up on tacky backyard cooks (think Kiss the Cook) and wisecracking chefs and their hyperbolic reality shows, or the hapless dad in the movies putting on a pink ruffled thing when he's stuck with the kids. But it's time to ignore all of those stereotypes and get yourself an apron. Here are a few reasons you need to consider one for yourself.
The solar calendar has finally acknowledged what we've all know for a few weeks: it's summer. And with that most blessed of seasons comes the opportunity to get out of town and see the world in all its sun-soaked splendor.
The trick for making all this happen as easily and frequently as possible. Pack lightly, my brothers and sisters.