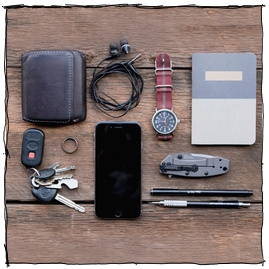 What's In Your Pockets Right Now?
I spent some time last week making a few DIY journals, and it made me think a bit about why I always have a stack of them filling my shelf. After looking through a few in the pile, I decided yes, they're definitely worth the effort. Here are a few reasons why.  
Two fun facts: 1) unlike most styles, the cream ale is original to North American, born in the US in the mid 1800s; 2) the cream is, of course, an ale, but it is inspired by German lagers and "drinks" like a lager — it's light, crisp, and goes down easy. Okay, so that's what I do know; here's what I don't: what is a cream ale? And is there actually cream in it?    
Spoiler alert: no, there isn't. Cream ales are simply light American ales that have an additional fermentable sugar sources like corn or rice to lighten the body. This makes the beer ferment faster, and therefore more economically; their overall lightness makes them easier
So, ever since I learned to use an electric drill, I've followed this rule: when joining two pieces of wood, you drill an appropriately sized pilot hole completely through the top, and down into the second. This guides the screw, and the two pieces are held together when the screw's threads grab the wood and lock everything into place. The pilot hole's size is determined by the inner diameter of the screw's body, minus the threads. Right?
Wrong.    
Let your big goals be long ones.
Don't think: "I want to write a book."
Instead think: "I am going to work on a book this year, and next year, and the year after that."
It's empowering to shift your timeframes this way, and I encourage you to try it. Here's why:
Long-term goals are commitments
Short term goals are small aspirations. They're about things you want, not about the person you want to become. When you let yourself to approach something over a period of years, or even decades, you make bigger choices and commitments about who you want to be.
When Erin discovered Anne Steensgaard's CatchMe keyholder online, she became instantly obsessed. Functional, beautiful, and full of organic textures and charm. Unfortunately, the piece is only sold in Boila stores, which are all located in Denmark or Sweden. 
But, she knew she couldn't rest until she had some
Starting off the morning with something fresh and healthy sets the tone for the entire day. I've been blending my breakfast for most of the past 6 months, and it's changed my day. It's fast, easy, and tastes great. Plus, you can make the mornings hum along faster by preparing the portions ahead of time. I use single-serve sandwich bags packed with the ingredients, store them in the freezer, then just add water and blend.
Frustrated with unnecessarily high prices for unnecessarily flimsy discount store kitchen carts, Andrew decided to get creative and whipped up an industrial-styled bar cart.
Type foundry Hoefler & Co. recently tweeted a link to this
There's nothing more satisfying than hearing the phrase "Where'd you get that!?" Ok, maybe it's just me, but I consider that phrase to be the apex of achievement when you've truly found a cool item. Here's a round up of 4 unique, life-improving things that I use everyday and you should too!
So... I like this project. I really like it, and I'll tell you why. First, it's made entirely from off-the-shelf parts from the home center. Then, because the parts are readily available, the only tool you need to make the entire thing is a cordless drill, which is awesome. And lastly, the attention