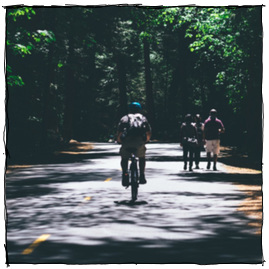 Common Sayings & Idioms that Actually Work
So, first, a quick primer. King Robbo was a pioneering graffiti artist in London in the 1980s. He painted this piece at Regents canal in Camden, London in 1985, and it's remained untouched since:
Whether Derek "Bones" Boe intended this sweatshirt hack - an anatomical(ish) skeleton handpainted with bleach - or it began as a mistake, the results are incredible, and exponentially better than a tradtional screen print.
Even if you're not a devoted Nikon disciple, they're offering some great free how-to videos that appeal to anyone interested in digital photography.
My three faves are these by Joe McNally, who's the kinda guy from whom you just wanna learn.   
I haven't quite wrapped my rightbrain around all the math of the wefts and wales of knitting, but when I do, I'll be getting my hands on a copy of this: Hand Knits for Men, spied by Gina of Doe-C-Doe.
Serious Eats has found the perfect holiday cookie: tasty gingerbread done up in early 1960's flair, perfect to hold you over until Mad Men Season 4 starts in the summer. "Shaped to resemble man-about-town Don Draper, his repressed housewife Betty, and voluptuous secretary Joan, these spicy cookies have a depth of flavor as rich as the depth of these television characters. While this take on gingerbread did the trick, I'm sure any recipe will work—it's the martini glass and briefcase accessories that matter."
But what's in her hand?
Oh! Just got it. Cloud of smoke. :)