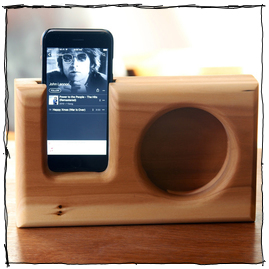 How to: DIY Wooden Smartphone Speaker
Nylanan is currently building a full scale R2D2 from scratch, and thus has lots of R2 on the brain. So, when he noticed the $8.99 TERTIAL work lamp while walking through IKEA, he couldn't help notice the similarities. So, with a bit of blue vinyl, he took a break on his robo-build and created this great, inexpensive R2D2 lamp.
As he notes, "The great thing about R2 is that he has such a an iconic look that you really only have to capture a few bits and pieces to make him look right: the main eye, the stripes and the top sections."
Philip Levine was going bald, and rather than hide it under a combover or (swallow...) hairpiece, he embraced his new bare dome, and put some art on it.
From Phil's bio: "London born Philip started using his head as a canvas for creativity back in 2006 when he began to go bald. He did not want to conform to shaving his head like everyone else so started using it as an art form to express....His designs are...reaching abroad including Japan and China, and he is leading the way to becoming an original expression of creativity in the 21st century in what is becoming known as the 'Head Art' scene.
Philip teams up with professional body painter Kat Sinclair, continuously creating a wealth of designs that have ranged from his 1000-Swarovski crystal headpiece, to homages of such artists as Roy Lichtenstein and Hokusai painted on his head. "
These grown-up lollipops improves on one of my favorite Willy Wonka and the Chocolate Factory quotes "Candy is dandy, but liquor is quicker." (I've since learned it comes from Ogden Nash's Reflections on Ice Breaking).
This recipe calls for absinthe - the "green fairy" long outlawed in the U.S. - but could be adapted to include most spirits, I imagine. The ingredients list (minus the absinthe) seems pretty reasonable:
* 1.0 cup Sugar * 0.3 cup Golden Syrup * 0.25 cup Cream Of Tartar * 5 shot of Absinthe * Stove * Wooden Spoon * Pan * Mould * Popsicle Sticks * Confectionery Thermometer * 0.5 cup Water
Squirting someone with the garden hose will: 1) never stop being fun, and 2) never stop being funny. The mantra "its only water" can aid in getting away with a lot, no? Imagine how much MORE fun it would be to soak your mates with a water pistol with an infinite reservoir and gusto for days.
What exactly is the difference between a Grotesque and a Gothic? What's the relationship between Didot and Bodoni? And, for goodness' sakes, how DO you tell the difference between Helvetica and Arial.
To answer these, you can do a four-year degree in graphic design. You could purchase a copy of the excellent "Font. The Sourcebook." or "Designing with Type." Or you could head to Just Creative Design, and download their free 27-page eBook, "The Type Classification Handbook."
Robert Harrison loves space.
And, like anyone with a DIY-bent and a passion, he wanted to do what he could to participate in space exploration: so he made a space craft, and then took pictures of the Earth with it.
The materials? Some styrofoam, duct tape, a Canon CyberShot, a big ole helium balloon, and GPS/radio transmitter combo so he could find it once the balloon burst and it returned to earth.
Well folks, this is the last day of my visit to ManMade, and I thought we should end it the way we began it--with Star Wars. Seriously, how is it possible for someone not to have seen at least ONE of these movies? At least one of the first three, or last three...whatever....you know what I mean. 2x4, the flickr member who made this Lego Star Wars Foosball table would be equally flummoxed, to be sure.
The players, made out of Legos, are mini-figures from Star Wars, and the table itself is play-able. The only thing that would make it cooler is if, when the Empire side scored it played The Imperial March (Vader's Theme). And when the Rebel
Whip up an RSS Feed Pillow to show your love of technology and pillows! The colorful and cheeky design is my own, and I'm happy to share it with ManMade-ians everywhere. 'But, Maven', you might be saying, 'I don't know how to crochet!' Oh....poo. Crocheting is easy to learn. (My grandma taught me when I was 8!) Of course, if you don't have a crocheting granny, not to worry. Crafty Daisies has superior FREE crochet tutorials on their website. As for x-stitching, that's even easier. (Here's a quick illustration.) Other than that, all the information you need to make the pillow can be found at this post on my website, diymaven.com.
StarTrek fan Tony Alleyne used his love of arts & crafts and science fiction to turn his 500 square foot apartment into a replica of the Enterprise's transporter room. Two years after he completed his StarTrek makeover, Tony started his own design company, 24th Century Design, hoping to help others bring their sci-fi fantasies to life. Reports suggest that Tony paid about 100K British pounds outfitting his pad with such things as voice-activated lighting. (I hope you have to say 'computer' first.) To see more images, follow this link. And to take a virtual of Tony's TNG creation, click here.
A while back Chris hooked you up with Five Very Manly, DIY After Shave Recipes. Now we take a step back in the process to help you make your shaving experience even more soothing. 
For those of you not