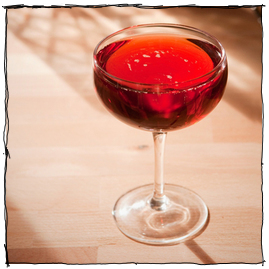 It's Time to Carbonate Your Cocktails
Looking to add a little of the "roasting on open fire" flavor to some of your seasonal libations? Check out this cool technique for making smoked cocktail garnishes to add some toasty, earthy notes to your drinks.    
My journey in leatherworking started with disappointment. Disappointment in a pair of leather boots. I had purchased a pair of Steve Maddens from DSW for about $100. They didn't last long... and I mean, they really didn't last long. After a month of pretty irregular use, the grommets had fallen out, the surface of the leather had started to rip, and the dye was already starting to rub off. And as my shoe angst built, I thought, 'I could make something better than this.'
Let's dispense with the formalities, shall we? You're here for stocking stuffer gift ideas, and we are here to give them to you. Here are all the things you should put in your stockings this year:
So I saw the movie ARRIVAL this weekend and loved it. Definitely check it out. A large part of the movie deals with language construction and trying to understand alien semantics, which got me diving down a Fibonacci sequence, which led me to looking and fractal imagery, which led me to geometrical design, which led me to these beautiful wood lamps...   
About once a year, I give my go-to cutting boards a good once over to make sure they stay in top shape along the way. Our cutting boards take a lot of abuse in the kitchen. Most of the time care looks like simply wiping them down and storing them back safely into the cupboard. 
I'll admit it: when I was 24, and thinking about hosting friends for Thanksgiving for the very first time, I probably wouldn't have used a guide like this. For one thing, I was stubborn and willful, and liked to think I could figure everything out on my own (wrong!). For another, that was 2006, and the internet was a much newer, smaller place then: this type of guide probably wasn't out there. 
But you, my friends! You youngsters with your illogical catch phrases and shrug emojis and your ability to understand how to use Snapchat! You can be better! You can do what few young men before you have ever done! You can host an awesome Thanksgiving meal at your house, and it can look amazing, and you can even have fun doing it. C'mon, it's not going to be hard ...
We spend a lot of time picking out our craft beers lately. Those fancy brews deserve better than a cheap cardboard carrier, so why not make something a bit more classy? Here are four great projects you can whip up easily.     
It's our favorite time of the year, and to celebrate, we've added a bunch of new items to the ManMade Store. There's a solid mix of creative tools, things to do during colder weather, and plenty of reading and inspiration. And if you're looking to get a little bit of an early start on your holiday shopping, we're thinking the hand-selected items in our store are a reliable place to start.    
It's no secret I'm a huge space nerd, but I definitely thought this was worth sharing. Released last week, this 4K (Ultra HD) fly-through tour of the entire International Space Station is sure to turn your interior design sense upside down.