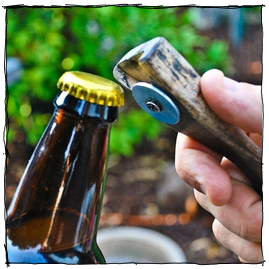 How to: DIY Wooden Bottle Opener
Newton's cradle (otherwise known as that swinging, hanging ball thing that people put on their desks and kids play with at the novelty gift store at the mall) demonstrates Newton's third law of motion - "when two bodies interact by exerting force on each other, these forces are equal in magnitude, but opposite in direction."    
Each Wednesday, I post some of my favorite can't-miss links, images, and otherwise mindblowing goodies from across the web.
Vijay Pandurangan created this amazing data visualization of the general color trends of movie posters since 1914? The project began with an observation that recent film posters tend towards dark blue,
Last week, I sat down (well, you know, on the internet) with Bread and Badger, a husband and wife team from Portland, Oregon, who make excellent etched pint glasses, coffee mugs, and other drinkware, all with graphic, manly imagery.
Tell us the story of Bread and Badger. What do you make? We etch glass and ceramic cups with my original artwork, focusing on designs that appeal to men. We mostly sell barware like pint glasses and scotch glasses, but our new line of ceramic coffee and travel mugs has really taken off. 
From where did the idea for etched glasses
Photographer Candice Milon created this awesome series for French men's magazine Sport & Style: she neatly folded and organized iconic outfits of male movie characters, shot against colorful backdrops.
Think you know manly movie fashion? Try to name them all.
Often, the hardest part of creating and designing DIY projects is sourcing the right materials. Finding something strong yet workable, with just the right amount of visual character can actually be harder than you think. So, what I love about this rustic storage project is its embracing of its worn materials
Artists Sarah Parker and Michael Bodiam created this fantastic photography projects, which visualizes the diets created for Olympic athletes by nutrionists Dan Bernadot.   
Time management is unbelievably important essential for any man trying to be his best. That doesn't mean you have to fill your day with as many tasks as you can or build out your schedule with nothing but hustle. It means that in order to be the guy, the husband, the friend, the father, the boyfriend, the employee, the maker, the athlete, the citizen, the artst, the buisness owner, the scholar, the volunteer, the brother (you get where I'm going...), you've got to create the balance that allows you to fit in all the tasks and roles you've incorportated into your life.
And a great way to create that balance? Be mindful
Many travel for beaches. Some travel for mountains, and others for architecture, art, or anonymity. And then there's me, and others of a similar ilk, who when we pick our next destination or pass through a new region, though we're happy to take in a museum or two, travel for local food and drinks.  
Atlanta-based restaurant chain Chick-Fil-A has been in the news lately, and the U.S. is discussing more than just how delicious their signature, two-pickled chicken sandwiches are. I have plenty of thoughts on the subject, but I shan't share them here, cause this post is about sandwiches. (If you are curious what I think, feel free to email me. I'd be happy to chat about it with you.)
Regardless of the politics, it is true that Chick-Fil-A produces a unique take on the chicken sandwich, and their signature flavors and textures are worth figuring out how to recreate at home. So, whether you'll never go again, can't seem to break through the demonstrations, or are just craving a super tasty chicken sandwich on a Sunday, check out this recipe for making one at home.  
There's nothing like a well-worn t-shirt, faded just so and perfectly soft from repeated wearing and washing. Many new shirts try to mimic this effect, with pre-cracked screen prints and ultra thin fabric just of the verge of tearing...but those end up looking like, well, brand new shirts with pre-cracked screen prints and ultra thin fabric just of the verge of tearing.
Fortunately, there is a better way to get your new shirts ultra soft.