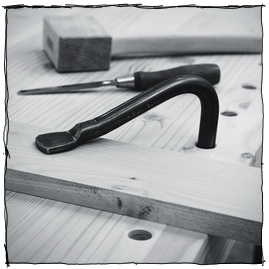 How to Drill Bench Dog Holes
The new PBS series America Revealed explores the day-to-day lives and habits of 300 million U.S. citizens. "Viewers will discover a fascinating new perspective on the hidden patterns and rhythms of American life, by looking through the eyes of individuals who all play a part in keeping America fed, moving, powered and making goods."
Including this amazing takes on data visualization, highlighting trends, distributions, and travel paths of all sorts of fascinating topics:
As if the guy couldn't be more endearing, here's something to warm your crafty heart: Mister Rogers' famed cardigans, which he pulled out of the closet to start each episode, were all knitted by hand...by his mom.  
The summer season invites us to try new things: visit new places, read a different kind of book, try a new recreational activity, see a movie we wouldn't otherwise be caught dead in simply because the theater cranks it's AC down to 65 degrees...
And, of course, new flavor experiences. Specifically, new cocktails. This Summer Cocktail Generator pairs three base spirits with just a few basic modifiers and mixers to create all kinds of classic cocktails, each of which are exactly what you want to drink during the warmer months.    
Toronto-based photographer Dorota Pankowska wanted some hot chocolate. So, she made some.  
For those of you not planning a summer getaway this season, consider these humorous, vintage-style "travel posters" for lazy people, or for those who take their breaks at home. They seek to inspire you to check out the exotic locales and activities...of your own house.  
I just went downstairs to check: I have fourteen rolls of tape in various states of use, haphazardly stacked in piles and hanging from random protusions, each equally covered in sawdust and many in paint and woodstain. A few of them are repeats: I have no less than four 1" 3M ScotchBlue rolls started, likely because I wasn't able to find them when in the midst of a project. Clearly, I need a better solution.  
Each Wednesday, I post some of my favorite can't-miss links, images, and otherwise mindblowing goodies from across the web.
In 2005, New York artist Jason Polan drew every single piece of art on display to the public in the MoMA...and in 2012, he did it again.  
Austrailian tailor and bespoke designer Patrick Johnson gives some solid, practical advice on buying and wearing a suit, including choosing a versatile option that can be worn in multiple ways, and adding your own personality to such a relatively blank slate.  
Noise pop is used to describe that genre of songs that find the perfect balance between messiness and ear candy, "a certain yin and yang of melody and dissonance."
The creators of Noise Pop Festival and the Noise Pop Podcast have picked the 100 songs that best represent the genre, and they're letting you listen to them, for free.  
Vancouver, BC-based photographer Eszter Burghardt creates these amazing micro landscapes of volcanoes, fjords, mountains, and glaciers using wool, allowing its unique fibers to give the photos texture.