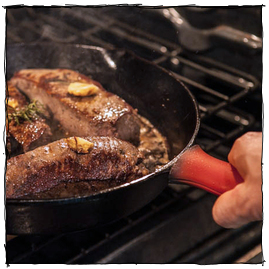 Cook the Best Steak of Your Life
Be a good man.
For many guys in the twenty-first century, aspiring to the "good" part is easy...it's the man part that seems tough. Those who've never been much moved by abstract virtues that aren't sensitive to one's specific context can find it tough to embrace their masculinity without becoming an arrogant jerk.  
Recently, chefs all over the United States have been turning back to the classics and dressing up comfort foods - duck confit macaroni and cheese, shrimp and grits with circulator-poached eggs and radish kimchi, braised short ribs on everything.
And now, chefs take on the ultimate home cooked comfort food classic:  
XKCD, which describes itself as a "webcomic of romance, sarcasm, math, and language," offers the United Shapes of America, a "map of things states are shaped like." (Try saying that three times fast.)  
Vitória, the second-division soccer team from Brazil, changed their uniforms around for their upcoming season. The team, nicknamed the "Red and Blacks" because of their red and black striped jerseys, is promoting blood donation. So, to the surprise of fans, they changed the red stripes in Vitória's jersey's to white but they'll be filled in again with red, stripe by stripe, as blood donations increase.  
When I was a kid, we weren't allowed to drink soft drinks much at home, so my mom would often by club soda and lightly fruit flavored sparkling waters for a treat. They sat at the side of the fridge, and I learned the colors - blue for regular, pink for raspberry, and green for lemon lime. One day - a new flavor showed up (yellow!), and I was excited to give it a try.
And it was the worse thing I ever tasted.   
Photographer Adam Voorhes has been experimenting with exploded photography, and the results are this amazing series of images of each element of the whole object separated out into its component parts.
With Instagram and Hipstamic and infinite other smartphone apps, it's quite easy to run a snapshot through a filter or four, and come out with something that with deeply saturated colors, vignette-y borders, selective focus, and all the other trappings of film and old cameras.  
San Francisco-based cartoonist and animator Ric Carrasquillo obviously understands the importance of having a personal and clever "about" page on his website, so he whipped up some humorous sketches that tell the reader a little more about himself. Like this,
Anyone who has ever meticulously stacked a wood pile knows that there's an art to stacking logs, but can a wood pile itself be a work of art? You betcha. Hungarian artist Gyula Várnai created this wonderful installation that depicts a man crouching down made entirely out of logs.  
The humble hot dog has been experiencing a renaissance lately: chefs are adding gourmet toppings and custom sauces, creating entire composed dishes in one bite. But, at home, it doesn't always make sense to make braised short ribs, three different purees, and a pickled slaw or two just to put on top of some store bought hot dogs.
So, if you wanna make your home-grilled hot dogs extra special this summer, opt for a physical, rather than a recipe change: spiral-cut it.