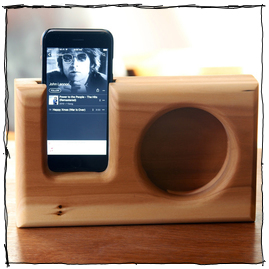 How to: DIY Wooden Smartphone Speaker
Whether or not you buy into the Wes Anderson universe, you can't fault it for being incomplete. The Royal Tenenbaums is full of details, including a series of books and magazine covers featuring the literary and highly-published characters. Criterion recently released full images of each of the covers featured in the films.  
Michael Stevens of VSauce explores the idea of what might happen if every person on earth - all seven billion plus of us - jumped into the air at the same time.  
Wood veneer are thin pieces of full woodgrain, which are sold in flexible roles, so you can glue them onto core panels for the look and finish of hardwood grain pattersn without the expense of solid wood.
Because veneer is so thin (around 3mm), it's quite flexible and easy to work, 
Duluth, Minnesota-based artist and designer Matthew Olin has created a series of typographic superhero posters for his MFA thesis exhibition, Some Type of Hero. Comic book heroes and villians are constructed from shapes from a family of type - Spiderman from script faces, or Batman from sans serifs.  
On ManMade, we've always made the argument to buy high-quality goods made with reliable materials, even if it means you ultimately end up being able to afford less. This applies to men's clothing and style items, which will last longer and be more versatile, and all kinds of quality goods created by skilled workers and artists. 
But beyond the ethical and aesthetic reasons, spending a little mre also makes financial sense as well, and will most often end up saving you money in
The michelada is one of my favorite summer treats, and proof that beer is as solid of an ingredient for cocktails and mixed drinks as any distilled spirit.  
Ironing. One or two rare guys can get away with the dishelved look, but nearly everyone else should embrace that combo of steam and heat that somehow make fabric flat. And while a quick run over a pair of pants or polo comes easy enough to most of us, the button-down is a whole 'nother beast entirely. It's got at least seven components going on, each requiring a special setup on the
Tennessee-whiskey juggernaut Jack Daniels (their Old No. 7 is the best selling whiskey in the world) is creating a new annual tradition where they team up with independent artists and craftsmen to create poster artwork and an ad campaign around the theme of "independence." 
They collaborated with Derek McDonald,
Our friends at Found Item Clothing just whipped up this supercut of their favorite movie sunglass scenes.  
Each Wednesday, I post some of my favorite can't-miss links, images, and otherwise mindblowing goodies from across the web.
The Sock Covers recreates famous album artwork with some guy's sock collection.