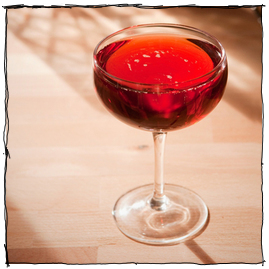 It's Time to Carbonate Your Cocktails
Think Invisible is a playful new challenge developed by Adri Bodor & Mark Szulyovszky that challenges you to recognize popular images revealed through three circular "portholes."
I maintain that all men should have at least one dress shirt with link cuffs, single for the minimalists and French for the snazzier. I also maintain that on said dress shirt you should wear cufflinks beyond simple metal or glass buttons, something with a sense of humor. Like, perhaps, this brand new line featuring all things Star Wars.    
I've long been a fan of business cards that are so unique that they become, essentially, impractical. The blogosphere is rife with interesting business cards, but this is the first time I've seen concrete business cards. Impractical? Maybe. But the awesomeness of these makes them total worth it.  
Have you heard? They made a movie about The Avengers. It's called The Avengers. People seem to like it.
To celebrate, my buddy Alexa shared this custom Captain America tie dye t-shirt. Since the 90s are
Over the weekend, Saturday Night Live finished it's thirty-seventh season, including a heartfelt goodbye dance for Kristen Wiig.
To honor the many, many cast members from the past four decades, CableTV created what is likely the world's loooooongest infographic, featuring
A few years ago, I discovered the amazing tradition of graphic and painted manhole covers in Japan. 
Over the weekend, I found the mother lode.    
Ande Whall is one-man shop and independent denim designer from New Zealand. He recently posted his process of making a pair of jeans, from receiving the rolled denim from Japan, cutting each piece by hand, sewing the pockets and stitches and fastening the rivets and buttons.
If you're going to take the time and effort to learn to use classic shaving equipment like a safety razor and lather brush, then you need an equally classic box and storage system.
So thought Zorwick, a maker from the Netherlands, who whipped up this hardwood, brass, and copper shaving kit using materials from the hobby shop, and an old thermometer, copper bowl, leather
Four Toronto chefs embraced the challenge to turn McDonald's most famous dish into high-end haute cuisine. They were given a combo meal: Big Mac, french fries, Coke, and plenty of free condiments, and could add no extra ingredients other than oil and water.
Earlier this month, the New Jersey Nets moved to the new Barclays Center arena in Brooklyn, New York, and got a brand new logo by partial owner, Jay-Z. The logo is a basic black-and-white treatment, with the shield motif, basketball, and team name from the previous incarnation reduced to a two-dimensional plane inspired by old public transporation signs. It wasn't super well-recieved by professional designers, who explain, "the logo family is technically worthless and embarrassing.