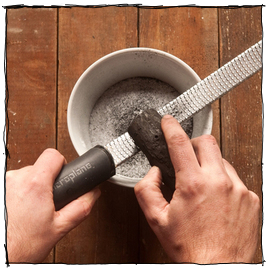 Super Simple DIY Charcoal Salt
McSweeney's contributor John Peck imagines over seventy new sandiwches designed after famous musicians, their backgrounds, and lifestyles.    
There are a very many ways to map out the United States: topography, the highway system, state captials, and the like. But none are nearly as fun as this new map from Pop Chart Labs: The Breweries of the United States.  
Each Wednesday, I post some of my favorite can't-miss links, images, and otherwise mindblowing goodies from across the web.
Guitar Pee is a musical urinal that allows you to create music while...at the urinal. It's kinda like that Les Paul Google doodle, except you pee on it.
Watch this video to see how it works:  
Brooklyn-based photographer Henry Hargreaves teamed up with food stylist Caitlin Levin to create Deep Fried Gadgets, a series of photos of, um, deep fried gadgets.  
I'm always down to try a new cocktail recipe. But, it can be a pretty big investment to go in for a whole bottle of flavored vodka or special liqueur when you're not even sure if you like the drink in the first place. And, often, many of them taste like candy, artificial extracts, or weird chemicals.
So, make your own. They're much less expensive, taste way better, and you can make as little or as much as you want. With all the fresh summer produce coming to the markets, there's every reason to give it a shot.  
My friend Ez is straight fantastic. Her site, Creature Comforts, is among the best of the girl-y lifestyle/craft/food/beautiful photography/things the internet was made for blogs out there. And, it turns out, her fantastic taste can be applied to manly things too.  
Swedish photographer Philp Karlberg came up with this rather clever means to sculpt some famous faces using colorful pins and carefully placed lighting. 
He says,
A couple of months ago I came up with an idea I have had
I'm proud to say, that after 5 years of living in NYC, I finally got a bike. Not only can I get around easily, but also I'm officially initated into the ManMade Brotherhood of Biking. I ordered a great single speed, fixed gear from State Bicycle Co. (check it out!) and I couldn't be happier with it. However, there is one thing missing from my ride: accessories. So, of course, I took to the internet and searched for some stylin' bicycle accessories. I could easily make this post ten pages long, but since I'm a strong believer in brevity, I narrowed my list down to nine cool items.  
Between a very fine evening of charcoal grilling on Friday and a hardwood fire with friends on Sunday evening, my weekend was filled with the lovely smell of wood smoke, some very tasty food, and the
Like every informed person, Kelly understands that making a good sandwich is an art form. An adventure, even. So, she's set out to create a sandwich recipe to best represent each state in the U.S.A., using signature ingredients from each state, playing with regional flavors, and honoring the food traditionals that make residents proud.