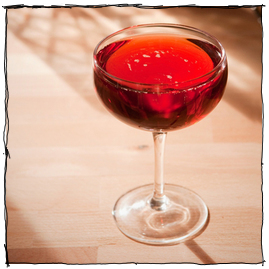 It's Time to Carbonate Your Cocktails
Need new reads for this summer? No problemo. This roundup will show you 5 interesting books that will make you smarter, manlier, and more creative.
Like any true DIYer, designer and artist Ben Uyeda likes to have his tools on hand for quick fixes and tinkering. So, he came up with this original coat rack/storage project that incorporates a functioning set of screwdrivers into the design.   
Inside the rain forests of Costa Rica, there's an entire "neighborhood" of tree houses... a full community complete with a cafe, community center, and, oh yeah: a network of zip lines, which residents use to move among the tree top properties.    


 When you think about it, the idea of beer ice cream really does make sense. The malt flavors cut through the richness of eggs and cream, and the sweetness of the custard base provides a canvas for the
When it comes to interior design inspiration, the Italian approach always tops my list. So, I'm grabbing a few tips from this inspiring home to spruce up my place.
Many an otherwise great jacket or pair of jeans has been ruined by a faulty zipper. A tailor or gifted sewing machine user can replace your zipper for you, but if yours is a high quality all-metal set, you can easily fix your current zipper without any special tools or parts.   
"Experiment with Nature" is the excellent blog of Schwood Eyewear, makers of super cool handmade wooden sunglasses. They've started a new series called " 'Field Trip', a series of exploration videos
Know why foods like chili, Buffalo wings, tacos, or Southeastern Asian street foods always seem to taste better with beer, even though it does nothing to tame the heat and actually seems to make it worse?   
Meet Joe. As in a "cup of..." I always thought this colloquial term was a corruption of "java" or the name's generality, the everyman. But it turns out, there was a very specific Joe from whom the nickname was derived:  
This summer, move beyond cans and a cooler of ice, and create a sturdy, portable bar cart for your outdoor cocktail parties and grill-filled get-togethers. This option is made from cedar dimensional lumber, so it can not only stand up to the elements, but it's a great project for those without a table saw and a bunch of fancy woodworking tools.