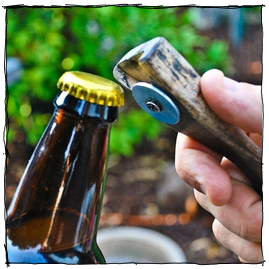 How to: DIY Wooden Bottle Opener
Attention bookworms:  your reading habits are about to pay off as some low-cost, bold DIY home decor. 
This weekend, whip up a little rustic storage project with a few simple materials and just an hour or two of work.    
In most kitchens, including mine, wooden spoons are treated as more of an ingredient than an investment piece of cookware. Sure, we hop to get a year or two of meals out of them, but they get burned, or stained with wine or beets or turmeric and the wood gets all fuzzy and we toss them after some use and then
They seem to go hand-in-hand. Whether on the couch with your latest Netflix mailing and a bowl, or a buttered bucket at the multiplex, popcorn and movies are...well, as classic of a combo as peanut butter and jelly. 
A 30-second DIY that will make your boring porch light look super cool? Yes! 
A fun site for your Thursday: IKEA or Death? invites you to choose between Scandinavian furniture and Scandinavian black metal band names. 
Anyone who knows me can probably guess: I don't much get into Halloween. I haven't worn a costume since age ten (gorilla in a trench coat and pork pie hat) and I do nothing to decorate but buy a pair of those little gourds at the grocery store and put them on the coffee table. 
Summer seems like the obvious hammock season, but I actually love to spend evenings outside during autumn. Sure, it gets dark early and it might be a bit chilly, but that's part of the fun. 
Take your calls and text in style. This take on the phone case/wallet combo is perfect to protect your (inseparable?) companion and look pretty sharp in the process.
A sour is one of the original families of cocktails, and, done properly, is pretty straight forward: base spirit, an acid to create complexity and brightness, and a little sweetener to tame the sourness and round things out. Which means: a whiskey sour is a perfect cocktail to make at home, without any need to buy an overly sweet commercial sour mix.