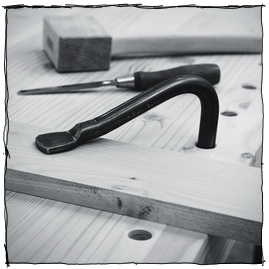 How to Drill Bench Dog Holes
Jamaican jerk chicken is one of those regional food specialities that have been historically nearly impossible to recreate elsewhere. Sure, you can do an overnight rest in a scallion, scotch bonnet, and allspice heavy marinade, grill everything nice and slow, but you'd still be missing the signature ingredient that makes jerk chicken something truly unique: 
In 1957, poet, author, and "laureate of American lowlife" Charles Bukowski wrote a poem entitled "Friendly Advice to a lot of Young Men."   
Give your houseguests a tridimensional welcome to with this geometric doormat!
When it comes to smart, minimal design, Japan often takes the cake. If you are going nuts due to the lack of storage space, you gots to take at look this!
This Friday - August 16th - is National Rum Day, so to celebrate the summer, give one of the original rum cocktails a try: the Cuba Libre. It's delicious, dead simple to make, and perfect for enjoying all weekend long.    
ManMade readers and filmaker Josh Brine created this cool video featuring Jacob and Luke Cowdin, two brothers who turned a tree that fell in their backyard into something they could skate.  
The wood appears to be a a trunk of spalted
This ManMade guest post was written by Misty Birchall, founder of PubCakes, makers of craft beer-flavored cupcakes.
I have been making craft beer cupcakes for over four years now down in San Diego with my business PubCakes. I design my cupcakes for beer lovers (and I'm talking about the kind of person who drinks beer for the taste, not chugs for the buzz), but these cupcakes are super tasty, even if you don't crave a sudsy beverage on a hot day.
Ever look to the silver screen for style inspiration? What looks get you going? James Bond, sure, but are you more of Steve McQueen or James Deen? How about Woody Allen (seriously)?   
It's hard to believe that this Vancouver property is actually a home and not the set of a perfectly styled magazine cover, but people actually live here. Want to see the rest? (you do). Click through to get a mini tour.
If there was ever a truly American food tradition, my vote goes to barbecue. This unique culinary tradition is quite a hot button issue in the "barbecue belt," which extends from the Carolinas through Tennessee and Georgia then into Missouri/Kansas and Texas.