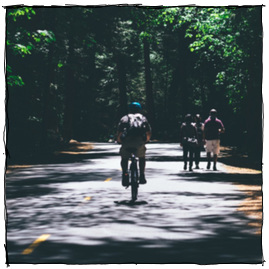 Common Sayings & Idioms that Actually Work
Seventy-five years ago, in 1938, Harvard University began a study following the lives of 250+ young men to see how the various ups and downs of adulthood would affect their experience. As Feelguide summarizes, "The study's goal was to determine as best as possible what factors contribute most strongly to human flourishing.  The astonishing range of psychological, anthropological,
Austin-based photographer Emily Blincoe has been experience with shapes and texture inside of different color families. In this series, she takes on candy, gum, and other sweets. 
To celebrate their one year anniversary, design and branding firm Fieldwork created "A Guide to Making Things."
The team at Primer offer these free pieces of downloadable art.
An interesting little graphic that details what's actually going on inside
Wahl Grooming recently teamed up with St. Baldrick's Foundation and the Clinton LumberKings baseball team to launch a charity campaign raising money for cancer research. In the city of Clinton, where baseball's a pretty big deal, seeing the hometown team shave their heads was a moment of great community spirit. Watch the video, A Healthy Cut, to see how it went:
(Can't see the video? Click here)
To learn more about this fundraising project, go to WahlGrooming.com
This post was sponsored by Wahl Grooming. 
Matthew Schuler has been reading the scholar's Mihaly Csikszentmihalyi book Creativity: The Work and Lives of 91 Eminent People, and has had a few reflections based his own creative experience. Matthew quotes 
Apartment Diet shares this cool image of pegboard organization writ large. Taking inspiration from small scale pegboard sheets, where the holes are spaced one inch on center, a large sheet of plywood
Artist, maker, and friend of ManMade Mr. Lentz details his process for making a sturdy and efficient workbench designed for all kinds of crafts and projects. The more projects I finish, the more I realize how essential a strong flat work surface is to every kind of endeavor, and that it should be among the first projects any creator takes on.
When Mad Men actor Vincent Kartheiser found success and bought his own Hollywood home, he ignored the sprawling mansions and purchased this, instead: a 580 square foot cabin. The space is full of clever space saving details and designed with a masculine yet sleek aesthetic the Kartheiser calls "Japanese industrial."