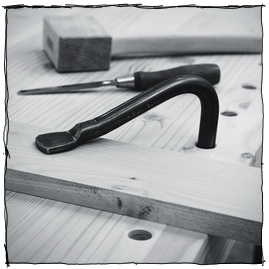 How to Drill Bench Dog Holes
After spending some time interviewing Helaine Olen, author of Pound Foolish, Harold Pollack distilled her thoughts - basically, a summary of the entire self-help personal finance industry - into a short series of maxims, all of which are available for free from your local library. And the whole thing fits on a single index card.    
Properly cared for, a quality pair of shoes will last a lifetime. Of course, that means you'll want to opt for a classic, timeless design rather than a trendier style, but we'd probably do that anyway.Then, there's the "properly cared for" aspect: maintaining the leather uppers and the soles so that they look clean and tidy, even after years of marks, scuffs, and others signs of use.   
The Tree in the House is a design that plays with the idea of a "tree house," but rather than building a house on a tree, you bring the tree into the house. How cool is that?
Each Wednesday, I post some of my favorite can't-miss links, images, and otherwise mindblowing goodies from across the web.

It took 1000 eggs, 10 pans, 5 burned fingers, 3 hours, 1 bottle of oil, and
Secondhand stores and thrift shops are filled with neck ties with all kinds of cool patterns and textures, and most go for only a dollar or two each. The problem? They're often way too wide to match the lapels of modern suits.
A quick project for the weekend? Try this one!
Looks like something from a movie (and is, a couple of 'em)...but this guy's really going for it.
"A clear head will find itself," begins the "What to Do When Lost in the Woods" flyer published by the U.S. Forest Service, published in 1946. It continues, "finding oneself is a test of a man..." and as you read, you realize that, yes, these are pretty good tips for finding oneself actually lost in the woods, but are equally applicable
The ketchup bottle, that eight or so inches of clear glass and familiar logo that sits on every formica diner table across the U.S., serves as a prime example of invisible design: most of us don't even notice it, but when it becomes time to use it, its put into play and works exactly as intended.