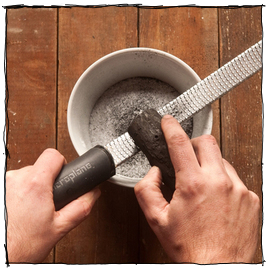 Super Simple DIY Charcoal Salt
ManMade readers and filmaker Josh Brine created this cool video featuring Jacob and Luke Cowdin, two brothers who turned a tree that fell in their backyard into something they could skate.  
The wood appears to be a a trunk of spalted
This ManMade guest post was written by Misty Birchall, founder of PubCakes, makers of craft beer-flavored cupcakes.
I have been making craft beer cupcakes for over four years now down in San Diego with my business PubCakes. I design my cupcakes for beer lovers (and I'm talking about the kind of person who drinks beer for the taste, not chugs for the buzz), but these cupcakes are super tasty, even if you don't crave a sudsy beverage on a hot day.
Ever look to the silver screen for style inspiration? What looks get you going? James Bond, sure, but are you more of Steve McQueen or James Deen? How about Woody Allen (seriously)?   
It's hard to believe that this Vancouver property is actually a home and not the set of a perfectly styled magazine cover, but people actually live here. Want to see the rest? (you do). Click through to get a mini tour.
If there was ever a truly American food tradition, my vote goes to barbecue. This unique culinary tradition is quite a hot button issue in the "barbecue belt," which extends from the Carolinas through Tennessee and Georgia then into Missouri/Kansas and Texas. 
Look...I'm totally willing to admit that this has nothing to do with crafting...or men...or DIY stuff. But, it's one of the more fascinating things that's captured my attention in a long while, and I think you'll enjoy it too.
The question is: If dinosaurs ruled the earth for 130 million years, they had to reproduce. And since they have some of the least babymaking features, how, exactly, did they do it?    
A few weeks ago, the team at Gascón wines invited ManMade to share some of our favorite guy-friendly entertaining tips. So,
Just when you thought you've seen it all, then along comes a grassy pair of flip flops that will make you feel like an urban flower child.
French photographer Franck Bohbot has elevated the concept of an indoor swimming pool to gallery-worthy heights.
Tristan Stoch, a filmmaker from Portland, OR, created this look at Geoff Franklin, a PDX-based craftsman who makes leather and wood goods and accessories at Walnut Studiolo. 
 It's two minutes very well-spent. Watch it below: