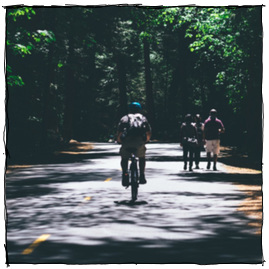 Common Sayings & Idioms that Actually Work
Some argue that bacon is a trick: anything tastes that much more delicious when you put bacon on top of it.
But a bacon cheeseburger isn't just a cheeseburger with bacon on it...at least, it shouldn't be. The additional salt and smoke and texture call for changing the your whole burger strategy, finding a way to highlight the bacon rather than just waste inside all the standard toppings. 
ManMade team member Gabriel  has been experimenting with some serious cocktail mixing, and sought out to give that non-season-specific classic, the Old Fashioned, a winter-y update. 
Each Wednesday, I post some of my favorite can't-miss links, images, and otherwise mindblowing goodies from across the web.
I ❤ Coffee took a look into the most effective time you should drink coffee, at least as far as the caffeine boost is concerned. Hint: It's not first thing in the morning.    
Here's a mighty list with tons of ikea hacks that will keep both your home...and your wallet happy!
Flowing Data has assembled 100 great movie quotes and visualized them as simple, black and white charts. The process works better with some than others, of course, but when they nail it, they nail it.    
For Christmas a few weeks ago, I gave my wife a collection of home brew equipment. (That's right, she's awesome.) It was too big to slip under the tree, so I stuck it in the garage under an old drop cloth and then snuck it in while she was fiddling with the stockings. Over the weekend, we cooked our first batch (more on that soon), but
I remember when I got my first splinter. We were camping, and I picked it up from an old, weather-worn picnic table. I ran to my mom, who immediately began to ask around for a needle. "A needle?" I thought. "For what?"
Sometimes a pint glass'll do...and sometimes, your beer (or grog...or mead) needs to be sipped from a genuine, rough hewn wooden mug, made with nothing but a hatchet and a knife.
This weekend is shaping up to be another cold and blustery, snow-filled couple of days. The kinda weekend where you never manage to actually put on shoes, cause there's no way you're going outside. The kind of weekend where you take on an indoor project with all kinds of immediate rewards...like perfecting the ultimate chocolate chip cookie.