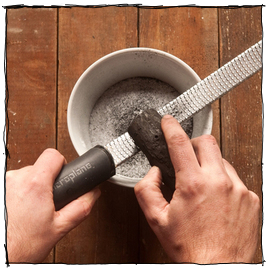 Super Simple DIY Charcoal Salt
The fairly broad phrase "how to be creative" seems a bit overly generic and link-bait-esque, but it's actually the latest in the always excellent 
It's urban and cozy - two terms that rarely are used in the same sentence.
As a kid, nothing felt more like a fall weekend than a grilled cheese sandwich for lunch. The combo of having just come in from outside with a cold, sniffly nose and the crispy/gooey/chewy sandwich with requisite tomato soup
This eerie image is actually real. That used to be a bird of sorts, but this toxic lake has turned it into stone. Crazy!
These super cool yarn lights by LLOT LLOV are a modern way to add a cozy touch to your space. The long cord allows you to install them anyway you want, hang them, place them by your books or have them near your desk. Mood lighting (for lack of a better term) does wonders for your place, especially now that fall and winter are totally creeping in - you want to create a comfy atmosphere without having harsh lights, right?
There's nothing not to like about a hand-illustrated book entitled Drink More Whiskey.
Even though summer is gone, you will continue to host awesome dinner parties and you'll definitely need to make some of these cutting boards.
Each Wednesday, I post some of my favorite can't-miss links, images, and otherwise mindblowing goodies from across the web.
The Smithsonian blog shares this super, extra close up photos of 
The tradition of barrel or cask aging distilled spirits, wine, and beer goes back thousands of years. Letting the liquid mature within wood is what gives them their distinct flavors, aromas, and colors...when spirits are distilled, they're as clear as vodka; it's spending time with charred wood that develops the brown color of whiskeys, aged tequilas, brandies, and the like. The alcohol and the wood continue to interact, pulling out flavorful compounds known as vanillins and tannins, further distinguishing the product. 
Over the last few years, some creative bartenders and cocktail experts have been experimenting with aging entire drinks
I shared last week that during October 2013, my house won't be buying anything other than food and utilities.  And while the month is certainly focused on what we're not gonna do, it's equally about what we are going to do... and what I'm going do is watch a whole buncha movies.