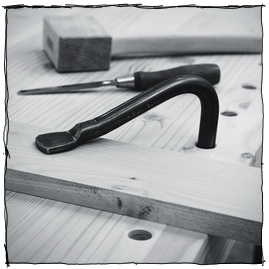 How to Drill Bench Dog Holes
There's plenty about Scandinavian design that's so appealing and lends itself to a masculine aesthetic: the clean shapes, and classic color combos, etc. And (but?) this book shelf idea though can fit almost any place, modern or not, and that's kinda what I love about it.   
Meet Nick Olson and Lilah Horwitz, a young couple from West Virginia who built this woodland retreat from (mostly) upcycled materials. Nick, a photographer, and Lilah, a clothing designer, embarked in their DIY adventure after from a desire to be "closer to the elements," and used as many materials found on the property that they could. 
With fall in full swing, the world is full of harvest produce. And the best way to preserve that abundance? Canning time! Learn how to do it at home with easy step-by-step guide.
That there triceratops? Made totally of pumpkins. Well, and some welded steel armatures, I'm sure, but the body and details? All actual squash. It's one of several pieces from this year's "The Great Jack O'Lantern Blaze" in
Each Wednesday, I post some of my favorite can't-miss links, images, and otherwise mindblowing goodies from across the web.

Engineer, artist, and all around cool mom Cory Newton-Smith converted a $25 secondhand kid's pushcar into Delorean for a complete pint-size Marty McFly costume, red puffy vest and all.
I still remember the first ManMade-ish project I ever made: a hollow book safe. I was about eight, and my buddy Nick had this awesome "how to be a secret spy"-style book to inspire us, and we snagged two big hardbacks from his parents' library and used a utility knife to carve away the pages. I remember thinking we probably shouldn't be cutting up books off the shelf, nor should we likely be using a utility knife without supervision, but - hey - we were spies, and spies don't ask permission. 
Designer studio Letterproeftuin - a "traveling open-source...neo-craft workshop that emphasizes the creative process and exhibits its results" has created "The Smallest Printing Company," a tiny but fully functioning installation that produces tiny posters and books. 
If you're the kind of person whose sense of humor tends towards the dark and creepy, this DIY undead teddy bear project'll do nicely (terribly?...)
This pendant lamp project has a cool retro-spaceship vibe that will work well in all kinds of spaces. And the best part? It's crafted from a less-than-likely material. Guess what it is:
Like looking at your home appliances through an X-Ray... Don't you like when art takes you by surprise?