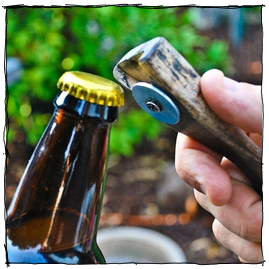 How to: DIY Wooden Bottle Opener
I just stumbled across a link to the British Library's Flickr page, which has over a million (seemingly) copyright free images and illustrations available for browsing and download.    
The wine cork trivet is a DIY staple, putting perfectly good materials to clever reuse. 
Make one for yourself. Make one for your buddy. Make one for everyone you know.    
A wise word to crafters, artists, and makers of all kinds: I just learned about trauma scissors, which are inexpensive as can be, and will cut through all sorts of materials: fabric, metal, leather, balsa wood...and supposedly, pennies. 
Esquire photographer Victoria Will set up a tintype camera and developing production to capture these incredible 1860-70s-era portraits of the actors in attendance there. 
A few weeks ago, I shared this cool photo of a giant wooden "pegboard" system that uses dowel rods to fill evenly spaced holes, allowing you to reorganize as your needs allow, with no extra holes in the wall. While, of course, 
Some argue that bacon is a trick: anything tastes that much more delicious when you put bacon on top of it.
But a bacon cheeseburger isn't just a cheeseburger with bacon on it...at least, it shouldn't be. The additional salt and smoke and texture call for changing the your whole burger strategy, finding a way to highlight the bacon rather than just waste inside all the standard toppings. 
ManMade team member Gabriel  has been experimenting with some serious cocktail mixing, and sought out to give that non-season-specific classic, the Old Fashioned, a winter-y update. 
Each Wednesday, I post some of my favorite can't-miss links, images, and otherwise mindblowing goodies from across the web.
I ❤ Coffee took a look into the most effective time you should drink coffee, at least as far as the caffeine boost is concerned. Hint: It's not first thing in the morning.    
Here's a mighty list with tons of ikea hacks that will keep both your home...and your wallet happy!