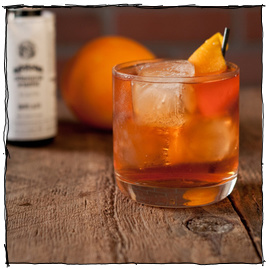 Memorize These Cocktail Recipes!
This pendant lamp project has a cool retro-spaceship vibe that will work well in all kinds of spaces. And the best part? It's crafted from a less-than-likely material. Guess what it is:
Like looking at your home appliances through an X-Ray... Don't you like when art takes you by surprise?
Sharpening a blade at home - whether a pocket knife, a chisel, a kitchen knife, a hand plane blade, a pair of scissors - is a relatively simple process. In theory. In practice, it can be a bit difficult, since the essence of sharpening a blade is less about the ability to remove material and create/straighten a new edge. Rather - the trick is removing that material at the right angle to create the bevel that makes up a blade's sharp edge. 
Summer is the season of fresh, lively cocktails: Collinses and flips and spritzes and 'garitas. But as the weather chills down, it's time to switch into a more subtle mode. Fall cocktails are all about deep, earthy, and woodsy flavors, those that match the smell outside and the sorts of rustic, homey dishes that taste so perfect on a cool evening. 
Yes. That's a dude eating ramen out of a bearded bowl. And yes, there's more where this came from.   
Fairgoods.com offers this typographic take on the painted pumpkin technique. The trick? 
When you ride your bike in the summer, deciding what to wear is a no-brainer: as little as you can, to keep as cool as possible. But fall and winter cycling are a different beast all together. Of course, the temperatures are cooler, which requires flexible layers, but there's also increased wind and precipitation to worry about. 
Yes! A green, no-vandalism version of graffiti! Aside from being awesome graphic art, this be your next DIY challenge.    
A fun, easy project to create while you eat a bunch of candy and watch scary movies this Halloween: fold a papercraft skeleton hand!   
Attention bookworms:  your reading habits are about to pay off as some low-cost, bold DIY home decor.