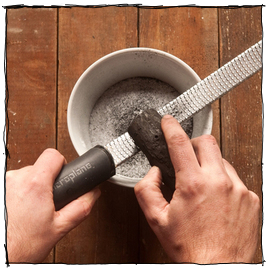 Super Simple DIY Charcoal Salt
A fun site for your Thursday: IKEA or Death? invites you to choose between Scandinavian furniture and Scandinavian black metal band names. 
Anyone who knows me can probably guess: I don't much get into Halloween. I haven't worn a costume since age ten (gorilla in a trench coat and pork pie hat) and I do nothing to decorate but buy a pair of those little gourds at the grocery store and put them on the coffee table. 
Summer seems like the obvious hammock season, but I actually love to spend evenings outside during autumn. Sure, it gets dark early and it might be a bit chilly, but that's part of the fun. 
Take your calls and text in style. This take on the phone case/wallet combo is perfect to protect your (inseparable?) companion and look pretty sharp in the process.
A sour is one of the original families of cocktails, and, done properly, is pretty straight forward: base spirit, an acid to create complexity and brightness, and a little sweetener to tame the sourness and round things out. Which means: a whiskey sour is a perfect cocktail to make at home, without any need to buy an overly sweet commercial sour mix.
I've admitted it on ManMade before: I'm a total sucker for liquids sloshing around in slow motion, especially thick, colorful ones like paint. And, I'm never not amazed by 
Over the last few winters, I've tried to become a scarf guy. I've bought a few versatile ones, and store them on the coat rack so I remember to wear them...but honestly, I'm a little lost. I haven't worn a scarf since the snow days of elementary school, and I can't seem to find
The designers at PopChartLab have completed The Magnificent Multitude of Beer, a quite sizable 
Halloween decor and projects are a pretty mixed bag, but one thing is certainly true: during the month of October, you can find some pretty unique novelty goods at discount store, craft shops, and those short-term Halloween stores that pop-up in old Border's and Pier One storefronts. You know, stuff like
Look, there's nothing new to say about how amazing a warm, filling bowl of soup tastes during these crisp fall days. Autumn is awesome, soup is awesome, and there's no time like this weekend to whip some up.