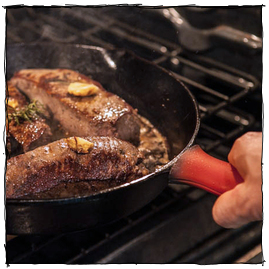 Cook the Best Steak of Your Life
The last of the Thanksgiving leftovers have been polished off, the bombardment of black cyber deals are (hopefully) over, and it's time to settle in to the real grooves of the holiday season, and use it as a special occasion to spend time with the people you like best.   
You can admit it - we all had the dream of sleeping in the fort bed when we were a kid; and I'm willing to bet most of us haven't outgrown it quite yet. With my own little kids (finally) sleeping right now, I'm once again dreaming of a bed that will inspire them to dream as big as they possibly can.  
This tutorial from Matt Pierce for A Continuous Lean walks you through the process of using stiff leather to create a stylish and protective case for small items and kits. Here, Matt designs his for a compass and some other wayfinding goodies, but you could scale and adapt the project to fit your needs. 
Designer Brittany Klontz created an interactive infographic for ConcertHotels.com that maps 100 years of popular music styles, from the earliest pre-1900 folk music to the super subgenres you probably didn't even know existed. The mapping itself is cool, but the "most excellent" bit? Each of the entries are clickable, allowing you to listen to a sample song from the genre to get a better idea of how it came to be.    
Each Wednesday, I post some of my favorite can't-miss links, images, and otherwise mindblowing goodies from across the web.
Food artists Caitlin Levin and Henry Hargreaves created this stunning mini-architectural models of some of the world's most famous art museums...using only gingerbread and candy.   
This holiday season, I wanted to come up with rustic, outdoor-themed ornaments. I love combining real, organic materials with modern tools and technology, and this project marries those perfectly: a natural tree branch slice is printed with a photograph that's been digitally edited and enhanced for just the right look. To pull it off, I teamed up with Adobe to use their new Photoshop Elements 12 application to process the image and get it ready to live in the physical world. It's super easy to use, but still full of all kinds of features that are perfect for doing art and craft projects. 
The 1942 version of the Boy Scout Handbook featured these amazing illustrated guides to basic firemaking skills, as well as the various styles and applications of campcraft.   
Whether you're actually looking to buy a kitchen gadget or piece of gear for a man, or just fulfilling your mom's wish to "send her a list," here are my (Gabriel's) ten picks for some serious food-oriented holiday gifts. I found some not-so-common gifts (other than cooking books), cause honestly, those who love to spend time in the kitchen probably already have all the staples. Take a look!
The holiday season always brings a bit of extra style uncertainty: our gathering and get together potential goes way up, and we're never quite sure how dressy an event might be. We bounce around from work to drinks with friends to Christmas light watching to office party to holiday shopping... all with a variety of co-soireers. Plus, your inside and outside and hot and cold and everywhere in between. 
The solution: a sweater. In this case, a V-neck that can go from a casual cold weather day
If there was ever a time for opening a champagne bottle with a sword, the holidays is that time. You don't actually need a sword - a chef's knife will do - but I figure this is just one of those things a man should know how to do. And since this is also the season of fizzy, corked bottles of sparkling cider and grape juice, you can snag a few more affordable bottles to practice without having to waste any bubbly.