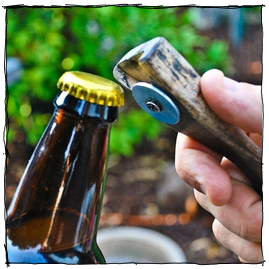 How to: DIY Wooden Bottle Opener
Austrian artist and designer Andreas Scheiger came up with this clever, functional piece of art: a taxidermy inspired wall-mounted bicycle hanger.    
When you think about it, a tire is a perfect place to rest your feet. It's round, plenty sturdy, and soft enough to easy accept hardware while being rigid enough to maintain it.
Each Wednesday, I post some of my favorite can't-miss links, images, and otherwise mindblowing goodies from across the web.
 Portland-based illustrator Richard Perez has created "Coen Cast," a collection of stylized illustrations of his favorite characters from Coen brothers movies. 
"Typeset in the Future" is a new blog by Dave Addey that's "dedicated to fonts in sci-fi." For his inaugural post, he sets about dissecting the type in (what Chris thinks is) the greatest science fiction film ever made, 2001: A Space Odyssey. Released in 1968, the film represents breakthroughs in both set design and typography, of which it takes full advantage.  
We've all got 'em...in the garage, in the basement, on a piece of newspaper on your work table behind you even though you finished that project two weeks ago and already promised yourself you'd clean it up three times. (Ahem, Chris.)    
A suit, as we've come to know it for the last century or so, is simply a sum of its parts: a jacket, pants, sometimes a vest. And while traditional advice has said a sport coat is a better fit with jeans, or that trousers and suit pants convey a significant different level of dress, with the right suit, you can split it up and wear in all kinds of combos.
I wish I hated Velveeta. I really do. I mean, I hardly ever eat it but, man, when I do... See, I have lots of really good memories from childhood. Growing up, we didn't consume it often, so when we did: guaranteed special occasion. Holidays...mom outta town and dad has the kids for the weekend. That sorta thing. 
Here's the other thing: I really like nachos. I love Latin flavors in general, but I particularly have a problem with nachos. Probably for the same reason as above, but for me, there's no better comfort food than the crunchy-then-saturated topping-covered corn chips. And sure, you can shred your own cheese and melt it atop, but that's not anywhere near the same, now is it?  
The enjoyment of coffee is a spectrum. There are those times when a crummy mug from the diner hits the spot, and those days when hanging out at warm wooden tables with your laptop and a barista crafted cup is the way to go. And then, there are the 
You're likely to see this all over the craft and design blogosphere over the next few days, but I loved it too much not to share.   
Fact: Wooden cutting boards get yucky...banged up, stained, rough, gouged, and with over exposure to water, the wood fibers get all fluffy and feather. But, it's still wood, and with a little effort, you can bring it back to life with a few easy steps.