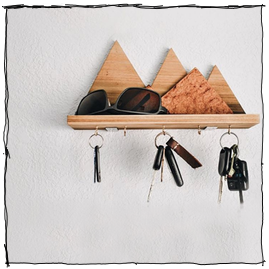 Make It: Mountain Key Rack
Jason Loper - founder of Captain Dapper and friend of ManMade - figured out this excellent technique for turning old worn out neck ties (hit the thrift store!) into stylish DIY bow ties. 
Polish artist Michal Krasnopolski has taken the minimalist pop culture trend to its most, um, minimalist. Using only straight lines and a single circle, Michal summarizes dominant imagery of the film, or creates a reduced version on its (existing) iconic poster. 
FlyKly is one of the coolest things we've seen on Kickstarter, and its no wonder why they are well over their goal already. This new product could potentially revolutionize the way we commute, while still allowing you to use you bike with traditional power.
Sometimes,  we just need photos like this to remind us to get out of our familiar cribs and explore whatever we can get under our feet. This morning, these are totally doing it for me. 
Hey there! If you're new to ManMade, check out some of our original how-to projects, free downloads and templates, or other guy-friendly holiday content!



Designer Anthony Herrera has released a brand new set of Star Wars snowflake templates, free for downloading and making en masse as you settle into the holiday season. 
Growing up, we (well, at least I) learned that creativity was a facet of one's artistic talent: if you can sing or draw or make up good stories, you were creative, and encouraged to develop it. But, thankfully, we've learned that creativity is more than just a "one size fits all" kinda thing, and more than just your ability to use a pencil to make realistic looking objects or even solve problems.
Striking simplicity! This ModelWorks Lamp is perfect for your desk, as a gift, and even as a DIY challenge.
Each Wednesday, I post some of my favorite can't-miss links, images, and otherwise mindblowing goodies from across the web. 

So get this: apparently, thousands of unrelated people dream about the same guy, and nearly all of them refer to him exclusively as "this man." The dreamers even created uninfluenced artwork
Frustrated with unnecessarily high prices for unnecessarily flimsy discount store kitchen carts, Andrew decided to get creative and whipped up an industrial-styled bar cart.
Ecuador-based graphic designer Javier Pérez uses Instagram's simple image-sharing format to wonderful creative effect, looking at the shapes of common household objects and using simple black lines to bring them to life.