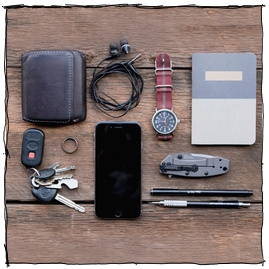 What's In Your Pockets Right Now?
In 1980, the U.S. men's ice hockey team was made up of a collection of amateur and collegiate athletes hardly known for its hockey prowess in any region south of the Great Lakes. In a medal round match against the Soviet Union - an ice hockey powerhouse and then Cold War-era antagonist - the U.S. team managed to beat the CCCP in what became known as the "Miracle on Ice," and the moment that Sports Illustrated dubbed the Top Sports Moment of the entire 20th century.    
Some guys have their go-to libation: no matter the time, no matter the place, they want this beer or that drink, and the matter really isn't up for discussion. Others are constantly switching up their poisons, perusing the menu for familiar flavors, taking the advice of the bartender, or simply having what everyone else at the table ordered.
Then, there's the rest of us; those that I
Backpacker Bill Passman has a goal. An understandable goal for any adventure traveler: he wants to visit every country on Earth, and see what there is to see. 
We all need an inexpensive way to store little sets of goodies: the ingredients for a project, that paperwork you've meaning to get to, your daily carry items that you take off and out of your pockets each evening. To keep everything in check, allow me to suggest these simple, rugged leather storage bins
I know how to tie a tie in three different ways...though I really only use the one (Half Windsor). I figured there were, oh, seven or eight other ways to do it, and perhaps I'd learn them at some point Turns out, I was way off on that number. By about, oh, a hundred and seventy seven thousand one hundred and thirty five. Ish.    
This ManMade guest post was written by Tj Cosgrove of Explosivo Network
If you've ever done any kind of videography or photography, you'll know that having enough light on your scene and your subject is the key to a good image. On a nice sunny day, that's not much of a problem, but when shooting indoors (or if you, like me, happen to live in the Northwest of England) you're going to need a little artificial assistance.
Depending on where you live, these are are known by different names. I'd just call it a "knit cap" or "stocking cap"...some call them tuques, wool hat, toboggan. My hat-loving friend from the Southwest U.S. even calls every non-brimmed hat a "beanie"...whereas in my mind, a beanie is made of rainbow panels, and definitely has a propeller on top. Language is neat.
Whatever you call them, they're a staple item this time of year, and can be worn in a variety of ways to evoke different traditions.     
Face it. Sometimes, clothing wears out. Even hard working denim...   
"Will It Beard?" is a new series by art director Pierce Thiot and his wife Stacy. I'm guessing you can figure out what it's all about.    
Gentlemen, Cupid is in the hood. What are you going to do? Freak out? Nah, that's for amateurs. In this guide, we're showing you how to rock V-Day like a pro.