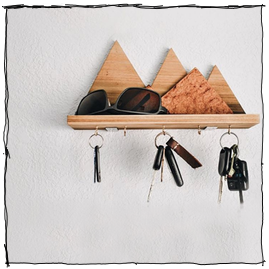 Make It: Mountain Key Rack
Look - there's nothing acceptable about a dirty kitchen...or a bare one, for that matter. This rustic, organic dish towel project is super simple basic sewing project that'll give your kitchen some serious texture.   
Kitchen knives, pocket knives, craft knives....a creative guy simply has to cut stuff up on the regular. Here's the ManMade list of the nine knives every man should own, but if you're interested in crafting your own from raw materials, it's actual relatively straightforward and requires fewer tools than you might think.    
Lots of rustic bedroom goodness here to get you inspired...
Look, on another day, I'd try to come up with some clever intro, talking about classic flavor combinations and different textures, or some other such goodness. But today, I'm just gonna dive in: this is a recipe for whiskey sriracha caramel popcorn. It's got smoky scotch whiskey, and a balance of heat and sweet, and I can't wait to make some at home this weekend.   
Each Wednesday, I post some of my favorite can't-miss links, images, and otherwise mindblowing goodies from across the web.

Steve Vistaunet's Pinterest page is full of collections dedicated to the art of the mixtape... not the craft of creating a great mix, but, you know, the actual handmade artwork that accompanies a custom tape.   
Phiske, a leather craftsman and the artist behind Cachicamo Leather Works, details the steps towards making this beautiful, custom leather briefcase that is certain to last a few lifetimes. The best part? The design includes a hidden compartment in the bottom for your extra valuables and/or secret spy documents.   
It's cold today. Like, extra special cold. Where I live, it's the coldest it's been in twenty years, and the same records are being broken all over the United States and Canada. 
Cold enough that most of us could try out this project from Washington-based photographer Andrea Kelly: frozen bubbles. 
It is currently -9° where I live. It's wonderfully sunny, and all I want to do is go outside...but the weather says no.
My oh my, what to do with all of those cranberries in the fridge left from Christmas dinner? Sugar them!
Frank Zappa once said, "So many books, so little time." With a new year of resolutions fast approaching, what better reminder to read all the things on your list than this DIY clock from ArtOfManliness.com?