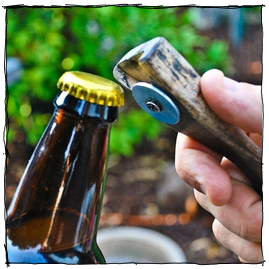 How to: DIY Wooden Bottle Opener
A beer "head" of foam is, like most things in life, an example of perfect balance; too much and its undrinkable, and if not enough, you can't full experience the unique compounds of a given brew. 
There are times to add new pieces...to make investments, to research, to spend a couple hours in the dressing room. (Turn, turn, turn.) And then, there are times to get creative with what you already have, and improve your wardrobe and own personal style without spending a single cent.    
Most of us have one: that big blank wall that you're saving for just the right piece to add some color, texture, and a bit of personality. 

Like many things, the world of spirits and liquor is a spectrum. On one end, there's the only-there-for-ABV stuff that college kids drink, on the other, the collections and high-end bottles of fine connoisseurs, with plenty of options in between. And while there are the days when something special is the only way to go, there are also plenty of time when you want a budget bottle that works: something for mixing, something to bring to a party, or a good-enough bottle to share with guests.    
Protect your tablet from dust and scratches (or pet attacks) and make this super snuggly, stylish sleeve.
No more eating your dinner on the couch. Even if you can't afford, or have space for an heirloom quality dining table, you can outfit what ever space you've got with a proper eating space, DIY-style. 
Spring is the time for taking a break from your boots and embracing something much lighter and easier to wear: sneakers. Or tennis shoes, or whatever you call them where you're from. 
The older I get, the more I'm convinced by the "but the right thing once, use it for the rest of your life" approach to supplies. Yes, it might mean waiting a little longer and saving up to get the best option, but it's a better investment of not only your money, but your storage space and your time. This rings especially true for tools: woodworking and DIY tools, kitchen tools, art supplies, etc. Getting the right one first guarantees you won't outgrow it later, unless your needs change.   
If you've spent any amount of time on the DIY or design blogosphere, you've likely seen plenty of these vintage camper rehab projects, where an old shabby Airstream or bus becomes some usable live/work/travel space for some enterprising young individuals ready to go on an adventure.