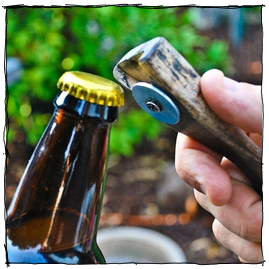 How to: DIY Wooden Bottle Opener
Even though there was unseasonal fresh layer of snow on the ground this morning, we're still smack in the middle of the spring outdoor season, and for me, that means finding plenty of tasty, energy-giving meal ideas.
We all know the stereotype of the grumpy old man. We've met him, we're related to him, he lives next door, some of us even have to work for him. 
Even as an adult, I love playing in the dirt. Getting my hands dirty, nurturing a plant from a seed into something I can eat and feed my friends and family with...gardening, at least for me, is a not brainer for the guy living the "hands on" lifestyle.    
With winter finally making its way out of our lives (for now), there's a whole lotta cleaning to do. Inside? Sure, but this also includes trimming all of those "Harry Potter and The Deathly Hallows"-looking branches and debris from your yard from all those record setting wind storms this year (yes, that happened too.)  
I have no shame in admitting it: I'm a hair product guy. Not a lot, of course, and if I do it right, you can barely tell, but it's useful. See, I have a rather short forehead and thick, heavy, straight hair that simply just falls forward and flat. It can't even hold a part without some help. So, lest I look bummed out (literally, flat hair on my forehead makes me look sad) or live with what my white (affectionately?) calls my "sick hair" [cause that's how I look on a sick day], I use a little help to give my face some energy.   
Head's up, fellow radio/podcast fans: Bradley Campbell did a bit of analysis into what it takes to put together a great piece of audio content, and diagrammed each show's structure on that most inspiring of canvases: the back of a napkin.   
Somehow, at least at my office, it only takes five minutes to completely wreck my desk, but a good forty-five to clean it back up. 
Each Wednesday, I post some of my favorite can't-miss links, images, and otherwise mindblowing goodies from across the web. 
British sculptor and environmentalist has been making organic art for more than four decades, and it looks just as contemporary as when he conceived it.    
If I could have my druthers, I doubt I'd live in a house. I wouldn't go for a loft, necessarily, but some sort of converted work/live space filled with architectural and industrial details instead of a chair rail. But, likely, I'll end up in a standard single family home, hopefully with a great kitchen and a little yard. Doesn't sound so bad, really... 
Last week, A Continuous Lean published this fascinating piece on Filson, the legendary Seattle-based outfitter. It begins, "The oldest person in the world is 115 years old. Filson is 116."