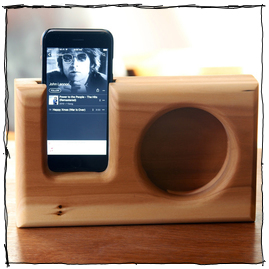 How to: DIY Wooden Smartphone Speaker
For those interested in taking only the most minimalist approach to DIY projects, check out this bushcraft wooden comb. 
It's carved from a sliver of hardwood using only a pocket knife and a steady hand.     
Each Wednesday, I post some of my favorite can't-miss links, images, and otherwise mindblowing goodies from across the web.

A very thorough guide to the surprisingly not-so-simple act of: tucking in your shirt.   
Sunglasses weather is back! Well, sorta. Close enough for me, anyway. Sporting a pair is not only practical (it is), stylish (can be), but's it's also good for your health. Seriously.
ManMade reader and filmmaker Alessandro Rodrigues got together with his buddy to create "Against the Grain," a film documenting the process of making a wooden surfboard from scratch.   
I love a complicated weekend project as much as anyone, but I get equally excited about a quick 15-minute build that's full of clever use of materials. Case in point: this industrial modern magnetic notice bar. 
This warm and rustic yet contemporary copper planters are killer. They'd work in any kind of space, whether you live in a lush home or a modest apartment.
Designer and LEGO artist Chris McVeigh, the mastermind behind these LEGO ornament sets, presents his latest series of builds: retro technology, including old tube televisions, Ataris, rotary telephones, vintage cameras, and an NES.    
Esquire's Aaron Goldfarb recently hung out with Jim Koch, the co-founder and chairman of the brewery behind Samuel Adams, and, unexpectedly, learned the brewmeister's trick for being able to taste and drink socially professionally without losing his composure.   
It's that time of year when our special dinner nights are in that "in between" phase. Gone are the chili nights, the slow-cooked soups, and the long braises of winter, but it's not quite time for all day cookouts, the throwing together a plate of summer produce and bread and just embracing the simplicity of the season.   
To which we say: good. Use this transitional time to nail down something technique-based, like perfecting homemade pizza. 
Spray paint and spray finishes can be a DIYers best friend, but if you don't have an outdoor space or the weather's not cooperating, it can be tough to get the solid, thick coats you're going for indoors.