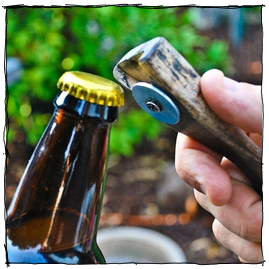 How to: DIY Wooden Bottle Opener
Esquire's Aaron Goldfarb recently hung out with Jim Koch, the co-founder and chairman of the brewery behind Samuel Adams, and, unexpectedly, learned the brewmeister's trick for being able to taste and drink socially professionally without losing his composure.   
It's that time of year when our special dinner nights are in that "in between" phase. Gone are the chili nights, the slow-cooked soups, and the long braises of winter, but it's not quite time for all day cookouts, the throwing together a plate of summer produce and bread and just embracing the simplicity of the season.   
To which we say: good. Use this transitional time to nail down something technique-based, like perfecting homemade pizza. 
Spray paint and spray finishes can be a DIYers best friend, but if you don't have an outdoor space or the weather's not cooperating, it can be tough to get the solid, thick coats you're going for indoors.    
A solid DIY lighting project is a great way to add some personality to any blank space, and I'm especially digging this one because it's created entirely from easy-to-find (and hack!) materials from the craft store. 
Artist and 3D illustrator Jessica Dance has collaborated with food photographer David Sykes for "The Comfort Food Series," a collection of knitted tableaus that are "low calorie, high in wool."   
As cycling and bike commuting continue to grow as a realistic transportation option, among the changes, these two are true: 1) there are lots more people with bikes to store indoors, and 2) bike frame and component design and styling have seriously improved, creating beautiful works of craftsmanship.   
Grilling and outdoor entertaining season is well on its way, and there's nothing better than a summer evening spent with friends or special someones eating outdoors. Gathering around a Weber can be fun, but I love the idea of not only cooking food outside, 
Photographer Michael Rababy set about capture an interesting subject: the dirtiest rooms in the homes of some of the United States dirtiest people: bachelor's. 
I've own my current DSLR for nearly five years, and for nearly five years, I've been promising myself I'd upgrade the stock strap. It's functional, sure (my camera is often placed in dangerous predicaments) the bright yellow Nikon logo atop the black webbing is pretty visually intense... 
If you've worn a button down shirt in, oh, the last 100 years or so, you may have noted an interesting feature: the last button hole and button thread are sewn with a different, contrasting color than the rest, particularly in solid color shirts. Or, you could be like me, and have worn button down shirts thousands of times over your existing decades, only to recently realize the thread color was different, and, once aware, started noticing it everywhere. Or perhaps you just looked down as you were reading this and learned that it is indeed true of the shirt you're wearing right now... Regardless, the question stands:
Why? Why are the bottom hole and button sewn with a different color thread?