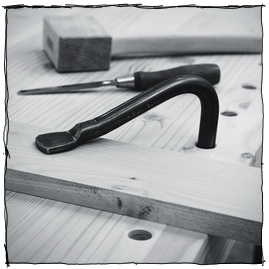 How to Drill Bench Dog Holes
For the past year, U.K.-based photographer Andrew Whyte has been snapping photos of "The Legographer," a LEGO minfig with a camera and a serious case of wanderlust.    
In the era when everyone's phone looks basically the same, it's time to reskin your digital sidekick with a new suit.
Bicycles get around by pedals, chains, gears, and wheels. Except, all the times that they don't, and they get around by being carried by their rider. Anyone who spends significant time on a bicycle can attest— on nearly every ride, there's a time when your bike gets lifted off the ground.  
Each Wednesday, I post some of my favorite can't-miss links, images, and otherwise mindblowing goodies from across the web. 

This is an interactive graph based on some serious math that proves: it's always a better financial decision to get the bigger pizza. Always.    
Okay. Whoa. Just stumbled across a cool new store with awesome lighting products and plenty of inspiration.
Inspired by the work of Reuben Margolin, a sculptor known for his mechanically-driven kinetic sculptures of wave-forms, artist and model maker Dean O'Callaghan created "Water Experiment No. 33."
Today I learned something new: a wooden comb has all sorts of benefits over plastic. According to
Artist and illustrator Hiraku Cho experiments with acrylic paint and the human body, giving flesh the illusion of interacting with buttons, zippers, on/off switches, and even other human forms.    
We can never get enough of using wooden crates for storage, especially when they look this sharp!
The winter weather isn't quite over, but it seems we've seen the worst of the polar vortexes (vorticises?). So, while it's not quite the time to head out on weekend camping trips (unless your loaded with four-season and mountaineering gear), it is the time to think about heading out on weekend camping trips and getting your gear ready.