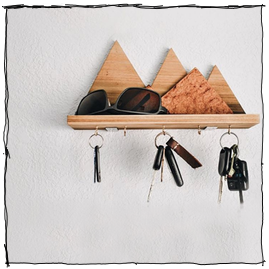 Make It: Mountain Key Rack
Artist and illustrator Hiraku Cho experiments with acrylic paint and the human body, giving flesh the illusion of interacting with buttons, zippers, on/off switches, and even other human forms.    
We can never get enough of using wooden crates for storage, especially when they look this sharp!
The winter weather isn't quite over, but it seems we've seen the worst of the polar vortexes (vorticises?). So, while it's not quite the time to head out on weekend camping trips (unless your loaded with four-season and mountaineering gear), it is the time to think about heading out on weekend camping trips and getting your gear ready.    
Croatian-Austrian collective Numen/For Use have created "String Prototype," a fully-functioning massive inflatable jungle gym-like structure made up of a grid of strong cables. 
Rustic, modern, masculine. All the things I like to see in one mighty DIY project. 
Pendleton Woolen Mills is family-owned operation that have been making high-quality virgin wool goods since 1909 in Oregon's Blue Mountains. Since their early days, the company has been producing a series of blankets to honor some of the National Parks in the Western United States.    
If you spend any time in the craft and DIY blogosphere, you've likely seen your fair share of galvanized pipe furniture and storage projects. Which, of course, are all cool and affordable and very customizable, and we approve.   
The backyard earth oven has been taken to a whole new (accessible) level...
Each Wednesday, I post some of my favorite can't-miss links, images, and otherwise mindblowing goodies from across the web. 
New York artist Calvin Seibert recently visited Hawaii, where he spent 10 days experimenting with abstract, geometric sandcastles and shapes.
In 1980, the U.S. men's ice hockey team was made up of a collection of amateur and collegiate athletes hardly known for its hockey prowess in any region south of the Great Lakes. In a medal round match against the Soviet Union - an ice hockey powerhouse and then Cold War-era antagonist - the U.S. team managed to beat the CCCP in what became known as the "Miracle on Ice," and the moment that Sports Illustrated dubbed the Top Sports Moment of the entire 20th century.