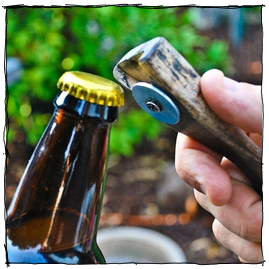 How to: DIY Wooden Bottle Opener
These simple images of the Pack series from Takehomedesign illustrates one of my favorite principles to create to make a huge difference in your decor:   
You might notice things slowing down here a bit over the next few weeks. I'm about to embark on a serious new adventure and move 2500 miles away.    
A staight forward, classy way to add a touch of modern design to your living room: print and hang!
Just in time for Cinco de Mayo, an attempt at creating the ultimate fully-loaded nacho recipe. The lineup: 
A little science-y paper craft project to give a shot this weekend (or to goof off at work on a Friday): a perpetually flying airplane.   
These Ron Swanson-inspired treats are an attempt to make "masculine" cupcakes. Which could end up badly, but these went far enough past the point of stereotype into humorous fun. 
This recipe combines salty bacon, sweet white chocolate, silky cream cheese, and oaky maple syrup in one delicious baked treat. Extra added points for the Ron Swanson toppers, which you can print and stick on a skewer.
If baking is not your thing, this is the perfect excuse to get your food geek friends over and make it a party. Why not? Some beers, some butter, and some cupcakes at the end? That sounds like an evening well-spent. 
For the full recipe
Swedish artist Hans Jörgen Johansen creates these stunning landscape photographs...made out of mold that he grows in his own studio using bread and flour.    
Now through May 31st, Lumber Liquidators and Family Handyman are running an awesome giveaway: a $1000 Lumber Liquidators gift card! All you have to do to enter is go to the giveaway Web site and choose your favorite style of flooring!
Here's the Bellawood, our favorite. The other options are "Virginia Mill Works Co." and "Casa De Color" (pictured below). Entering the giveaway is easy, just fill in your info and choose your favorite style (you can enter once per day!).
When the giveaway ends on May 31, three separate winners will be chosen (but remember, you can enter once per day). So head over and check it out, and of course, if you
For those interested in taking only the most minimalist approach to DIY projects, check out this bushcraft wooden comb. 
It's carved from a sliver of hardwood using only a pocket knife and a steady hand.     
Each Wednesday, I post some of my favorite can't-miss links, images, and otherwise mindblowing goodies from across the web.

A very thorough guide to the surprisingly not-so-simple act of: tucking in your shirt.